National Signing Day has become an annual tradition and time of celebration for high school athletes who decide where they want to continue their academic and athletic careers.
Some leave their families, peers and fans in the dark to announce their commitment on signing day. Others announce their commitments ahead of time and look forward to the day where they can finally put pen to paper.
On Wednesday, the first day of the early signing period, that day finally came for several East Valley and Scottsdale athletes.
"This is something I've dreamed of my whole life," Mesquite linebacker Andrew Morris said. "I think my time here at Mesquite was legendary. I don't think I could've asked for more." 
Morris, one of the most electrifying two-way players the last three years, inked his NLI to Marshall University and become part of the Herd.
Morris was Mesquite's leading wideout this year with 53 catches for 997 yards, leading the Wildcats to the semifinals for the third straight year. As a sophomore, he and his team captured the 4A state title. They did again in 2020.
They fell short of another title game appearance to eventual champion Casa Grande. But Morris remains thankful for all he was able to accomplish with the program.
He will go on to play linebacker at Marshall, where he also shined for Mesquite.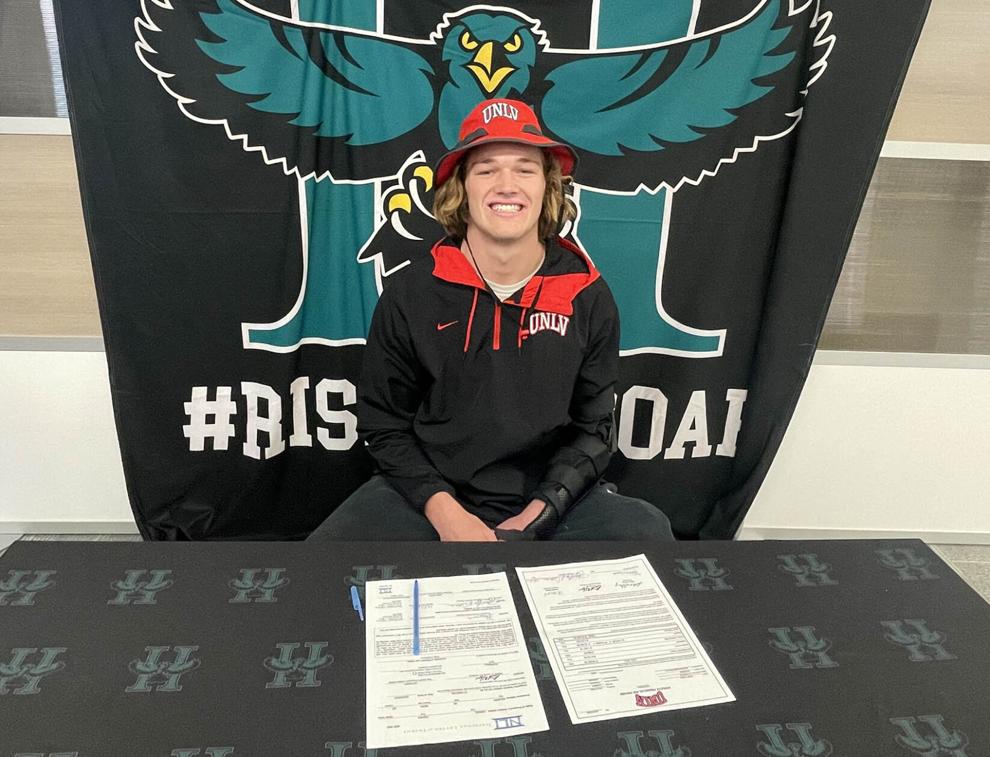 Just down the street at Highland High School, Fisher Camac signed to continue his career at UNLV.
Camac, one of the top defensive ends in the state, broke his arm in Week 4 of the Hawks' championship season. He initially planned to return for the title game against Chaparral but suffered a setback.
Now, he's focused on getting healthy to make an immediate impact for the Rebels.
"I came back a little too early, I wasn't ready," Camac said. "Now I'm just focused on the next level. I want to put on some more weight and get my speed up, overall. It feels amazing to know where I'm going. I'm excited to get up there and get to work."
Chandler, this year's state runner-up is once again sending players on to the next level.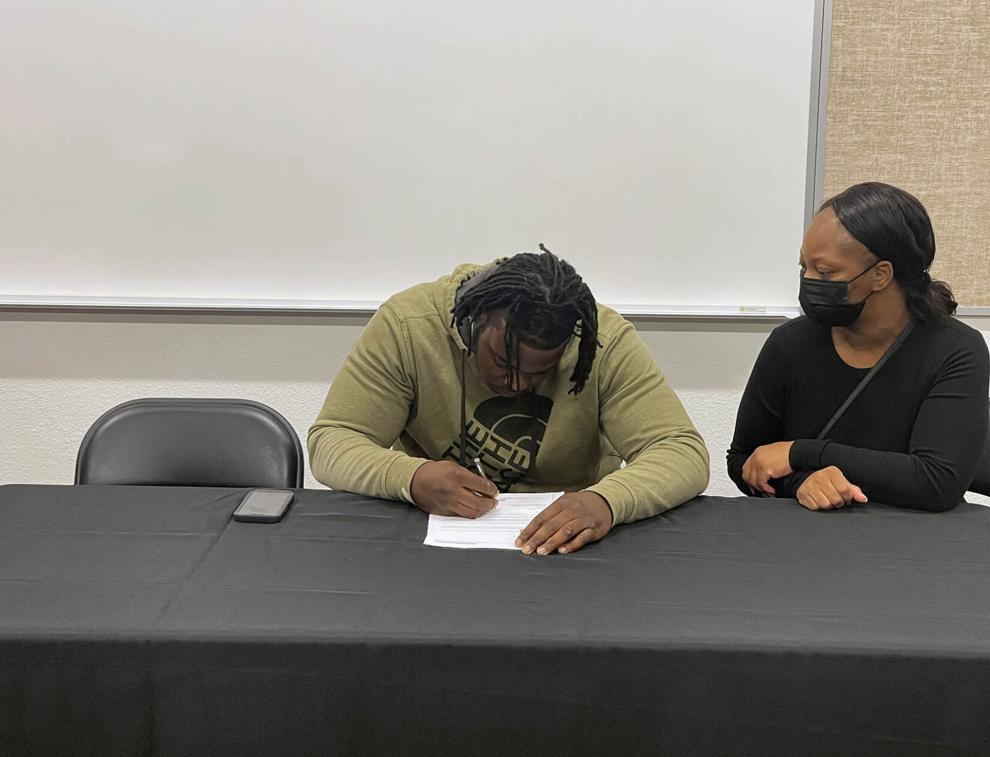 "It's like a weight lifted off my shoulders," Chandler defensive lineman Isaiah Johnson said. "It means the world to me because it's everything I worked for."
Johnson was one of five Chandler football players to take part in the early signing period. He inked his National Letter of Intent to the University of Arizona and head coach Jedd Fisch, who has created a pipeline of sorts from Arizona Avenue to Tucson.
Johnson, who had 83 total tackles, 20 of which for a loss and 6 sacks through 12 games listed, believes he can make an immediate impact as a freshman for the Wildcats. He will join fellow linebacker Malik Reed and safety Gunner Maldonado on that side of the ball, both of which are Chandler alums.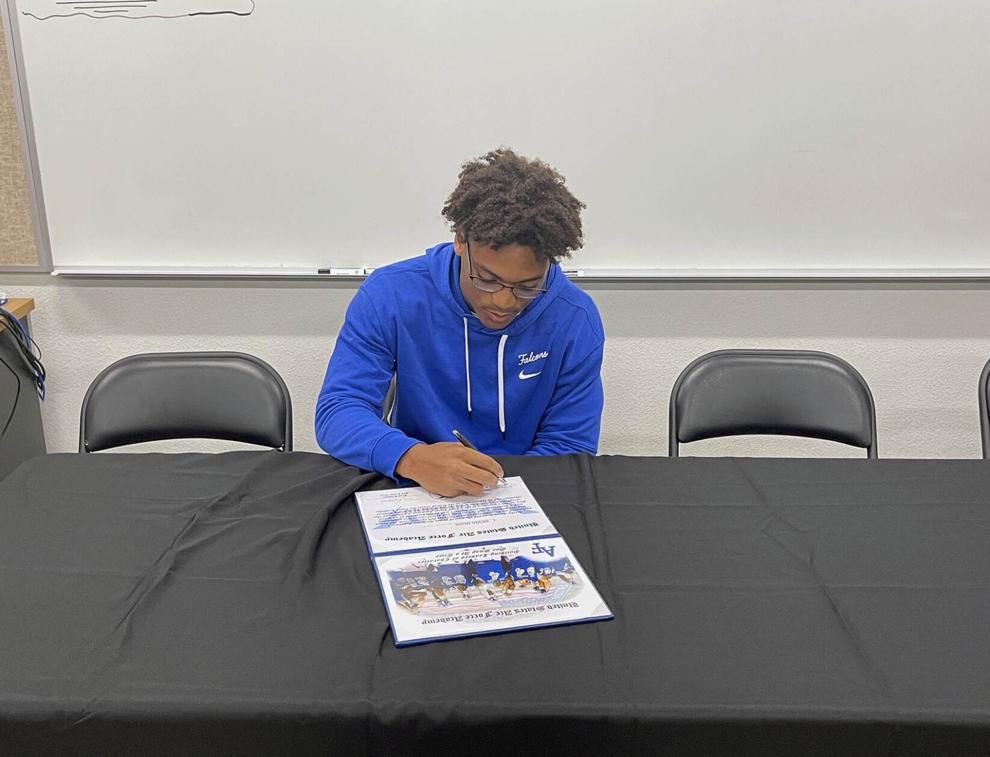 Johnson was joined by Chandler safety Devin Dunn as the only two defensive players to sign from the Wolves during the early period. Dunn also recorded 83 tackles through the Wolves' 12 games listed. He had 11 tackles for loss, 3 sacks and an interception.
He signed his NLI to attend the Air Force Academy.
"It's an awesome feeling because you know you accomplished your dreams," Dunn said. "You work so hard, and it's finally paid off. I'm just grateful I get the opportunity to further my education at this great place. It sets up my whole life and they have a great football program. I'm excited to be a falcon."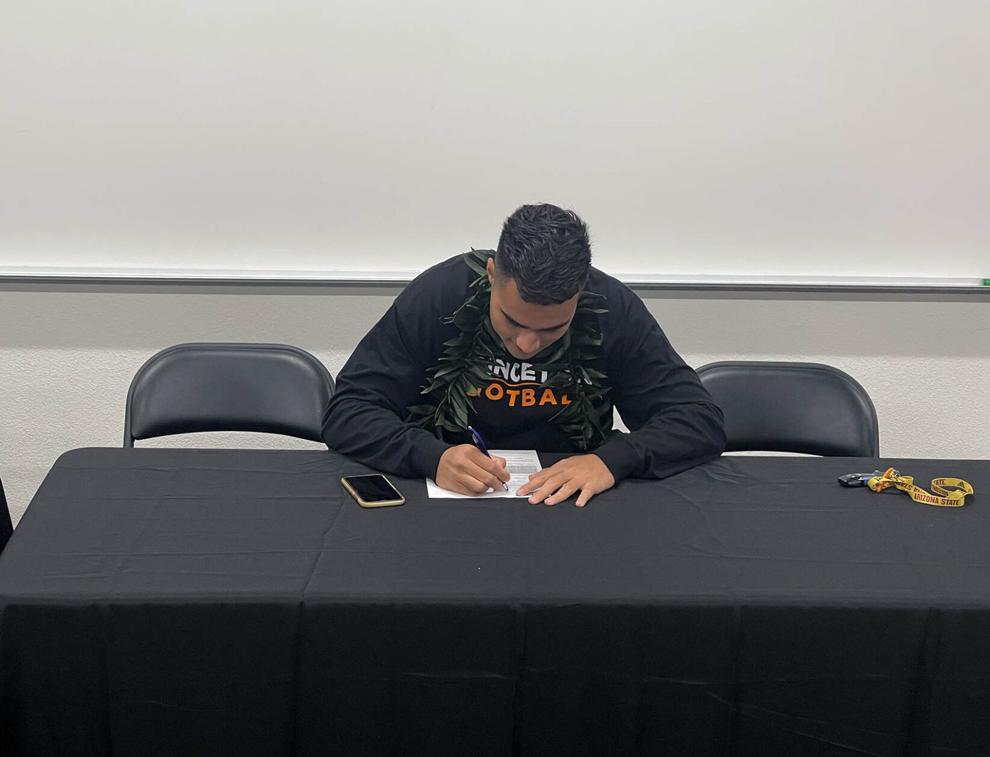 Chandler tight end Nason Coleman missed all of last season with a torn ACL. He had a setback but managed to return for the 2021 season and had the second-most receiving yards for the Wolves.
He caught 50 passes for 718 yards and helped settle down a Chandler offense that, at times, was reeling with youth players. Chandler coach Rick Garretson said Coleman played a key role in calming down those who weren't quite up to speed in the offense.
Tuesday he was voted the best tight end in the state. On Wednesday, Coleman signed his National Letter of Intent to continue his career at Princeton.
"It means a lot," Coleman said. "Knowing all the people along the way. I wouldn't be here without them. I just know I've put in a lot of work and I'm glad to see it pay off."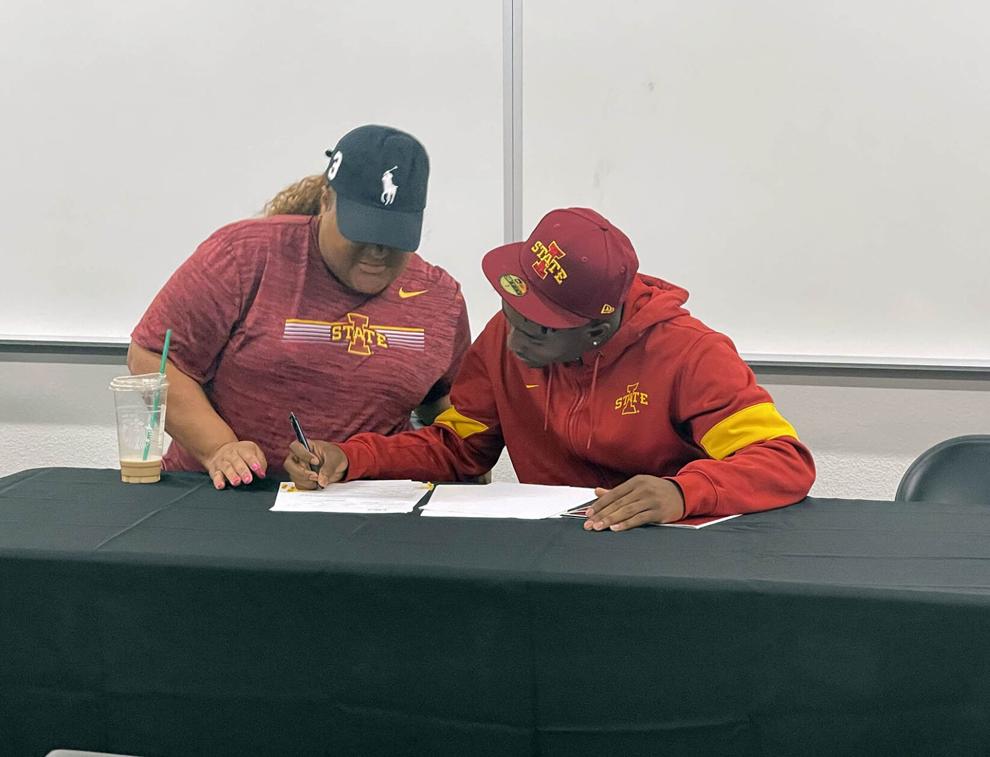 Coleman was one of the few returning starters this season for Chandler on offense. Quaron Adams, who did just about everything for the Wolves, was the other.
Adams burst onto the scene as a freshman when he became the fastest in his grade class in the country on the track. That immediately transitioned to the football field where he started on varsity for three seasons. His speed and overall ability as a ball-carrier helped him earn several Division I offers.
But one stood out among the rest.
After catching 64 passes for 845 yards and six touchdowns, Adams will reunite with former Chandler running back Eli Sanders in Ames to play for Iowa State University. Adams said Sanders played a role in his recruitment.
"He definitely played a good part in my recruitment over there," Adams said. "He definitely made me more comfortable with that coaching staff and helped me trust them. It's going to be really great to be back with him."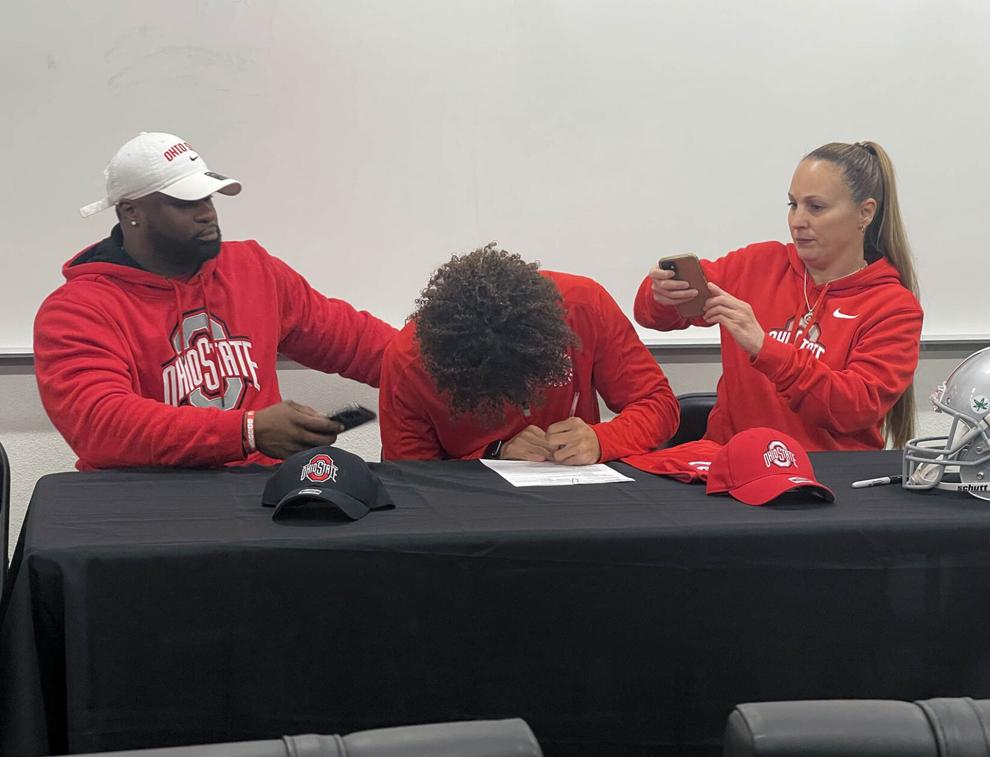 Kyion Grayes, the state's top wide receiver in the 2022 class, was limited to just seven games this season after dislocating his elbow in a preseason scrimmage.
He battled back and beat the timetable to return. While it took some time for him to get back to game speed, he made it look easy. He finished his senior season with 542 receiving yards and four touchdowns.
On Wednesday, he signed to play with Ohio State University.
"My senior season didn't go the way I wanted it to. I had a lot of great plans and things I wanted to accomplish but it didn't pan out," Grayes said. "I had to adapt and be ready for what came at me. But it feels great. I couldn't ask for anything else."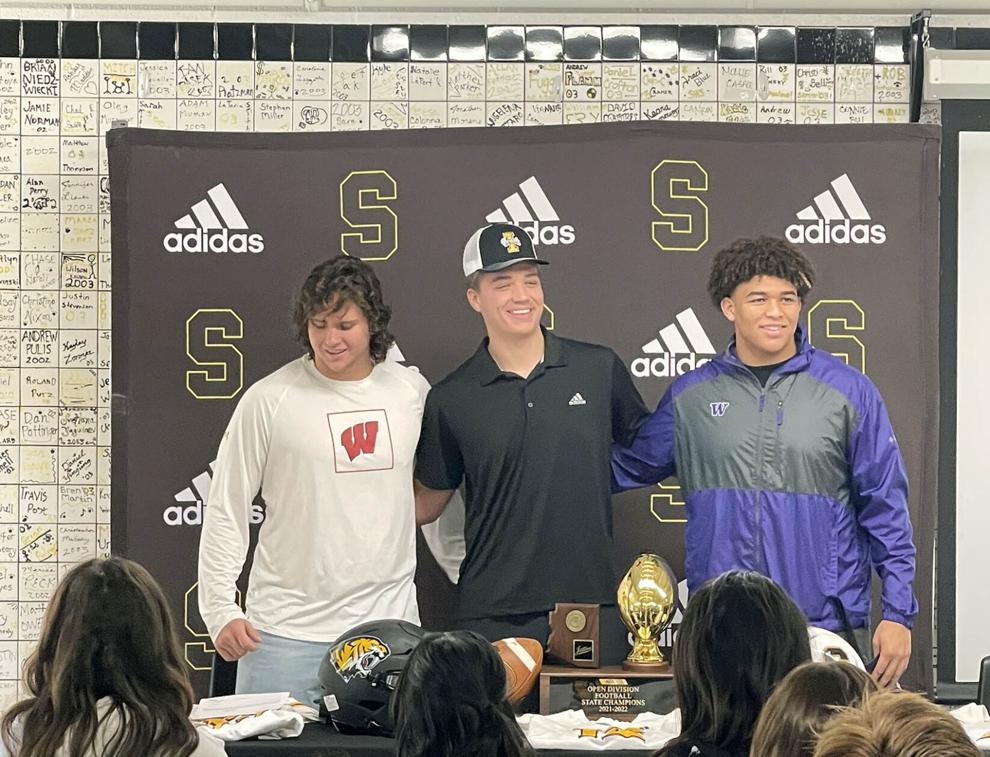 Saguaro added three more Division I players to their roster of college recruits, led by star defensive end Tristan Monday heading to Wisconsin.
"I was being recruited as a freshman to Wisconsin. They were the first coaches to really show me appreciation as a football player," Monday said. "I sort of lost contact with them through COVID up until a couple of months ago when they re-offered me. It just gave me the best opportunity."
Monday signed alongside offensive lineman Parker Brailsford and quarterback Ridge Docekal. Brailsford led the Saguaro offensive line, one of the top units in the state, to an Open Division state title this season, dethroning Chandler.
He now hopes to bring a trophy to Washington.
"When they first offered me, I had been talking to them for a while. I knew it was the right place for me," Brailsford said. "To be honest, I'm glad we won the state championship, but I've got more work to do."
Docekal had a prepared speech when he signed. He thanked his coaches, family, friends and those who supported him. He also thanked those who doubted him for pushing him to work harder at his craft.
He was a captain of the Saguaro football team and while he didn't enjoy it, he remained supportive of junior quarterback Devon Dampier when he took over as the starter in the Open Division playoffs. Now he has a chance to make a name for himself once again at the University of Idaho.
"I've always just stuck to trusting the process and trusting God," Docekal said. "Signing with a D1 school in Idaho, I'm very fortunate and blessed. I fell in love with it right away.
"I'm really looking forward to being a Vandal."
This story will be updated.