For some, football is a form of entertainment or a fun sport. But for Fisher Camac, football is a lifestyle.
Camac was blessed with a 6-foot-7, 240-pound frame. He was born to play football. Camac found a love for the game at the young age of 7 years old. He participated in other sports and was not bad at them, but football was a different story.
"I played baseball," Camac said. "I made the all-star team in sixth grade, but I told my dad I didn't want to play … baseball is too boring."
Camac looks like a basketball player. Most might have pushed him toward that sport, but he did not care for it either. He also found himself performing well at hurdles for track and field. In the end, Camac concluded that there is no sport like football.
"Every football player knows there is something about football that is different from every other sport," Camac said.
Camac was born into a football family as they are engulfed in the sport. He has two older sisters, one older brother, and two younger brothers. Camac older brother, Cade, played for the Highland Hawks before Fisher found his spot on the team. Cade was a safety at Highland, followed by Camac as a defensive end, and now Camac's younger brothers, Cooper and Carter, are coached by their dad, Chad.
Chad coached all his sons including Camac when they were growing up. Camac played alongside his brother as the youngest player on that team. His little league team went on to win states.
"My dad always coached hard work, he taught that to my older brother, then me, and now my younger brothers too," Camac said. 
Camac emphasized that he enjoyed being coached by his father, but that he was fortunate to learn from multiple coaches.
The coaches at Highland found that he would be an excellent fit for the team during his sophomore year. On the other hand, Camac felt like he was not necessarily good enough to see the field.
"The coaches brought me up sophomore year. I would say I wasn't very good, but they saw potential in me," Camac said.
Defensive coordinator Jason Lyons added that since eighth grade, he has transformed into an all-star caliber football player.
"Night and day, he was a kid that has always been physically gifted … he didn't have to use technique to be successful, you get into 6A East Valley football and all of a sudden you need that technique, and he has worked really hard to get there," Lyons said.
"Smarter, stronger, faster," Linebacker coach Dominic Willis added.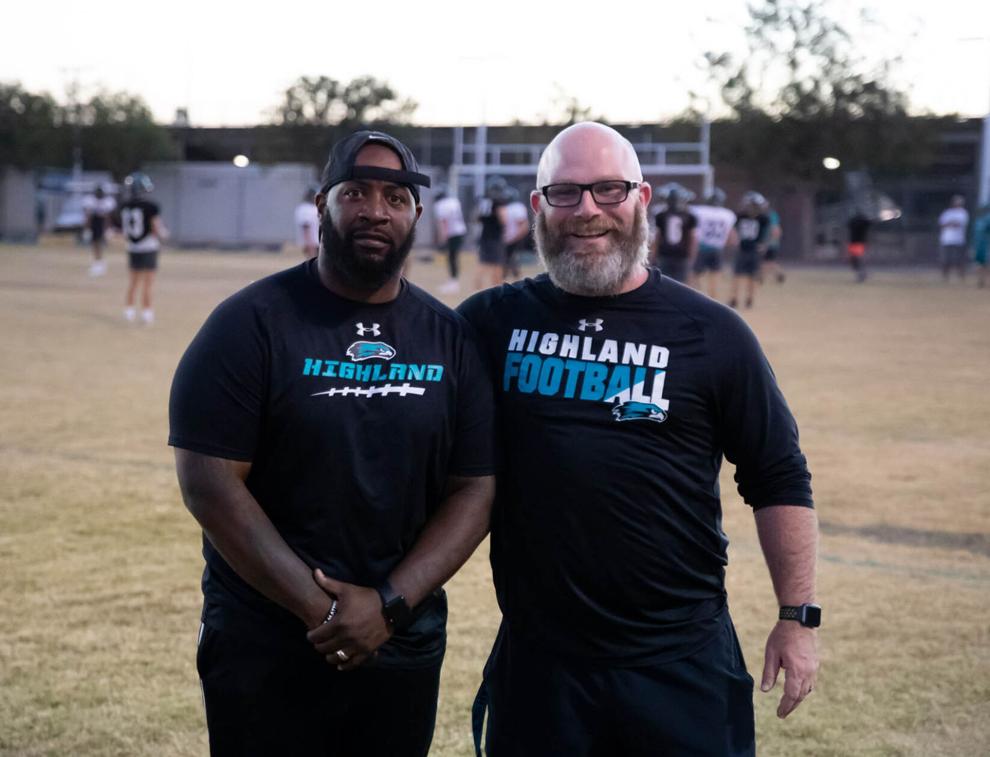 On the days where he does not want to be on the field, the days where it seems practices are endless, and Friday nights where the team is down by a million, Camac still finds a love for the game. Camac loves the speed of the game, but more importantly, the emotion that comes with the sport.
"Feeling like a hundred grand," Camac said. "You run out that tunnel and all those hard practices and those tough days where you don't want to play the game anymore, it's all worth it. And when you make a big play it's even better… Whether you're sad, happy, or mad you can just let it all out and you can't in any other sport, which I love."
Camac has come a long way in his football journey. He started as a young kid who watched his brother play. Then his dad convinced him to join the team and within minutes of playing he found a love for the game so much so that he stuck with it over every other extracurricular activity, and it got to the point where all that he did was work at his craft.
Highland had high expectations for Camac because of Cade. He did not disappoint. He was able to shine with the help of his coaches and teammates, but most importantly his faith in himself.
Most people's athletic careers come to a dead end by the time they graduate high school.  Camac, however, has worked hard enough to earn himself a shot with the UNLV Rebels. As a future Rebel, he is the first of his siblings to reach collegiate level athletics. Neither his sisters nor his older brother went on to play a sport in college. He is ready to walk in and make a difference in the UNLV locker room, representing the Camac name.
"I really want to go out there and prove myself," Camac said. "Work harder than I have ever worked and prove that I deserve to be where I am… I want to try and make a name for myself."
The Hawks football season is nowhere near finished, and Camac still looks to make an impact. He broke his arm in a recent game against Desert Vista, but that will not stop him from working toward his goals.
He wants to be back on the field as soon as possible and is willing to do whatever it takes to finish this season on the field and off the sideline.     
Every game, every practice, Camac leaves everything on the field for Highland. He has a new chapter being added to his journey, and fortunately football is still a page within that chapter.
"He is locked in now more than ever … he has grown into his body, and he is good, man.  He is really good," Willis said.