Adonis Watt doesn't think of himself as an inspiration to young athletes.
He scoffs at the idea of him being a role model for kids battling through various amounts of adversity. Instead, the Ahwatukee resident simply thinks of all he has accomplished as him accomplishing his dreams.
But Watt is an inspiration. He showed that no matter what disadvantages life has in store with the right amount of dedication and drive anything can be overcome. He proved it time and time again since he was young and a swim in the pool resulted in him losing his eyesight.
He proved it time and time again as he combined his parents that despite his disability, he could still play football. And on Saturday, April 24 at Wild Horse Pass Casino and Resort in Chandler, he added yet another chapter to his legacy as the recipient of the Shaw Courage Award from the National Football Foundation's Valley of the Sun Chapter at its 41st annual Scholar Athlete Luncheon.
"It always feels good to be respected by the people you go against, by the people you work with every day and people that are in the same field as you," Watt said. "It's a steppingstone for something bigger. I'm enjoying the process and happy to be here."
Watt was one of 23 high school football players honored at the luncheon Saturday. Each player, along with their ability on the field that helped many of them earn next-level football opportunities, have also established themselves as excellent students in the classroom.
Many of the athletes boast grade point averages well above a 4.0 mark, and many have taken advantage of their academic success to help further their football and education careers.
Watt is an example of that.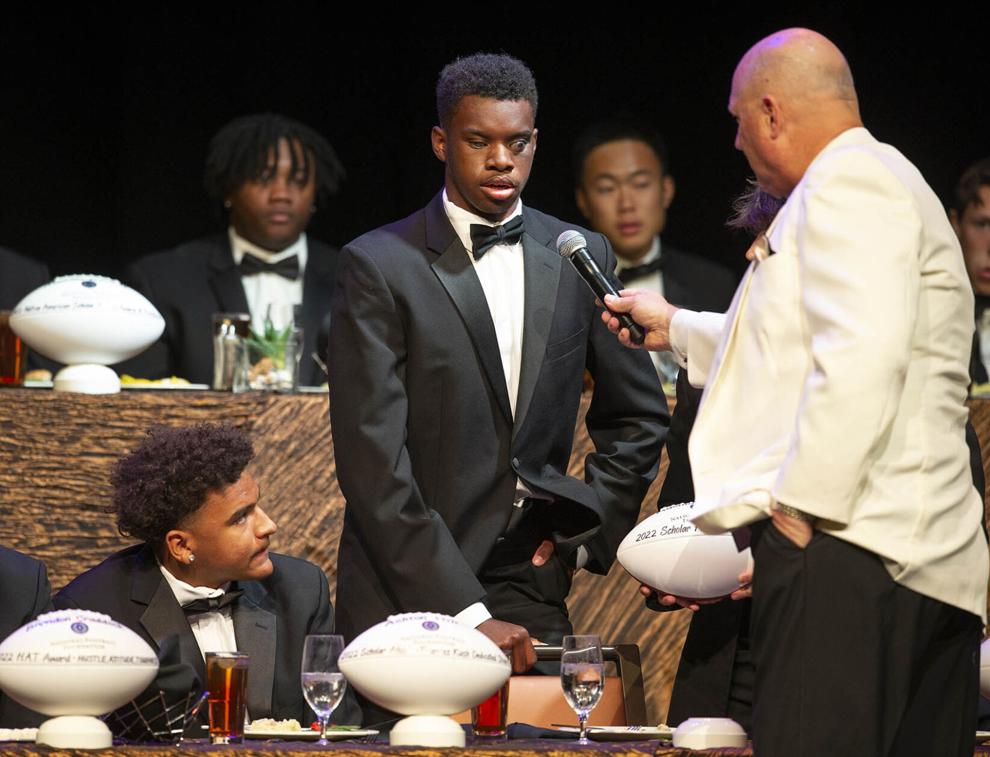 He captured the hearts of the high school football community when he made his varsity debut in 2019 for Brophy. Watt, a sophomore at the time, lined up at running back against Alhambra High School and plunged into the end zone from a yard out.
It was moments like that Watt decided not to give up his dream of playing football when his vision went dark. He kept pushing himself to be involved in any way he could. But to him, that was natural.
"When you find something you love, stick with it as long as you can or until you don't love it anymore, until the wheels fall off," Watt said. "That's what I'm doing and what I'm going to continue to do.
"Everyone has their own battles. Mine just happens to be my vision. That's how I look at it."
Watt told luncheon emcee and Arizona Sports360's Brad Cesmat shortly after he received the Shaw Courage Award that he plans to further his education at Arizona State or USC.
Of course, he still plans to play football.
Watt was honored alongside several other East Valley high school seniors from Chandler, Gilbert and Mesa, along with others spanning across the entire Valley and state from as far as Yuma, Parker and St. Johns.
The event also honored Arizona State award-winning Associate Athletic Director of Media Relations Mark Brand, AIA Executive Director David Hines and longtime quarterback coach Dan Manucci as "Distinguished Arizonans."
Additionally, Corey Stephens from Arizona State University, who was invited to the event as a senior in high school at Saguaro, Anthony Sweeney of Northern Arizona University and Ottawa University's Austin Bohn, who will enter the 2022 NFL Draft in hopes of landing an opportunity with a team as a punter, were honored.  
"There's 23 of us here today and it's really exciting," Arizona College Prep senior Bryce Chen said. "I'm just amazed right now. I'm at a loss for words because I'm from a small school. Some of these kids are from big 6A schools. I'm just …. wow, I'm here."
Chen was honored with the Core Construction Award for his time on the field and in the classroom at Arizona College Prep. He was one of the seniors that helped build the program into what it is today, a 4A Conference team that recently held its first-ever true home game at its new campus.
His four years at ACP were special. He challenged himself both on the field and in the classroom with a 4.35 GPA and became the Knights' top wide receiver as a senior and earned a scholarship to play at the next level at Rose-Hulman Institute of Technology, a Division III engineering school in Indiana.
Nason Coleman's high school career was nearly derailed by a knee injury before the start of his junior season. But as a senior he reestablished himself as one of the best at his position in the state as he helped lead the Wolves to yet another Open Division State Championship appearance last fall.
He will attend BYU to continue his football and academic career.
"The amount of games and seasons we've gone through, just making those relationships with my teammates is what is going to stick with me the most," Coleman said. "Going out with this honor means a lot. I think this focuses more how you are outside of the football field. That's something Chandler teaches us a lot, how to represent ourselves off the field. I think it's an extremely great honor."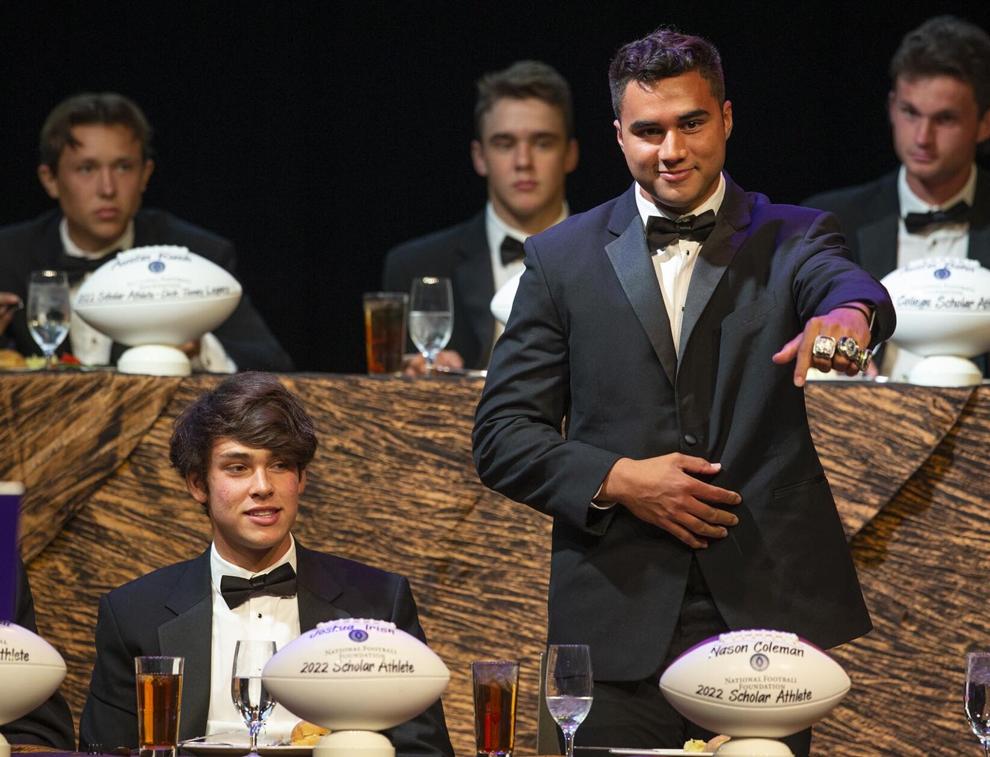 Dawson Hubbard's time at Hamilton was short as he transferred in before his junior season from Illinois. But in that time, he became a dominating presence for the Huskies on the defensive line.
Hubbard starred at the position for the Huskies, helping lead them to the Open Division State Championship game in his first season and the semifinals as a senior. He also maintained a 3.6 GPA throughout, which helped him earn a scholarship offer to Butler University where he will continue his football career.
Hubbard was one of four players named to the 2022 Elite Fiesta Bowl Academic Team and was honored at the Scholar Luncheon. To him, it was the perfect event to cap off his high school career.
"The situation I was put in, it was a once in a lifetime opportunity," Hubbard said. "Moving during COVID and playing at one of the best high schools in the nation, I'm just thankful to God, my coaches and my family.
"They accepted me for who I was and gave me the best opportunity to play football."
Seton Catholic senior Mattias Benally was also honored by the NFF as he received the Native American Award. Other notable Chandler ties included an inaugural scholarship in honor of former Chandler offensive line and in-game run coordinator Chris Chick, who passed away suddenly last year.
Chick's family established the scholarship in his honor, with Florence's Ryan King named the inaugural recipient for his leadership and passion for football and academics with a 4.22 GPA.
Joshua Irish cherished his time playing football and basketball at Mesa High School.
He and his teammates moved quietly in the East Valley, finishing with a 4-6 record and just outside the playoff rankings. But they have always longed for the opportunity to represent their school in the highest honor.
Irish was able to do that on Saturday, April 23 at Wild Horse Pass in Chandler during the National Football Foundation Valley of the Sun Chapter's 41st Scholar Athlete Luncheon. The senior was one of 23 high school football players honored.
He was one of four named to the Fiesta Bowl Elite Academic Team with a staggering 4.82 GPA.
"It's good for Mesa High to put our names out there and shed some light on the school," Irish said. "We're a good program and we produce good athletes. I'm just glad I can be here to do that."
Irish's first love at Mesa was with the basketball team. But after the COVID-19 pandemic began, he found an itch to try out football.
He found he had natural talent at wide receiver. He and Mesa's quarterbacks went through drills on their own as football camps were canceled and workouts were conducted without footballs to minimize the spread of the virus.
But they found a way. He became one of the team's top wideouts as a junior and carried it over to his senior season where he finished with 40 receptions for 468 yards and a pair of touchdowns in seven games. He was named a team captain for Mesa and received 1st Team All-Region honors.
Irish, for now, doesn't plan to pursue football after he graduates later this month. His focus is now on majoring in finance at Arizona State. But even if this does signal the end of his football career, he now has memories he will cherish forever.
"My senior year was just so much fun," Irish said. "I loved playing with the guys and I'm so glad I did it. I couldn't have done anything without my family, my coaches, my teammates. It's everyone who was behind me."
Red Mountain senior Ryan Grossklaus was also named to the Fiesta Bowl Elite Academic Team alongside Irish. He currently has a 4.4 GPA.  
Saguaro senior Miles Crutchley was the fifth recipient of the Bob and Janet Casciola Family Scholarship on Saturday. He shared the moment with teammate Thomas DeChesaro, who received the highest honor of the day.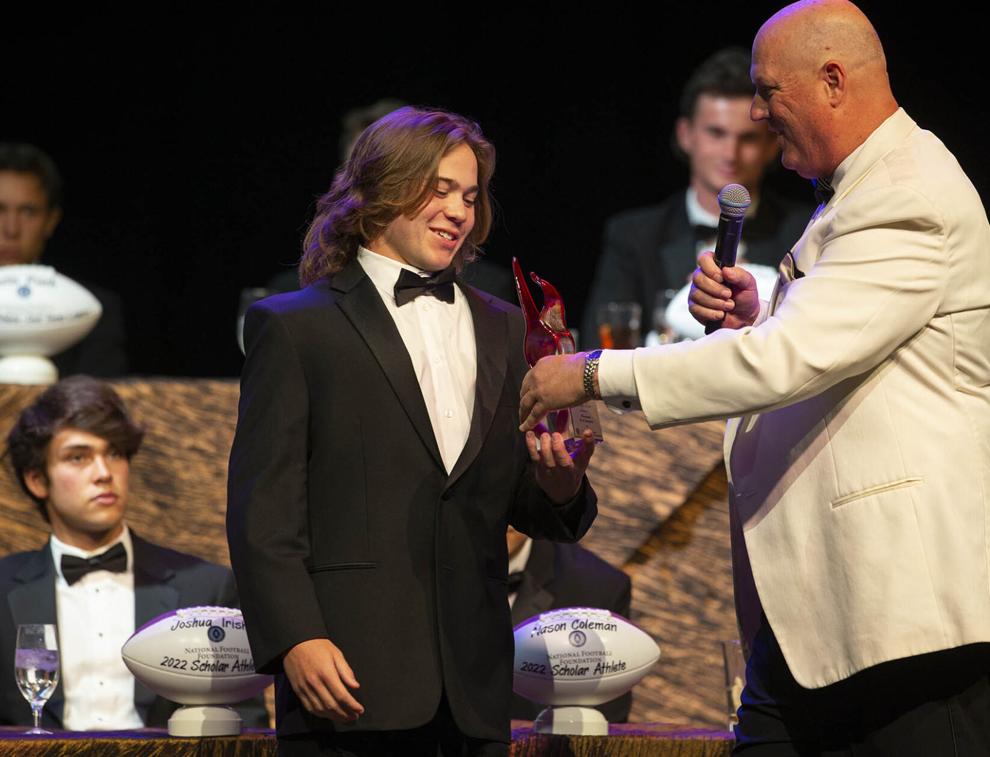 "There's a lot of really good, smart athletic guys here," DeChesaro said. "It's really cool to all come together for one big event like this to honor our achievements."
DeChesaro was named the NFF Valley of the Sun Chapter Scholar Athlete of the Year. The senior helped lead Saguaro to the Open Division State Championship last fall, beating Chandler.
Also a standout pitcher for the Sabercats, DeChesaro has prided himself on proving doubters wrong. He went overlooked by bigger college programs because he was considered undersized for his position as a safety at 5-foot-10, 182 pounds.
But Lake Forest College gave him a chance. Now DeChesaro will set out to continue impressing on and off the field.
"I can't wait to go show more people that counted me out for college what I'm capable of," DeChesaro said. "I want to dominate like I did in high school. I'm excited for the opportunity."