Thirteen Campo Verde football players carried American Flags out of the locker room before kickoff against Cactus Shadows Thursday night.
Each one represented one of the American soldiers who were killed on Aug. 26 in a terror attack outside Kabul International Airport in Afghanistan. The flags were taped to 13 empty chairs on the track near the field.
It was a special moment leading up to the 20th anniversary of Sept. 11 on Saturday. That, along with the desire to rebound after a heartbreaking loss last week, was enough to lift the Coyotes over Cactus Shadows after a short week of practice, 31-12.
"This win means a lot," Freeman said. "Obviously we were sloppy tonight and we have some things to work on. But it's always nice to get win No. 1 out of the way."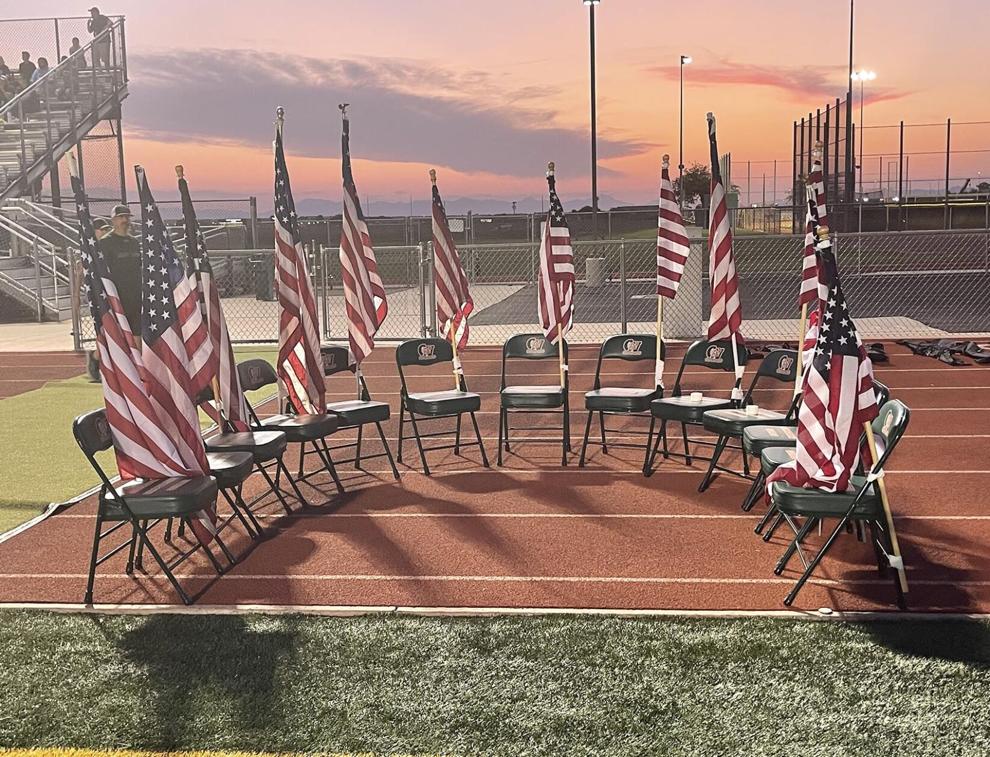 Campo Verde, sporting new matte green helmets this season, had only a stripe and the famous Lambda on the back to start the season. Freeman said they would receive white number decals after their first win.
He was thrilled to finally be able to decorate his team's helmet, yet another step in creating a new culture while still honoring the past in his second season.
"We finally get to put those white numbers on," Freeman said. "It'll be nice."
While Campo Verde's offense and defense played an overall sound game, there were plenty of mistakes. The Coyotes left points on the field on several occasions, failing to convert more than a field goal in three drives in the second half that started on Cactus Shadows' side of the field.
Holding penalties, chop blocks and illegal formations didn't allow for Campo Verde to find a consistent rhythm on offense. The Coyotes were flagged nine times for 90 yards on the night.
But despite that, they managed to put up 442 yards of offense. Senior quarterback Reilly Garcia, who didn't throw an incompletion in the first half, said he was confident not only in his arm but his legs after a tough loss to Desert Edge last week. He finished 12 of 18 for 225 yards and a touchdown.
"My confidence was really high tonight," Garcia said. "Especially after last week, I had confidence running with my legs and my trust with the receivers … we called a couple Audibles in the huddle. I just trust them to make a play."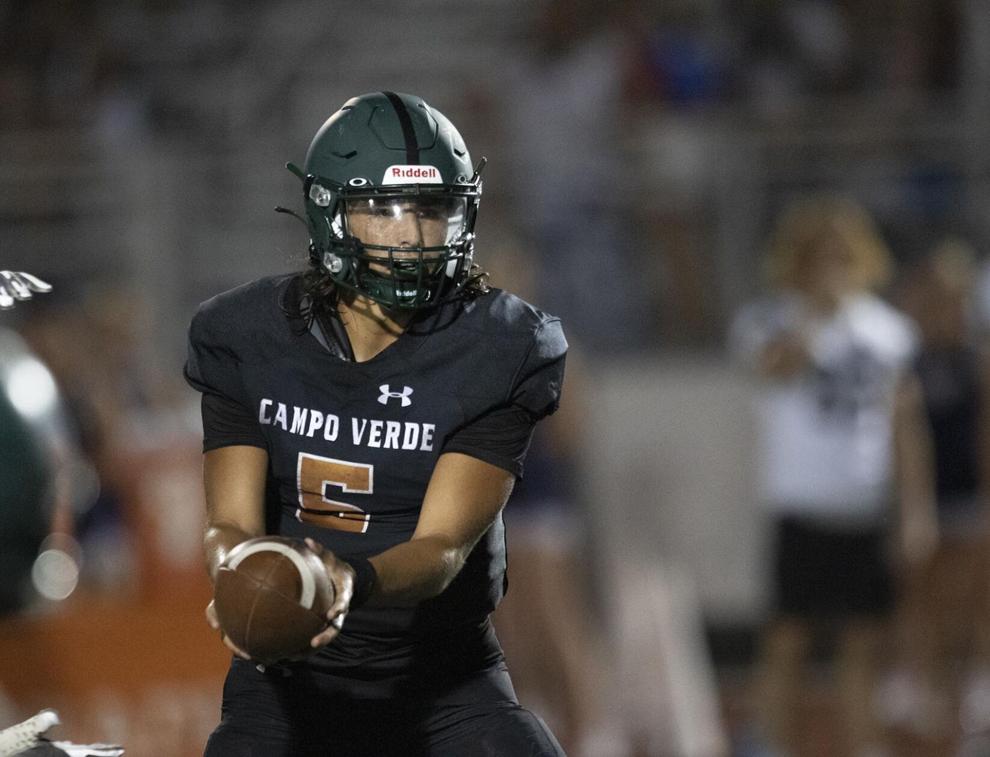 Garcia didn't play favorites with any of his wideouts. Six different receivers caught at least one pass on the night.
Senior Boston Williamson caught two passes for 32 yards, including a 20 yard touchdown. Senior Jersey Blassingame had two receptions for 26 yards but one came on a pivotal third down where the Coyotes had 34 yards to go for a first down.
Junior Amado Santiago caught three passes for 87 yards. He also rushed 74 yards on four carries and had a touchdown. Two other running backs — Jalen Collins and Athan Ferber — also scored. Santiago credited his offensive line for his success, a unit that, while undersized, is as physical as anyone in the 5A Conference.
"I love my offensive line," Santiago said. "They're very physical, big dudes. They should get the interviews. They put in all the work. Without them I don't get all of those yards."
Cactus Shadows found success at times against Campo Verde. But the Coyotes are known for their defensive play. It's been that way since Freeman became the defensive coordinator when the school first opened 11 years ago.
It remains the same now that he is head coach.
Cactus Shadows managed to find holes in the Campo Verde secondary — senior quarterback Corbyn Vasily was 15 of 31 for 229 yards and two touchdowns. But the defensive line put pressure on Visaly to force errant throws.
At one point, Cactus Shadows tries to set up a halfback screen but the rush got to Visaly too fast. The ball ended up on the hands of Campo Berde defensive tackle Joaquin Garcia-sanchez, who took it in for a touchdown. But a penalty negated the touchdown.
Nonetheless, Cactus Shadows was forced to just 29 rushing yards on eight attempts, as it was forced to pass on most downs because of Campo Verde's lead.
"Coach Tyler Mills, our defensive coordinator, he's doing a great job getting the kids ready," Freeman said. "It was a short week but they were ready."
The win Thursday night was one Freeman and his players felt they needed. Especially after suffering a last-second loss last week and head into a matchup against a tough Ironwood Ridge team next Friday in Tucson.
The mistakes made against Cactus Shadows are fixable. And Freeman is confident his team will carry the momentum gained from the win into the new week.
"We have to focus on us," Freeman said. "Years past even on my end I have obsessed about the opponent rather than obsessing about us. And that's the change."