In Houston today, the New England Patriots and Atlanta Falcons will play before 72,000 people in NRG Stadium while seeking football's ultimate prize: a Super Bowl championship.
The winning players will get $97,000 each for the day, and the losers do pretty well, too, earning $49,000. That's not counting the high-dollar contracts players have anyway.
In the East Valley, some football players are paying up to $500 a year for the privilege of getting knocked around before sparse numbers of family and friends in the stands. There's no question that these guys are in it for the love of the game.
Semipro football leagues and teams dot the East Valley, and as the NFL wraps up, these warriors are just getting started. Players pay to join, and must assemble their own equipment, new or second-hand.
The leagues, which attract all ages, are populated with wanna-bes and never-weres, and those just itching to finally win a championship.
Ben Burnell plays with the East Valley Warlords. The team plays in the Arizona Gridiron Football League.
"I've been playing football since I was 9 years old," said Burnell, who is 27 now. "Since high school, I've only had two or three seasons I haven't played.
"A buddy of mine played for the Warlords while I was in the Navy, and told me about them. I played for them last year. They really are a great organization."
There are many reasons why people would endure practices and games long after many others have hung up their cleats.
"There are a lot of guys who are trying to move up to the next level," Burnell said. "I just like to keep playing."
Burnell is chasing his first championship at any level.
"That's a big part of what keeps me going," he said. "If we win the championship this year, I'm going to hang it up and not play anymore."
Burnell knows how difficult it is to play at any level, and says that sometimes pros get unfairly slammed. He knows that a player during the Super Bowl today will make a mistake and will have to endure criticism.
"It bothers me when people say this guy on this pro team stinks, that they're not really good," he said. "It's not true. When you're on an NFL roster, you're not bad at football."
There is a dividing line between those pros and players like Burnell, though.
"They could complain a little bit less about the money they're making," he said. "Their minimum salary is half a million dollars."
Even though he isn't getting the big bucks—or any bucks—Burnell says he's happy playing.
"To me, it's worth it to play," he said. "Football's always been part of my life, and I don't really know what I'd do without it."
Owner's growing hobby
Nikki Zupan has co-owned the Warlords the past three years, and has been with the team for eight years in all.
"This is somewhere between a hobby and a business," she said. Assistant coach Jonathon Roundtree is another owner.
"I started off just helping them out with social media, getting their name out and finding players. You get into these organizations and you see how much potential there is," Zupan said.
She said that although some teams are more for fun, the Warlords consider themselves developmental. They try to get their players connected with colleges and pro leagues, such as the Canadian Football League and various indoor leagues.
"We're looking for those guys who maybe need another year or two of seasoning after high school," Zupan said. "We had one guy who made it to the Canadian Football League for a while."
Although the median age of the league's players is 23, not all of them are trying for the big leagues.
"Some guys are older and just looking to stay active. Some are just looking to get out of the house for a few hours a week," she said.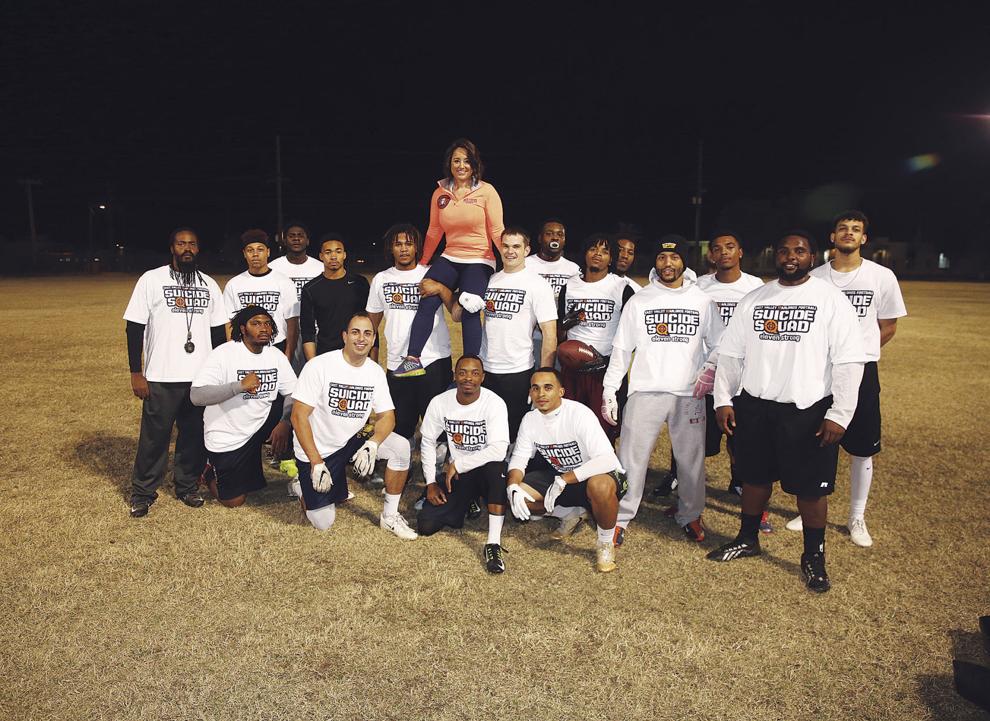 There are younger players, too. Home-schooled students don't usually have an outlet for sports, so some have ended up with the Warlords.
"Home-schooled kids who are in high school don't have a team to play for. Their parents will allow them to come to us and play competitive football," Zupan said.
Burnell noted, "Last year, we had a 17-year-old backup quarterback."
The Arizona Gridiron Football League has teams all over the Valley, as well as down in Tucson, in Prescott and northeastern Arizona. Locally, the league plays games in high school stadiums, such as Williams Field High in Gilbert. They begin playing games this month.
Chasing the dream
Kevin Pakos is president of the Arizona Football League, another group that starts play in February.
"Our motto on our website is 'Keeping the dream alive,'" he said. "The dream for football players is to put the pads on again, to rejoin the brotherhood."
Pakos says the options are limited for all but the best players. After high school, there is college for a few talented players, and the pros for even fewer, but the majority never play again.
"I was one of those kids who came out of Glendale College and never went further. I wondered what could happen if I could keep playing," Pakos said.
"For our players, this is for fun. That's why we do it."
Some get a little more than fun out of it. Siaha Burley played in the Arizona Football League, and went on to play Arena football with the Arizona Rattlers and Orlando Predators. Deuce Lutui played in the league, too, before going on to junior college and then USC and a pro career with the Arizona Cardinals and Tennessee Titans.
The semipro leagues offer chances for more than men over college age.
"We have women coaching and playing," Pakos said. "One player, Lynn Autry, played with her husband Byron. We've had seven women play in the league, and three either coaching or owning or both."
All that is fine, Pakos said, but busting barriers is not the reason for the game.
"We want to be more than a weekend warrior game," he said. "We know the players have a passion for the game."