Mesa will sacrifice some improvements at a series of intersections planned a decade ago to help finance the city's share of Valley Metro light rail's two-mile extension to Gilbert Road, projected to open in spring 2019.
Regional sales tax revenues earmarked for widening projects at five northeast Mesa intersections will be repurposed to pay for the city's 5.7 percent share of the $186 million project.
Mesa's tab for the extension grew by $1.3 million, to $10.6 million, as the result of an increase in construction costs and other factors, including a series of improvements suggested by residents that will make the largely barren stretch lusher and more appealing for pedestrians.
These improvements include more landscaping, shade and some retention basins, which are required to reduce flooding that could damage the project.
The good news for Mesa taxpayers is that, despite the higher price tag, there will be no additional expenditures needed from Mesa's general fund. The city's share largely will be paid in regional sales tax revenues from Proposition 400 earmarked for highway and transit improvements. The funds are allocated to cities by the Maricopa County Association of Governments, a regional planning agency.
The MAG money reimburses Mesa for the cost of municipal bonds sold to jump-start major projects in anticipation of receiving the sales tax revenues at a later date, said Jodi Sorrell, Mesa's transit services director.
Preliminary construction on the light rail extension already has started between Mesa Drive, which is now the last stop in the East Valley, and Gilbert Road.
The new financing, which lays a foundation for completing the project, was approved unanimously by the Mesa City Council on June 5.
"The further east we go, the more receptive people are to it," Sorrell said. "There's a lot of people who live there who think it will transform the corridor."
The Gilbert station will be closer to some established neighborhoods that are engaged in Mesa civic affairs, where there are some opponents of light rail but many more residents who are looking forward to it arriving, she said.
After a slow start in west Mesa during the Great Recession, more economic development projects are being built, including a condominium complex, she said.
"I know there is other interest along the corridor and in downtown," Sorrell said. "We are starting to get some momentum."
Sorrell said she was excited in March and April, when ridership on the four miles of light rail hit 200,000 in two consecutive months. Ridership usually drops in the hot summer months and starts picking up again in August when college students start taking the light rail to Arizona State University.
Mesa ridership statistics for the light rail, available on the city's website, provide a strong indication of the system's appeal to East Mesa residents, as the light rail expands east along Main Street, closer to their homes.
When the light rail first opened, the only Mesa station was on Sycamore, just east of Dobson Road. In August 2015, the Sycamore station, a park-and-ride facility, was by far the most popular, recording 88,984 riders compared with 23,360 at Mesa Drive.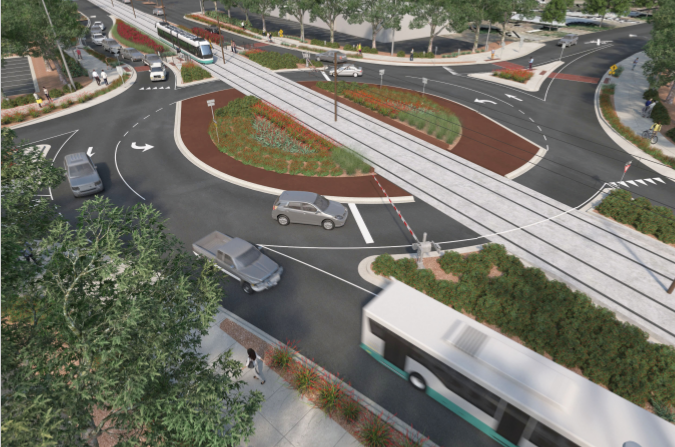 Sorrell said ridership has gradually shifted and dispersed as the light rail was expanded to east. A year later, in August 2016, Mesa Drive was the most popular stop in Mesa, with 62,750 riders, compared to 38,849 at Sycamore.
The five intersections scheduled for widening were Lindsay Road at Brown Road; McKellips Road at Lindsey; McKellips at Greenfield Road; McKellips at Higley; and McKellips at Recker Road.
"They were proposed in 2002 and 2003. Needs changed and priorities changed," Sorrell said.
Since that time, the Red Mountain Freeway opened and reduced traffic volumes on McKellips. A traffic analysis attached to a council report showed no fatalities at any of the five intersections during the last five years, between January 2012 and January 2017.
The five intersections were given a "serious/fatal rank" based upon their accident history. The highest rank for serious and fatal incidents was McKellips and Higley, which recorded a 19. The lowest rank among that group was McKellips and Lindsay, which recorded an 84.
"Upon completing the analysis, it was determined that the five intersection projects did not warrant improvements at this time due to low traffic volumes and a low number of vehicle crashes," the report concluded.
– Reach Jim Walsh at 480-898-5639 or at jwalsh@timespublications.com.