Shuai "Mark" He certainly used his noodle opening his new Chandler restaurant last month.
With Let's Eat Noodles, he introduces the region to authentic "alleyway cuisine" from his native Chongqing, also known as Chungking, in southwest China.
"The food we have is spicy, and the ingredients are unique and complicated," said Mark, a marketing student at Arizona State University.
Each dish has as many as 20 ingredients, all freshly prepared, including fried peanuts, broiled sprouts and chili peppers – what he calls the "soul of the noodle soup." Food is spicy in Chongqing, as in other warm southern Asian areas, to help the body cool through perspiration, he explained.
"Of course, we can make your food less spicy. Just ask any of us," he said.
He and his business partner have five employees. Both his business partner and his girlfriend are also from Chongqing.
"She helps me a lot, too, when I make the hot chili oil. She gives me a lot of inspiration, loves to cook and gives me ideas for new recipes."
Chongqing food is similar to that from the Szechuan province, but the emphasis is on noodles – the base of many, although not all, of Mark's dishes. Some ingredients come directly from that city, while others he acquires from local wholesale purveyors and ethnic groceries.
For instance, instead of some of the Chongqing hot peppers he can't buy from China, Mark uses habaneros from Mexico or Chinese hot peppers from Los Angeles, which offer similar spice levels.  
Mark spent almost 20 years in Chongqing, and his family still lives there. He tries to visit at least once a year.
Chongqing is an enormous city. With a metro population of 30 million and an urban population of 18.38 million, it's the most populous Chinese municipality.
"It's so large, it's considered like a province, like Sichuan (Szechuan) or Hunan," Mark said. He explained that Chongqing is one of China's four municipalities that are, in essence, administered the same way the provinces are. The others are China's capital Beijing, Shanghai and Tianjin.
This was done in 1997 as part of the massive Three Gorges project, which forced migration from the areas filled by the world's largest dam. People came to the city looking for homes, jobs and futures. They also found great food.
Mark acquired his love for cooking and hospitality when he was a boy.
"I worked as a waiter in my Uncle Yu Liu's three restaurants in Chongqing. I worked in the front and back for about three months and gained a lot of experience. He's also a great chef. I learned a lot of things from him."
He said he learned that great food requires great commitment.
"In Chongqing, the noodle-house owners are a group of early risers," he writes in his menu. "Around 4 o'clock in the morning, they start to cook a rich, flavorful spicy oil. The fragrance of the homemade pepper begins to permeate the neighborhood."
His Uncle You Liu is visiting him this fall to offer some insights on restaurant management and development. At ASU, his marketing studies have already helped him with the business, he said.
"I came to the U.S. because I wanted to study business at ASU and I wanted to know more American culture. Besides, I love basketball and the NBA," he said, noting that he wants to make his life here after graduation. "This is my American dream."
Signature dishes at Let's Eat Noodles are spicy beef noodles, fried potato, cold noodles, mushrooms & short ribs xiao mian and braised beef mian. In Mandarin Chinese, "mian" is noodles and "xiao" is a "small amount."
The restaurant's hot pot is also native to Chongqing, and you can order it with vegetables such as kelp, tofu, potato and lotus root as well as fish, tripe and calamari.
Also available are dishes with fish and seafood such as the barbecue fish and the seafood xiao mian, as fish is a staple in Chongqing. The Jialing River, which feeds the great Yangtze River, passes through the city.
The signature dessert is magic ice jelly, reminiscent of Jell-O but with organic bean jelly, peanuts, white sesame, sweet wine, osmanthus – a fragrant flower native to south China – and brown sugar.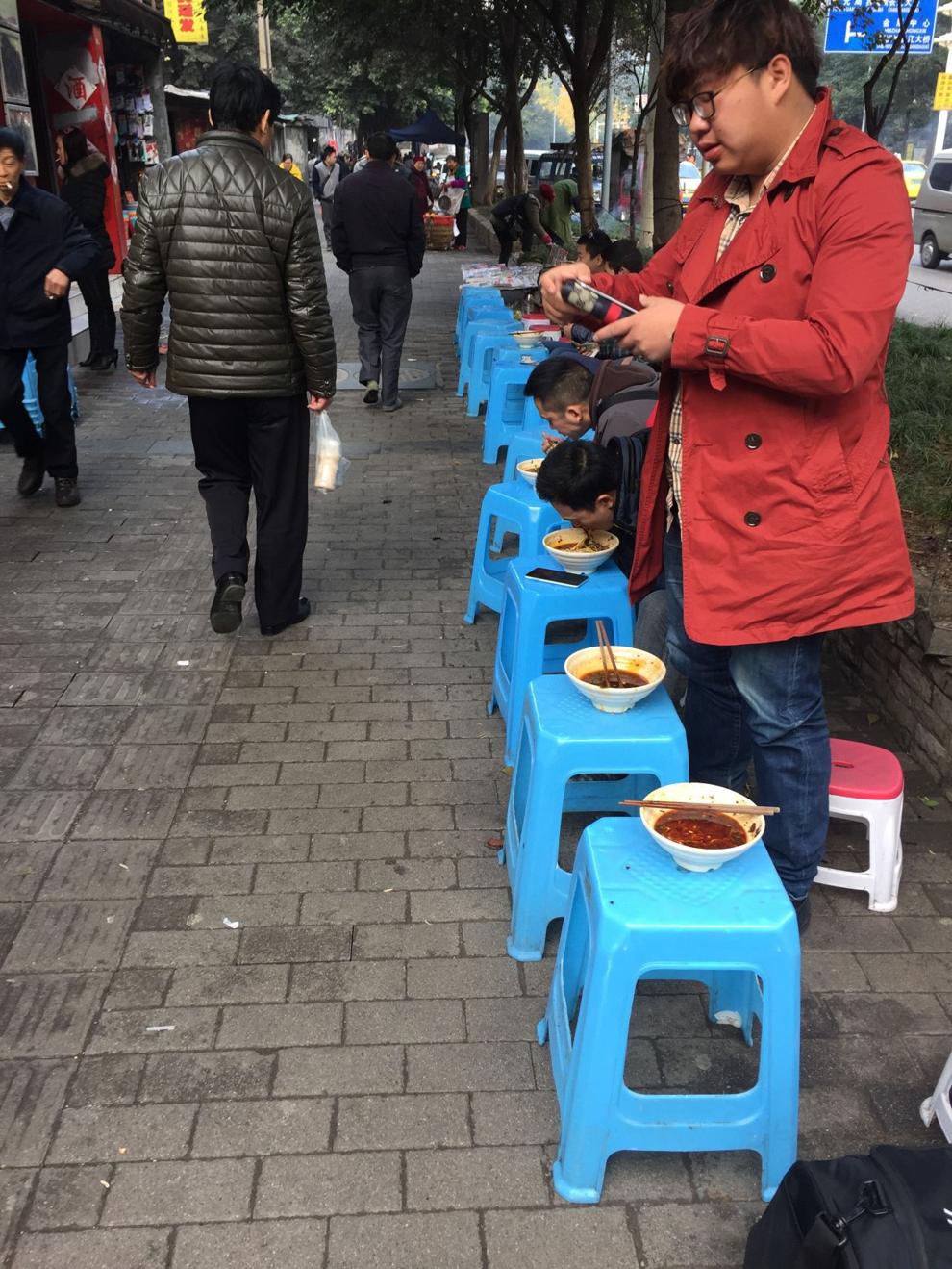 "It will make you feel you are in Alaska, not in Arizona," Mark said.
"All of the food we serve is authentic and represents the people's favorite food," he said. "Chongqing food and noodles are unique, and the food we serve here is almost the same, the same flavor. That's why we opened: to bring real Chongqing food to the U.S. I want more people to know the food I've loved since I was young."