Founding Mexican Moonshine Tequila has been educational for Roger and Alisa Clyne. The Tempe couple learned, in particular, that the musician's name wasn't going to carry the brand.
"Roger likes to call himself 'The World's Most Famous Unknown Band,'" she said about her husband who fronts Roger Clyne and the Peacemakers.
"Roger has some notable fame in Arizona and a little in the United States. But his notoriety isn't going to sell it. It comes down to whether it's a good tequila or not."
Fans can make their own decision. Clyne will sign purchased bottles of Mexican Moonshine Tequila from 1 to 3 p.m. Sunday, Sept. 10, at Costco, 1445 W. Elliot Road, Tempe. For more information, call 480-496-6651.
Mexican Moonshine Tequila was named after the Peacemakers' song "Mexican Moonshine," a double entendre about the country's moon and the blue agave juice. The company's three marques – Silver, Reposado and Añejo – are double-distilled and triple-filtered, and harvested from the valleys of Jalisco, Mexico.
The process makes the tequila extra smooth and removes the ingredients that give consumers hangovers.
"Ours is a nice, clean, pure spirit," she said.
Silver is the pure agave essence with no wood barrel inclusion in the flavor profile. Reposado is aged for nine months in Kentucky bourbon barrels of American white oak, giving it buttery, oaky notes. Meanwhile, Añejo is aged for 18 months in Kentucky bourbon barrels of American white oak, lending smoky, tobacco and vanilla tones from the charred barrels.
Arturo Fuentes, the master distiller, creates small batches of tequila at La Fabrica de Tequilas Finos in Tequila, Mexico.
Alisa Clyne said her husband carefully walks the line between tequila brand owner and musician. Even though Roger is the face of the product, the entire band shares in its ownership.
"You have to be delicate when you have commerce that's following art," she said. "His music is the most important thing. That has to take the front seat over all of everything. He has to produce art that's quality and what the fans love. He's not writing new songs about tequila."
Mexican Moonshine Tequila was founded six years ago. Alisa Clyne, as well as the Peacemakers, bottled 1,000 units of the Reposado for Circus Mexicus, the band's annual music festival in Rocky Point.
"We sold out," she said. "We thought we might have something here. It's always important for Roger to make sure we have a great tequila. He didn't just want to slap his name on something and make money."
Soon, they had Mexican Moonshine under their belt.
"One thing we love about the distillery is they were very conscientious about the ecosystem," she said. "They took it a step further and they take leftover liquids and turn it back into drinkable water and compostable solids. The water goes back into the water table for Tequila, Mexico, residents and the solids go back out on the field for the next generation of agave."
Recently, the distillery installed solar panels, which impressed the Clynes.
"Over 40 percent of electricity to run the distillery is solar power," she said. "We're hoping by 2017, the numbers will be higher."
Mexican Moonshine Tequila has been a hit. Alisa Clyne is adamant about attending festivals where she can offer tasting and pairings. It is also the official tequila of the Arizona Diamondbacks, for whom Roger Clyne penned its victory song, "D-backs Swing." Words to the track have been painted on Chase Field walls near the staff elevator on the upper concourse and by the Audi Quattro lounge.
"That was a real delightful surprise," she said. "The D-backs have been wonderful. Our first season was last year. They had a rough season, but a lot of people still went to the games."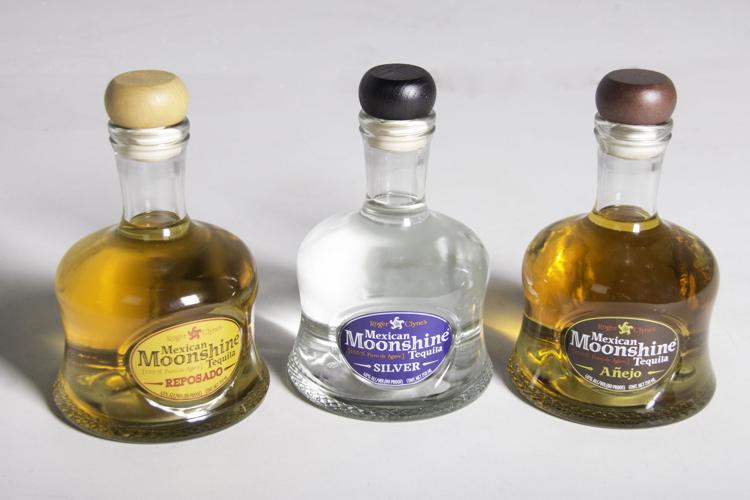 There are 22 tap handles at Chase Field selling classic margaritas. Bars that can free pour serve blackberry margaritas.
"The whole project has been challenging," she said about Mexican Moonshine Tequila. "You have to be careful not to let it take over everything and dominate everything. But at the end of the day, it's rock 'n' roll and tequila. It's fun."