Several East Valley restaurants and food purveyors gained exposure to a wider statewide audience when they plied their wares at the Devour Culinary Classic, the annual Arizona-centric food and drink gathering put on by the Local First Arizona non-profit group.
The event, which took place on March 3 and 4 at the Desert Botanical Garden in Phoenix, featured over 200 restaurants, breweries, wineries and other vendors dishing up small dishes and drinks from booths set up throughout the desert plant sanctuary.
Attendees had the chance to enjoy the scenery and temperatures that ranged from the mid-60s to mid-70s while tasting the best that the Arizona food scene has to offer.
Handlebar Diner, the first major restaurant to come to the Eastmark master-planned community in East Mesa, participated in the event for the first time this year. The restaurant opened in April 2017 and operates out of a vintage 10-seat diner that developer DMB purchased from Loveland, Colorado, through a Craigslist post.  
Attracting diners outside Eastmark can be difficult because "it's a 45-minute drive (from Phoenix)" and Devour gave the restaurant the chance to reach more people in the greater Phoenix market, Chef Adam Allison said.
Allison, whose booth was set up right near the VIP entrance to the event, served those potential new customers a buttermilk-brined chicken wing with Alabama barbecue sauce and a sweet corn and green chile fried ice cream.
He also used the opportunity to tout another food business coming to Eastmark, Steadfast Farms. The farm, which operates out of Queen Creek, is opening an urban farm location next door to Handlebar Diner and provided the pickled vegetables served alongside the chicken wings.
The west side of Mesa was also represented at Devour by Worth Takeaway, a sandwich shop located downtown. The restaurant, which dishes out high-end sandwiches made with locally sourced ingredients, served up a Cuban sandwich, banana pudding and a pineapple-jalapeño soda.
The event was a way to reach customers outside Mesa, co-owner Jim Bob said.
"We try to be really strategic about how we put our name out there," Bob said, noting that they don't have a sign up outside their storefront.
The approach seemed to be working.
"This is my first time (trying Worth Takeaway) and it's fantastic," Chandler resident Becky Herbst said. She said she would definitely consider making the trip to Mesa to try Worth's sandwiches at the restaurant in the future.
A few longtime Devour participants also hail from the East Valley. The Dhaba, an Indian restaurant in Tempe that serves authentic Punjab cuisine, has worked the event for several years now and drew a long line of patrons shortly after opening the booth.
"It's good, tasty and flavorful," Phoenix resident Nicole LaSlavic said of The Dhaba's chicken tikka masala. She added that after trying the restaurant at Devour, she would consider making the drive to the restaurant from her home in Central Phoenix.
"We've been participating because this is a signature event, and we are very active in Local First Arizona," The Dhaba owner Raveen Arora said.
Fellow Tempe restaurant Cafe Lalibela is another longtime Devour participant. The restaurant serves traditional Ethiopian cuisine and offered guests a spicy beef stew called key sega wat and a red lentil stew called misir wat. The dish also featured the restaurant's popular injera bread, light brown crepe-like bread made from a native Ethiopian grain.
"Many people can come to (Devour) and try your food for the first time," general manager Anibal Abayneh said.
The restaurant has gained a large following throughout the Valley and it recently struck a deal with Whole Foods to have the grocery chain carry its food in the hot bars at local locations.
Beyond the traditional restaurants, Devour also included other food businesses from the East Valley.
Doc's Artisan Ice Cream, which has participated in the event for the past five years, sells its desserts from its storefront in Tempe at Priest Drive and Warner Road and has gained a large following over the years.
"Lots of our business comes from doing events like this," owner Doc Brown said. "Lots of people come looking for us every year and I remind them to come to the shop."
Doc's served an array of its handcrafted popsicles in flavors like raspberry chambord sorbet, coconut lemongrass lime sorbet and bananutella gelato.
Toasted Mallow, the Gilbert dessert shop formerly known as Fluff It Marshmallow, served up two of its signature gourmet marshmallows with fillings like cookie dough and cherry cordial.
The Gilbert retailer's popularity has boomed recently thanks to a recent Buzzfeed video with over 1.7 million views on Facebook and a new recipe book "Marshmallow Heaven" authored by co-owner Tricia Arce with photographer Joanie Simon.
Toasted Mallow also was gaining fans outside Gilbert at the Devour event.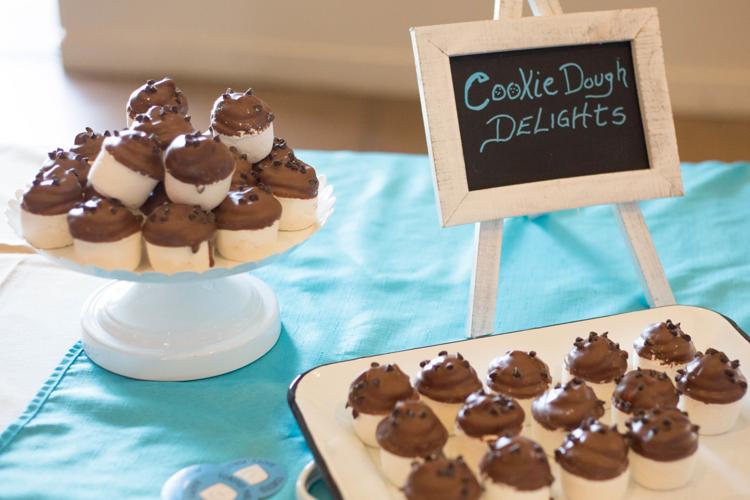 "So far (the response) has been great," co-owner Hazel Arce said. "No one knows you can make marshmallows from scratch."
Just a few feet from the Toasted Mallow table another from-scratch food producer called Proof Artisan Bread was handing out a variety of baked goods. The bakery doesn't have a storefront and operates out of owner Jon Przybyl's home in Mesa.
"We're the only commercial bakery using (Tempe-based) Hayden Flour Mills' ancient grains in all of our breads," Przybyl said. The company also used locally sourced Mesa lemons for the lemon curd on one of its pastry offerings for the event.
Proof sells its goods in Gilbert at The Farm at Agritopia and Gilbert Farmers Market. Its products are also available in Mesa at Mezona Market and Tempe at Tempe Farmers Market.
Przybyl, who bought Proof from founder Jared Allen last June, said he was invited to attend the Devour event and "you can't pass this up." The timing was especially perfect considering the company just began selling its bread in Phoenix.
"The Phoenix market is new to us," Przybyl said. "We just entered Phoenix with the Phoenix Public Market in September and the Uptown Farmers Market in February."
– Reach Wayne Schutsky at 480-898-6533 or wschutsky@timespublications.com.