Sitting under a shaded area next at Apache Palms RV Park in Tempe, Doug Schnorbus taps away on his laptop, two cellphones lying nearby on the folding table.
Wearing brown shorts, a North Face T-shirt and flip-flops, he's dressed for the triple-digit weather in Arizona and not as the full-time account executive that he is for a national financial services company.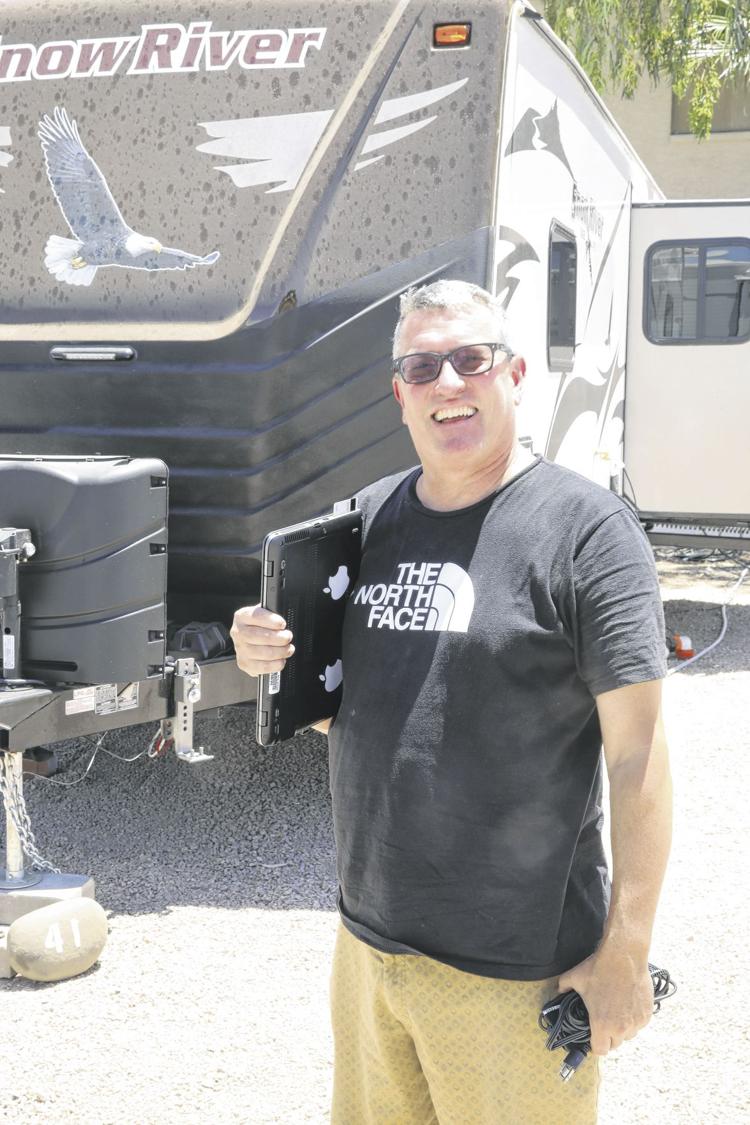 Schnorbus represents an emerging demographic among America's RVers, a telecommuter with a full-time job who can set up his office anywhere that has Wi-Fi.
During the past 10 years, change has overtaken the RV industry from all fronts with the age of travelers dropping by several decades and owners demanding more amenities because they want to live as well on the road as they do at home.
"The single biggest change in the past decade has been the lowering of the age of a lot of RV'ers," says David Gorin, owner of David Gorin & Associates, a McLean, Va.-based RV industry consulting firm. "Ten years ago, they were 55 and up. Now the owners are in their mid-40s and beyond. When you look at the industry as whole, it's a lot different now."
Mary L. Schmidt, general manager of Venture Out at Mesa, says Boomers are more "fluid."
"New Boomers open up their unit in the fall, stay a month, then leave and rent the space," she says. "They come back in April and May and enjoy the quiet and the amenities."
An important factor in these changes is the advent of technology. Gorin says that, because people can work from anywhere via telecommuting, many business owners in particular take to the road and simply work from wherever they happen to be.
Many aren't waiting for the gold watch and retirement before hitting the road, if that lifestyle is appealing to them.
"We all have the same address, and that's no address," Gorin says. "People are going mobile all over the country."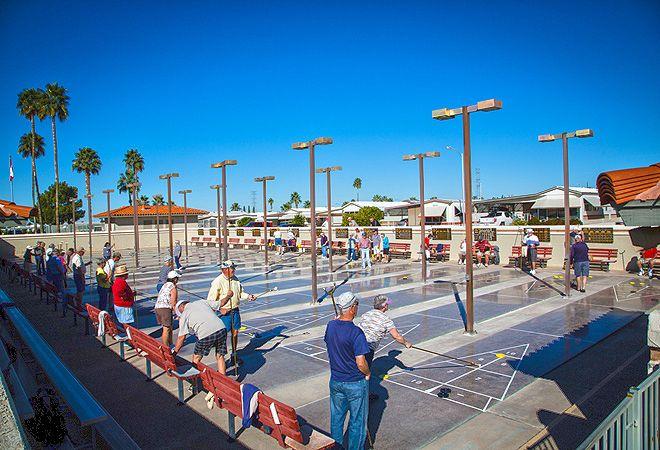 Schmidt agrees that technology is a draw for RV users now.
"If you don't have a good Wi-Fi system, you're not in play," she says. To that end, Venture Out is upgrading its Wi-Fi before residents start rolling in, which she says is usually in September.
"We're working on a pretty revolutionary Wi-Fi system. I can't talk too much about it, because I don't want to give it away," Schmidt says.
Moving from the empty nest
Schnorbus and his wife, Maleia, found themselves with a rather large empty nest when the youngest of their four children moved out of their 5-bedroom home about four years ago to start college at Northern Arizona University.
The couple first downsized to a condo. But Schnorbus lamented that the demographics at the complex in Scottsdale were skewing younger and younger.
 "Not that I didn't enjoy my 20s, too," he says, laughing. "But we decided to move to an apartment." That wasn't better. So, not long after, they bought their current 25-foot RV home and relocated to Apache Palms.
It was hardly a matter of dropping out.
"We've been here for about six weeks. We've found it very friendly. And the light rail is right here," he says, pointing to Apache Boulevard and the train tracks just a short distance on the other side of the street.
During this transition phase, the couple also bought a condo in North Myrtle Beach, N.C., to serve as their eventual retirement home. At the moment, Schnorbus isn't planning to retire any time soon. He nods toward his laptop saying he needs to get back to answering emails and making phone calls from his shaded outdoor office.
To keep up with the expectations of their clientele, the East Valley's RV parks are constantly looking for ways to entice visitors and residents to their properties.
In addition to year-round residents like the Schnorbuses, short term visitors tend to stay at parks such as Apache Palms.
But "seasonal residents," those who first start showing up in Arizona in about six weeks, are more likely to gravitate to the much more amenity-rich RV resorts that blanket Mesa, Apache Junction and beyond.
In addition to the early arrivers in the fall, others continue to arrive and stay throughout the winter – until they swell the population of the East Valley to its annual high in February and March.
More of these visitors are retired. Some call Arizona home but travel a few months in summer to escape the heat. Others still own family homes in northern climes but spend up to half the year in the sunny Arizona RV resorts with newer friends they meet back here each year.
And no longer does a shuffleboard court and a hot tub meet the demands of the ever-changing and diverse population of RV users that make their homes – however temporarily – in these RV resorts.
"The resorts have upgraded their games considerably in most cases. People are looking for and demanding that they live comfortably while 'on the road,' " Gorin says.
Beyond comfort, most want a wealth of activity and interaction.
One amenity that residents are looking for is a fitness center.
"Nobody had fitness centers in the '50s and '60s. In the '80s, you had a room with a treadmill," Schmidt of Venture Out says. "Now, a fitness center is a prerequisite."
At ViewPoint RV Golf Resort in Mesa, general manager Cheri Dewarrat is fully aware that "Baby Boomer residents want more to do; they want more square footage. They just want more," she says.
While ViewPoint is an "age-qualified" resort – built around the requirement that one resident much be 55 or older – it also has a growing number of people in their late 40s and early 50s. They include the "under-age" percentage allowed by law in addition to younger spouses.
"It is a balancing act to make sure we meet and exceed all of the expectations of these generations who are new to retirement. Each age group has different needs, and we recognize this," adds Dewarrat.
The resort is owned by Equity Lifestyle Properties, a Chicago-based real estate investment trust.
During peak winter months, ViewPoint has nearly 5,000 residents, about half Canadian, Dewarrat says. The living spaces range from 350 RV hook-up sites, to older park model homes and three-bedroom Cavco manufactured houses that are ground set. Cavco is a Phoenix-based manufacturer of systems-built homes.
Dewarrat's background is in the hotel and hospitality industry. "Having the hotel background is a plus for managing a large property like ViewPoint," she says.
Her vision for the property is apparent on a recent tour of the 350-acre village in the foothills of the Superstition Mountains. There are small green parks with tables and benches scattered throughout, clever landscaping with pottery and artfully arranged rocks cascading on inclines, an artistic touch added by the property's Tennis Club. "This was just dirt before," she offers.
In the 2,000-square-foot gym, a wicker basket holds fresh towels for exercisers, one of many small luxury touches that are appreciated by ViewPoint residents. "Just adding small touches around a property goes a long way," Dewarrat says.
Amenities and clubs
The resort offers both 18-hole and 9-hole golf courses with discounts for residents. There are six spas, three swimming pools, five pickleball courts, 10 tennis courts, a softball field and more than 25,000 square feet of banquet/activity space.
But, as they say on late-night TV, wait – there's more: A billiards room; the large library with wall-to-wall shelves full of books, movies, puzzles and games; a computer lab; and spacious laundry facilities, even though many homes have their own laundry rooms.
On the interaction side, more than 150 clubs within the community are open to new participants, including the 450-member tennis group and a dozen softball teams. "The tennis and softball teams play competitively with other resort properties in the area," Dewarrat explains.
Now, during off-season, only about 325 sites are populated at ViewPoint.  Dot Boksa is one of the "year-rounds" – but even she isn't quite sure of her exact tenure.
"It's been 18, 19 or 20 years," Boksa says, looking up briefly from a jigsaw puzzle she is working. "My husband and I moved here, and we've been together 65 years."
Boksa says her "street" has four other year-round residents, which is one of the reasons she likes her location.
While Boksa resumes her puzzle, Dewarrat climbs to the stairs to show off another of ViewPoint's amenities: a 60,000-gallon pool, with a view that stretches for miles before ending at the dusty red Superstition Mountains, rising gracefully on the horizon.
The neat, straight rows of homes seem to line up for miles. That's why golf carts are the vehicle of choice among residents, who zip around the grounds to take advantage of the wide range of amenities.
"This place is just fabulous," says Richard Snyder, a retiree from Simpsonville, S.C., who has been staying here with his wife and their 100-pound golden retriever, Sierra, for "three or four months."
"We have made some friends here, mostly at the dog park," he says.
That's another change Dewarrat initiated. While the park had been about "20 percent" dog friendly, she says she made the move to a fully canine-welcoming property about eight years ago. Active retirees like to travel with their dogs, and it's part of the overall interaction among residents.
Snyder sits with an Atlas on his lap at a table in the library. He's plotting the route north in anticipation of their impending departure. He explains that it has been their first trip "out West," and adds, "We're not really quite ready to leave yet."
The activities and physical amenities aren't the only attraction at the resort. There's an activities director in charge of "tailgate" parties. ViewPoint's version? Residents circle their golf carts like wagons to chat, drink cocktails and listen to live "Music on the Green."
The resort also brings a rotation of activities to the site. An itinerant country store offers crafts and goods for sale. There are dances featuring music that was popular in the 1950s, '60s and '70s. There are also periodic dinner shows.
"It is ever-changing," Dewarrat says. She indicates a building under construction adjacent to some recently planted palms.
"We're building a new fitness center there." When finished, it will include privacy cabanas, a pool and spa, a 2,000-square-foot fitness center and a fire-pit – all surrounded by new decking and landscaping.
"Every summer we upgrade something. We like to have something new waiting for the returning residents," Dewarrat says.
It's a formula that is working. The Arizona Association of RV Parks & Campgrounds gave ViewPoint the Mega Park of the Year Award for 2016.
And, back at the much-smaller Apache Palms, owner Barbara Stafford also sets a high bar for the park she has operated for more than 25 years. In April, she received the association's Small Park of the Year Award.
Angie Sherman, office manager at the Palms, says there's always a mix of different backgrounds and ages in residence. Although summer months are off-peak for visitors – most preferring to leave the Valley of the Sun for cooler climates from June until October – several residents pop into the office to ask questions and enquire after Angie's health. She suffered a ruptured aorta in April and only recently came back to her job of 12 years.
"That's not what you're going to get in the big parks," she says, referring to the sense of community at Apache Palms. "RVers – well the majority of them -- take pride and have a sense of ownership in the places where they stay. They look after each other."
Typical amenities at RV Parks 
At nearly all parks:
Restrooms

Shower facilities

Swimming pools

Hot tubs/spas

Power hook-ups

Cable TV*

Wi-Fi *

Laundry facilities
*Some parks offer free while others may charge fees.
At most parks:
On-site management

Rec rooms (billiards, pingpong, etc.)

Clubhouse

Fitness center

Tennis courts

Pickleball courts

Picnic / barbecue areas

Shuffleboard

Themed events

Craft / sewing room

Horseshoes

Educational & fitness classes

Clubs

Social events (tailgates, dances, music, shows, happy hours, etc.)
Bonus amenities in an RV resort
Dog parks

Driving range

Putting green

Golf course

Baseball / softball fields

On-site restaurant (s)

Ballrooms

Large scale entertainment (plays, dinner theater, live music)

Observatory / telescopes

Library

Fully equipped gyms / fitness centers

Nonsmoking resorts

Biking / hiking trails

Purple-themed park

Green parks (solar and wind-power sources)

Specialty baked goods

Unusual craft classes (stained glass, silversmithing and others)