Arizona Canine Center in Chandler doesn't provide a fancy spa experience, but that's OK with loyal customers, who know their beloved dogs are getting excellent supervision and lots of exercise in a cage-free environment.
Whether they are there for boarding or daycare, dogs are treated to 8,000 square feet of air-conditioned indoor and mist-cooled outdoor play areas. Epoxied floors are spotless, as are the gleaming grooming rooms and the large kitchen where meals are portioned out.
Nathan Braaten, who co-owns Arizona Canine with brother Aerik, is an expert puppy trainer and prepares service dogs for people with disabilities. The center takes care of about 50 dogs per day, more during holidays.
The brothers started the business about 10 years ago, when both were at crossroads in their careers. Nathan, a graduate of the well-known Triple Crown Dog Training Academy and Bergin Institute, was growing his reputation as a trainer, but he was getting a little weary of driving all over the Valley to meet clients and their dogs at homes and parks.
A veteran of the restaurant and bar business, Aerik was thinking about opening his own club in Chandler, but he saw a better opportunity (and much saner hours) in the burgeoning doggie daycare business.
They started out small in Tempe, calling the firm A Way To Wag back then. Looking to expand a few years ago, Aerik saw a for-sale sign at 1535 N. Dobson Road (just south of Warner Road) and checked it out. He discovered an amazing seven-acre enclave with a fine older home and a 20,000 square foot warehouse.
According to Aerik, the seller had been a good friend of Roy Dobson. The property was all that was left of the many thousand acres the Dobson family once farmed in the East Valley. After buying the plot from Dobson in the 1970s, the new owner expanded the barn to accommodate his business, Dobson Tool & Die Co.
Aerik figured he didn't have a prayer of buying the property. But, perhaps not wanting to see his life's work bulldozed to make way for new homes, the previous owner struck a deal. It took the Braatens about a year to get the zoning they needed and a year of hard work just to get a portion of the warehouse in shape for the kennel.
Because there's so much space, Arizona Canine rents out a lot of it as storage to other businesses. In a tidy, rent-free corner are the nearly 3,000 flags that are used for the Healing Field Memorial in Tempe on 9/11 each year. A good friend of Aerik's died in the attacks on New York City.
The warehouse also gives Aerik plenty of room to indulge his hobby of fixing up vintage cars.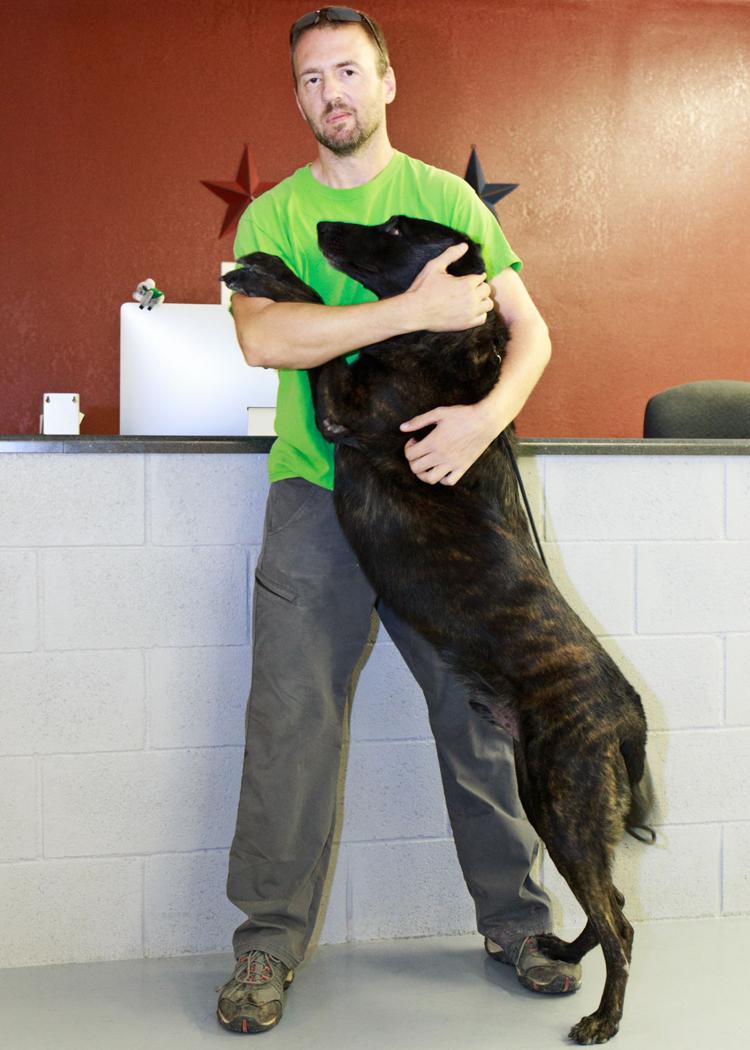 "It's nice having a place to tinker," he said.
Outside, Aerik is in the process of creating a five-acre, tree-lined dog park. He also wants to build some agility features for the dogs, such as a balance beam and stairs. He said K9 officers from several East Valley cities have been coming to Arizona Canine to perform bite-suit training and work on other tasks.
Aerik now lives in the former Dobson house with his parents.
"Here I am 40 years old and I'm living with my parents," he joked. "But after all those years of working nights, I love being here."
Arizona Canine Center is open Monday through Friday from 6 a.m. to 7 p.m. and weekends from 9 a.m. to 4 p.m.; 480-838-1517; azcaninecenter.com.
– Reach Mike Butler at 480-898-5630 or atmbutler@timespublications.com.
– Comment on this article and like the East Valley Tribune on Facebook and follow EVTNow on Twitter.