Monday, June 13, 2011 9:40 am
Monday, May 5, 2008 7:33 pm
NEW YORK - Wall Street pulled back Monday following Microsoft Corp.'s decision to withdraw its bid for Yahoo Inc. and a jump in oil prices to a new record - over $120 a barrel.
Monday, April 7, 2008 12:13 am
SAN FRANCISCO - Yahoo Inc. believes it is poised to revolutionize online advertising after years of being outmaneuvered by rival Google Inc.
Monday, April 16, 2007 1:14 pm
Yahoo Inc. is greatly expanding its relationship with the newspaper industry, announcing the addition Monday of five new publishing companies to a consortium that works with the Internet company to sell advertising online.
Friday, May 4, 2007 7:21 am
NEW YORK - Microsoft Corp. is resuming its pursuit of search engine operator Yahoo Inc. that could help it better compete with Web search leader Google Inc., published reports said Friday.
Monday, October 10, 2005 7:30 am
SAN FRANCISCO - Hoping to tune into the latest craze in digital media, Yahoo Inc. is introducing tools for finding, organizing and rating "podcasts" - the audio programs designed to be played on Apple Inc.'s iPod and many other portable music players.
Monday, July 7, 2008 9:31 pm
SAN FRANCISCO - Microsoft Corp. threw its weight behind investor Carl Icahn's effort to dump Yahoo Inc.'s board, saying Monday that a successful shareholder rebellion would encourage the software maker to renew its bid to buy Yahoo's Internet search engine or possibly the entire company.
Wednesday, July 29, 2009 8:40 pm
 SAN FRANCISCO  — Microsoft finally persuaded Yahoo to surrender control of the Internet's second most popular search engine and join it in a daunting battle — taking on the overwhelming dominance of Google in the online advertising market.
Monday, December 1, 2008 9:22 pm
LOS ANGELES - She did it again: Britney Spears was the most popular search term on Yahoo for the fourth year in a row - her seventh time topping the list.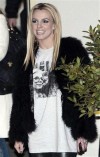 Pop star Britney Spears leaves Fountain Studios in Wembley, London, after her X Factor performance on Saturday November 29, 2008.
Thursday, August 7, 2008 8:48 pm
WASHINGTON - Internet giant Yahoo is set to announce today that it will allow users to shut off targeted advertising on its Web sites, a move that comes as a congressional committee continues to air concerns about consumer privacy.
Monday, March 31, 2008 10:02 am
NEW YORK - Yahoo Inc. on Monday launched a site for women between ages 25 and 54, calling it a key demographic underserved by current Yahoo properties.
Wednesday, February 20, 2008 6:57 am
SEATTLE - Microsoft Corp. is getting ready to take its bid for Yahoo right to the Web portal's shareholders, even as analysts wait for a higher offer.
Tuesday, December 4, 2007 10:14 am
NEW YORK - Curious about Britney Spears...and wrestling...and Iran? So are millions of Internet users, said Yahoo Search. Spears topped Yahoo's list of top 10 searches in 2007.
Tuesday, November 6, 2007 11:52 pm
WASHINGTON - Yahoo's chief executive and top lawyer on Tuesday defended their company's involvement in the jailing of a Chinese journalist. Irate lawmakers accused them of collaborating with an oppressive communist regime.
Monday, November 20, 2006 9:31 am
SUNNYVALE, Calif. - Yahoo Inc. announced a deal with seven newspaper companies that will allow more than 150 papers to sell ads on the search engine's online classified service.
Thursday, October 12, 2006 6:39 am
NEW YORK - A childhood photograph of a man with a mother he hasn't spoken with in 20 years, an Argentinean's proclamation of his love for "The Simpsons" and a tune from the Boston punk band Darkbuster are among the early submissions to Yahoo Inc.'s digital time capsule.
Wednesday, April 19, 2006 6:23 am
SAN FRANCISCO - Yahoo's first-quarter profit met analyst expectations Tuesday, relieving investors who feared losses in the Internet powerhouse's search engine market share might hinder its advertising growth.
Monday, May 1, 2006 6:13 am
SAN FRANCISCO - Yahoo Inc. on Monday plans to unveil a new section aimed at helping consumers cope with the onslaught of new technology that's reshaping modern life.
Thursday, June 1, 2006 6:26 am
SAN FRANCISCO - Yahoo Inc. is reprogramming its online video service so it's more like YouTube.com, an Internet upstart that has amassed a large audience during the past year with a free Web service that encourages people to post and share homemade clips.
Thursday, October 27, 2005 12:50 pm
SAN FRANCISCO - Yahoo Inc. is doubling the price of its online music subscription service for portable MP3 players, ending a short-lived promotion that sought to lure consumers from Apple Computer Inc.'s market-leading iTunes store.
Friday, October 14, 2005 6:50 pm
NEW YORK - Yahoo Inc. is considering buying a stake in America Online Inc., joining other Internet powerhouses interested in the company's Web portal, a person close to the talks said Friday.
Wednesday, October 12, 2005 11:12 pm
SEATTLE - Microsoft Corp. and Yahoo Inc.'s move to make their instant messaging programs work together comes just as the popular communications tool is beginning to expand into such fields as video chatting and Internet telephone functions.