Friday, October 5, 2007 9:59 pm

CHICAGO - It's April of 1988, and a 23-year-old first baseman for the Chicago Cubs is walking from the on-deck circle to home plate. Mark Grace knows he should be thinking about the confrontation ahead of him. What is the pitcher going to throw? What kind of stuff does he have? What should my approach be?

Built in 1914, Wrigley, photo above, is the second-oldest park in baseball behind Boston\'s Fenway Park (1912).

NO BAD SEATS: Photo left, a view from the upper deck at Wrigley Field in 2002. The Cubs have since done some minor renovations.
Saturday, May 1, 2004 7:41 am
One of the first signs a baseball fan has that he is approaching an historic place is the bright red marquee on the northwest corner of Addison and Clark streets in Chicago. It is the first thing new and repeat visitors see when they approach 90-year-old Wrigley Field.
Tuesday, December 30, 2008 8:11 pm
CHICAGO - The mix of baseball and hockey in the Winter Classic makes for odd distances at Wrigley Field: It's 112 feet from home plate to the center-ice faceoff dot, then another 288 feet to the center-field wall.
Thursday, July 28, 2005 2:52 pm
CHICAGO - On the first day of their makeover, the Diamondbacks looked runway-ready. Sort of the way Luis Gonzalez always seems here. New right fielder Chad Tracy homered in his first at-bat and made a diving catch on a tricky line drive.

Arizona Diamondbacks first baseman Tony Clark tags out Chicago Cubs\' Neifi Perez, right, at first in the seventh inning Thursday.

In this July 6, 2009, file photo, Chicago Cubs fans celebrate as the Cubs defeated the Braves 4-2 in a baseball game at Wrigley Field in Chicago.
Saturday, October 4, 2003 12:58 am
These days, there's another reason to call Johnnie B. Baker Jr. "Dusty."
Friday, August 21, 2009 2:49 pm
CHICAGO — Media conglomerate Tribune Co. announced a definitive agreement to sell all but a 5 percent stake in the Chicago Cubs and Wrigley Field to the billionaire Ricketts family on Friday, capping a tortuous selection process that began nearly 2½ years ago.
Monday, May 12, 2008 9:46 pm
CHICAGO — Greg Maddux returned Monday to the place where it all started back in 1986 when as a fresh-faced 20-year-old he first put on a major league uniform with the Chicago Cubs.
Thursday, May 15, 2008 11:10 pm
CHICAGO — The Cubs' attempt to prevent vendors from selling racially insensitive T-shirts outside Wrigley Field apparently have hit a snag.
Thursday, September 25, 2008 11:26 pm
MILWAUKEE - Shareholders of Wm. Wrigley Jr. Co. have approved the company's $23 billion sale to Mars Inc., a move that will end more than a century of family control as the chewing-gum company becomes part of what will now be the world's largest candy maker.
Friday, March 19, 2004 10:58 pm
It has often been said that walking into Wrigley Field, especially for the first time, is knowing what heaven must look like.
Thursday, May 1, 2008 6:34 am
A long-term plan for Falcon Field. Rezoning to protect the airport. A push for overall growth.
Thursday, September 4, 2008 5:33 pm
A fix for Big League Dreams' poor field conditions will cost Gilbert taxpayers several thousand dollars as the town and ballpark work out an agreement to improve the situation before losing business.
Tuesday, August 12, 2008 6:11 pm
Jason Hubbard was in awe when he first took the field at Big League Dreams.
Saturday, April 28, 2007 5:04 am
Eight famous baseball stadiums are rising from the dirt at the northwest corner of Power and Elliot roads in Gilbert.
Sunday, July 22, 2007 6:09 am
CHICAGO - Bob Melvin broke out lineup No. 90 Saturday in the Diamondbacks' 99th game as part of his dual charge, to win games while putting his younger players in the best position to thrive.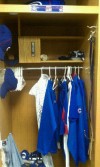 Here is a look at Andy Lane's locker in the Cubs clubhouse at Wrigley Field.

The Arizona Diamondbacks celebrate their sweep of the Chicago Cubs in the NLDS Saturday at Wrigley Field in Chicago.

Diamondbacks center fielder Chris Young misses a fly ball hit by the Cubs' Koyie Hill at Wrigley Field in Chicago. Oct. 4, 2009.

In this July 6, 2009, file photo, Chicago Cubs fans celebrate as the Cubs defeated the Braves 4-2 at Wrigley Field in Chicago.