Arizona State freshman pitcher Dallas Escobedo delivers a pitch during Tuesday's game-clinching victory for the Sun Devils, who won their second national championship in school history and became the fourth school in NCAA softball history to win multiple championships.

Arizona State's Dallas Escobedo pitches against Florida in the first inning of a Women's College World Series championship series game in Oklahoma City, Tuesday, June 7, 2011.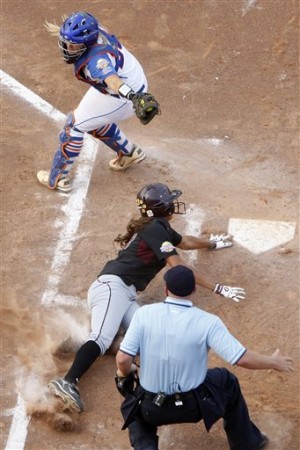 Home plate umpire Paul Edds, right, watches the play as Arizona State's Alix Johnson, center, slides safely into home plate, avoiding the tag of Florida catcher Tiffany DeFelice, left, in the second inning of a Women's College World Series championship series game in Oklahoma City, Tuesday, June 7, 2011.
Sunday, March 2, 2003 6:56 am
This wasn't your typical laid-back spring training season atmosphere.

This year's Sun Devils are a scrappier bunch and have overcome more adversity than last year's team, which swept all 10 postseason games en route to the national title.
Wednesday, October 28, 2009 4:30 pm
Valley Sports:  Clearly, this is a matchup of baseball's two best teams. The Yankees and Phillies have proven their superiority, and that could make for a World Series classic.
Thursday, October 15, 2009 1:53 pm
Valley Sports blog: Scott Bordow's take on the LCS... Phillies' pitching, Yankees' power is good enough to reach the World Series.
Thursday, June 11, 2009 3:34 pm
A capsule look at the eight teams competing in the College World Series, which starts Saturday at Rosenblatt Stadium in Omaha, Neb. (coaches' records at current schools through super regionals):
Wednesday, July 30, 2008 11:13 pm
What began as a collection of 13-year-old Little Leaguers five years ago is now headed to the Connie Mack World Series this weekend.
Friday, May 25, 2007 1:47 am
When it comes to making history, this year's Arizona State softball team makes it look routine. The Sun Devils have set four single-season team records already, including the smashing of home run and RBI totals. Katie Burkhart, Kaitlin Cochran and Bianca Cruz are toppling individual records, seemingly on a weekly basis.

ACE: Arizona State junior Katie Burkhart, shown on March 18 pitching against Arizona, is 33-11 with a 1.03 ERA this season and needs one more win to tie the school record for victories.
Saturday, August 19, 2006 6:24 am
SOUTH WILLIAMSPORT, Pa. - Ahwatukee's Shaun Chase pitched a complete-gameshutout and hit a solo homer in the first inning to power the Dawgs to a 1-0 victory over Lemont, Ill. in the Little League World Series Saturday.

Ahwatukee starting pitcher Shaun Chase pitches in the first inning against Lemont Ill., during the Little League World Series on Saturday.
Monday, June 14, 2004 6:07 am
Saturday, August 16, 2003 8:01 pm
Tyler Kem had a lot of fun helping the Chandler National Little League team win the West Regional tournament last week in California.

Chandler\'s Tyler Kem blasts a home run in the 5th inning Saturday to put Chandler ahead to stay against Wilmington, Del.
Tuesday, June 24, 2003 12:55 am
OMAHA, Neb. - Rice scored three runs in the first inning, then added a record-tying seven in the sixth Monday night as the Owls won their first national title in any NCAA team sport with a 14-2 victory over Stanford.
Thursday, October 20, 2011 1:14 pm
Saturday, June 19, 2010 6:00 pm
Baseball players love to take everything one game at a time.
Saturday, October 31, 2009 3:42 pm
PHILADELPHIA — Pennsylvania's governor and Philadelphia's mayor announced Saturday that the city transit system's largest union had agreed not to go on strike as contract talks continued hours before the start of Game 3 of the World Series.
Wednesday, October 28, 2009 8:53 pm
NEW YORK — Look out for Cliff Lee, Chase Utley and this New Red Machine. Lee outdueled CC Sabathia, Utley homered twice and the Philadelphia Phillies kept rolling through October, beating the New York Yankees 6-1 on a misty Wednesday night in the World Series opener.

The Phillies' Chase Utley watches his solo home run Wednesday during the third inning in New York.