Wednesday, September 3, 2008 11:10 pm

True freshman wide receiver Gerell Robinson ran with Arizona State's first-team offense on Wednesday in place of the injured Michael Jones, showing flashes of his vast potential.

In one of the few games this season that lived up to the buildup surrounding it, Basha wide receiver Nate Phillips (1) helped lead his team to an exciting 58-41 win over Chandler. Phillips had over 200 yards receiving in the game, which was the first-ever between the two Chandler public schools.
Tuesday, June 22, 2010 5:05 pm
TUCSON — Arizona coach Mike Stoops says senior wide receiver Delashaun Dean has been suspended indefinitely from the football team.
Stoops issued a statement Tuesday saying Dean's penalty is "due to a violation of team rules" but did not elaborate.
The Arizona Daily Star is reporting that Dean was arrested last Saturday and charged with one count of misconduct involving weapons. He's scheduled to appear in a Tucson court next week.
The 21-year-old Dean was expected to be one of the Wildcats' top receivers this season. He had 132 receptions for 1,407 yards and seven touchdowns in his first three years at Arizona.
Saturday, January 3, 2009 4:48 pm
Arizona Cardinals wide receiver Anquan Boldin injured his left hamstring on a 71-yard touchdown play in the second quarter of their wild-card playoff game against the Atlanta Falcons.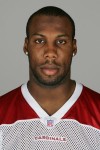 Anquan Boldin
Saturday, September 9, 2006 3:33 am
The Cardinals' offensive plan this season is to run the ball, both more often and more effectively, with Edgerrin James around.
Saturday, September 9, 2006 3:34 am
The Cardinals' offensive plan this season is to run the ball, both more often and more effectively, with Edgerrin James around.
Thursday, October 22, 2009 2:35 pm
The state's receiving leader board is littered with Mesa Desert Ridge players, no shock considering the Jaguars' propensity to throw the football. But it's the lack of true receivers that may be surprising.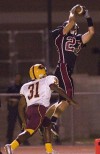 Desert Ridge receiver Sam Papa makes a catch against Mountain Pointe during the first quarter. Oct. 16, 2009.
Thursday, June 3, 2004 12:28 am
Josh McCown had just found out that Larry Fitzgerald was a new video game coverboy and it took about 15 seconds before the first challenge was issued quietly from Cardinals quarterback to Cardinals receiver.
Saturday, April 24, 2004 9:58 am
The Arizona Cardinals did the expected with the first pick of the NFL draft Saturday morning, snaring receiver Larry Fitzgerald with the third overall pick and upgraded an offense that has struggled the past few years.
Sunday, November 12, 2006 6:41 am
Anquan Boldin isn't about to call himself "Ocho Uno." Larry Fitzgerald isn't going to sit in front of cameras and implore the Cardinals to just give him the damn ball.
Thursday, April 17, 2003 1:31 pm
Q. Are the Internet and the World Wide Web the same thing? Donna, Mesa.
Chris Coyle and the ASU wide receivers answered the bell in a win against Utah after struggling against Missouri last week.
Friday, December 30, 2005 3:14 am
Mesa Community College wide receiver Kenny Mahone has signed a national letter of intent to attend Northern Arizona University and will enroll in the spring semester, Lumberjacks football coach Jerome Souers said.
Thursday, December 30, 2004 5:59 am
Antonio Bryant and Larry Fitzgerald — the latter with the Cardinals — are strutting their stuff on NFL fields, so someone had to step up and continue Pittsburgh's reputation as Wide Receiver U.
Tuesday, June 6, 2006 11:46 am
PHOENIX - Gov. Janet Napolitano vetoed an immigration bill Tuesday, calling the measure "weak and ineffective'' and saying it would have given amnesty to companies that hire undocumented workers.
Monday, August 11, 2008 2:54 pm
The projected starter for one of Arizona State's cornerback spots is afraid to take a snap off during training camp, despite playing on a knee that is still not recovered from summer surgery.
Friday, March 7, 2008 10:42 pm
Betsy Bro and her friends came to the Scottsdale Arts Festival on Friday to look at art. Not long after they arrived, the three women started trying on "wearable" art instead.
Friday, May 26, 2006 5:28 am
PHOENIX - Arizona Gov. Janet Napolitano hasn't said whether she'd signed a wide-ranging immigration bill approved by the Legislature, but lawmakers on both sides of the debate predicted a veto.
Saturday, February 7, 2009 5:09 pm
ATLANTA - From school lunches to nutrition bars and ice cream, the nationwide salmonella outbreak has reached deep into the American food supply - even though many people had never heard of the small company at the center of the investigation until a few weeks ago.

Arizona Cardinals wide receiver Bryant Johnson, right, runs for a touchdown during the first half on an exhibition NFL football game against the Oakland Raiders in Oakland, Calif., Saturday.
Saturday, August 4, 2007 12:46 am
TUCSON - Anthony Johnson does not have much of a college resumè. In 33 games over three seasons, the Arizona wide receiver has caught 71 passes and six touchdowns. He has yet to start more than seven games in a season or make more than seven catches in a game.
Saturday, November 11, 2006 2:35 am
Tonight, Washington State visits Arizona State in what is being classified as a Pac-10 football game, but Sun Devil Stadium could better be utilized for the teams to hold a support-group meeting. Call it "Receiver Rehab."