Friday, January 4, 2013 1:00 am

With "The Hurt Locker," which won six Academy Awards including Best Picture in 2010, Kathryn Bigelow created a riveting, small-scale war film focusing on a first-rate bomb squad unit in Iraq. The key to the film's effectiveness was its emphasis on less being more – rather than drumming up suspense with constant explosions and shootouts, it was the quiet before the storm and what made the soldiers tick that really seized our attention.
Sunday, May 20, 2012 12:14 pm
I am a 15-year-old working on my Eagle Scout Award. One of the requirements is that I write a letter to the editor of a newspaper and express my opinion on a subject of my choice. After reading all of the vents and letters in your newspaper on waterboarding, I chose that as my subject of choice. Now, I agree with all the posts that waterboarding is inhumane. However, it is significantly better than what our "friends" in the Middle East do to all of our brave men and women in arms. So, while it may not be humane, if the information we are getting saves lives then I am all for it!
Sunday, May 13, 2012 7:00 am
Why is it that when a conservative's letter is printed, it's nearly always responded with a liberal's hatred and rhetoric? I said in my letter that water boarding was not torture. It doesn't matter how many liberals respond; I will never back down from my viewpoints.
Friday, May 11, 2012 9:51 am
Start looking for a nasty presidential election campaign. Obama has nothing to brag about so he is looking to tear down Romney and Obama is wide open to be ripped about because his leadership has been so weak.
Wednesday, May 9, 2012 10:01 am
"I think it is very interesting to see pictures of J.T. Ready and Russell Pearce in the same photos. Would be nice to know just how involved Pearce was with Ready. They both have the same intense interests, immigration."
Tuesday, May 1, 2012 2:12 pm
I am going to blow a huge hole in the "waterboarding is torture" theory. For starters, here are three facts:
Friday, February 10, 2012 12:00 am
"Forgettable" probably isn't a word you'd expect to use to describe a film starring Denzel Washington, Ryan Reynolds, Vera Farmiga, Brendan Gleeson and Sam Shepard. But unfortunately, that's one of the most apt when pondering "Safe House."
Monday, November 21, 2011 11:31 am
"The founders of Build Better than a Border Fence recently lamented that it would cost $21 million just for the warning signs on Herman Cain's proposed electric border fence. I know how to reduce the cost: Remove the warning signs!"
Saturday, May 21, 2011 3:15 am
"I recently bought a bicycle to ride to work and for local errands and shopping. It creates no polution and, instead of four-dollar-a-gallon gasoline, it burns fat. A quick glance about the Valley will tell you that human butt lard is cheap and plentiful!"
Thursday, May 19, 2011 3:15 am
"As a Republican, can the party try to find a presidential candidate who is a little photogenic? So far, all the candidates look like they haven't skipped a meal or seen the sun in decades."
Friday, May 6, 2011 3:30 am
From a military outlook, the odds of apprehending Osama bin Laden looked good as soon as his complicity in the 9/11 attacks was established. This optimism began to fade after I watched the Bush Administration stumble over the months and years. After I watched the inept spectacle at Tora Bora, I was fairly certain that the Bush Administration would never come back with bin Laden's head in a sack. We've had some spectacularly incompetent generals and politicians over the last nine years.
Wednesday, May 4, 2011 3:15 am
"On the news coverage concerning the killing of bin Laden, it is the first time that President Obama sounded like a president of the United States instead of an egotistical Chicago Democrat."
Friday, February 11, 2011 10:00 am
Joel Mathis and Ben Boychuck, guest commentary
Wednesday, February 17, 2010 4:19 pm
Martin Schram: What a bitter irony it would be if the neo-torture technique favored by Cheney makes it impossible to sentence the confessed 9/11 mastermind to the punishment that fully fits his crime.
Monday, February 15, 2010 1:21 pm
With a blast at what he called John McCain's liberal leanings, former Congressman J.D. Hayworth launched his bid to oust the four-term incumbent senator in the Republican primary.
Thursday, July 9, 2009 9:40 am
Do you use a sock puppet to secretly keep track of your frenemies? Plan to spend your staycation watching vlogs and webisodes? If you're not entirely certain what all that means, turn to the latest edition of the Merriam-Webster's Collegiate Dictionary, which has added about 100 new words that largely reflect changing trends in American society.

Archive copies of the Collegiate Dictionary rest on a bookshelf at the headquarters of the Merriam-Webster dictionary publisher in Springfield, Mass. July 1, 2009.
Sunday, May 24, 2009 3:19 pm
"(Have) the Venters stopped venting or has the Trib stopped printing?"
Friday, May 15, 2009 10:47 pm
WASHINGTON - President Barack Obama said Friday he would reform and restart the military tribunals he once reviled for Guantanamo Bay detainees, jeopardizing his timetable for closing the prison by January and dismaying many supporters who suggested he was going back on campaign promises.
Thursday, May 14, 2009 7:55 pm
WASHINGTON - House Speaker Nancy Pelosi bluntly accused the CIA on Thursday of misleading her and other lawmakers about its use of waterboarding during the Bush administration, escalating a controversy grown to include both political parties, the spy agency and the White House.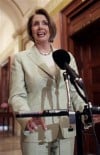 House Speaker Nancy Pelosi accused the CIA and Bush Administration of misleading her about waterboarding detainees in the war on terror and sharply rebutted claims she was complicit in the method's use. Thursday, May 14, 2009
Sunday, May 3, 2009 3:17 pm
"The absolute overreaction (in regard to) the swine flu is idiotic! Closing schools! Why don't they close them for the regular flu? Chicken pox? Measles? By the time the blood is analyzed, the patient is well again! This health board and Tom Horne are total incompetents for reacting like this. The kids are laughing at these fools!"
Saturday, March 28, 2009 8:12 pm
MADRID - A Spanish court has agreed to consider opening a criminal case against six former Bush administration officials, including former Attorney General Alberto Gonzales, over allegations they gave legal cover for torture at Guantanamo Bay, a lawyer in the case said Saturday.
Friday, March 20, 2009 12:22 pm
President Barack Obama is scheduled to address Arizona State University's graduating class in what would be his second visit to Arizona in his first five months as chief executive.