Follow @Kyle_Odegard on Twitter for more analysis of East Valley high school sports.
Sunday, September 25, 2011 12:00 pm
If you're interested in parenting issues, learning, teaching and all things education, be sure to check out our new East Valley Education News page on Facebook. You'll find articles, blogs, photos and videos, links and much more about K-12 and higher education - some produced by us, some by our local schools and education groups, and some from other media around the country. Go to www.facebook.com/eastvalleyednews. You can also follow us on Twitter at www.twitter.com/EVEdNews.
Friday, September 23, 2011 8:30 am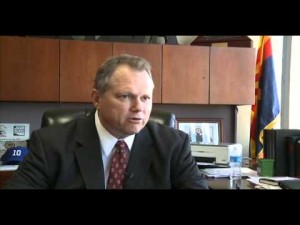 The city of Mesa held its first twitter town hall today and used social media to drive the conversation. Cronkite News Reporter Emily Timm tells us Mayor Scott Smith and the moderator took 2 to 3 minutes to answer each question from the public.
Tuesday, March 2, 2010 11:50 am
Use our handy Twitter feeds to stay on top of the latest headlines in your favorite area or topic.
Tuesday, November 3, 2009 5:45 pm
Gilbert launched a Twitter account, GilbertYourTown, on Tuesday to deliver information concerning town events and services.
Friday, June 26, 2009 2:24 pm
Data Doctors: Q. I finally signed up for a Twitter account and am very uncertain about how all of this works. What are the things that a new user should know? - Sharon
Friday, June 19, 2009 4:51 pm
There's more than one way to get the latest news from EastValleyTribune.com. Just look up evtrib on Facebook, Twitter and YouTube, or dial up our mobile page.
Tuesday, May 26, 2009 6:42 pm
Phoenix Sky Harbor International Airport is now on Twitter as PHXSkyHarbor.
Friday, March 27, 2009 10:32 pm
The city of Chandler is now on Twitter.
Friday, February 27, 2009 5:11 pm
Data Doctor: Q. I heard you discussing Twitter on your radio show, and I am hearing lots of people talk about it. But I still have one problem. I DON'T GET IT! Can you please explain what all the hoopla is about to a non-techy person? - Sheila
Tuesday, November 4, 2008 11:07 am
Twitter.com is filtering hundreds of Twitter updates per minute to create a new source for gathering public opinion about the election and a new way for you to share your thoughts.
Monday, August 22, 2011 4:44 pm
The East Valley Tribune has started a new page on Facebook - East Valley Education News - where you can find interesting articles, blogs, links and more about K-12 and higher education. Some of the stories are from the Tribune; some are from other sources, such as our school districts, or other publications from around the country. Check it out at www.facebook.com/eastvalleyednews. All East Valley schools - district, charter, private and parochial - and colleges and universities are welcome to "like" our page and post information there.
Monday, August 16, 2010 5:30 am
Q: Is it really true that it's safer to search using Bing or Yahoo than it is to use Google and if so, why? - Anna
Wednesday, February 24, 2010 6:09 pm
Ozzie Guillen's already going to star in a reality series starting in July. Now the colorful manager of the Chicago White Sox has a Twitter account and his general manager Ken Williams is not happy about it.