Jodi Arias points to her family as a reason for the jury to give her a life in prison sentence instead of the death penalty on Tuesday, May 21, 2013, during the penalty phase of her murder trial at Maricopa County Superior Court in PhoenixZ. Arias was convicted of first-degree murder in the stabbing and shooting to death of Travis Alexander in his suburban Phoenix home in June 2008. (AP Photo/The Arizona Republic, Rob Schumacher, Pool)

Jodi Arias points to her family as a reason for the jury to give her a life in prison sentence instead of the death penalty on Tuesday, May 21, 2013, during the penalty phase of her murder trial at Maricopa County Superior Court in PhoenixZ. Arias was convicted of first-degree murder in the stabbing and shooting to death of Travis Alexander in his suburban Phoenix home in June 2008. (AP Photo/The Arizona Republic, Rob Schumacher, Pool)

Jodi Arias reacts after she was found of guilty of first degree murder in the gruesome killing her one-time boyfriend, Travis Alexander, in their suburban Phoenix home, Wednesday, May 8, 2013, in Phoenix. (AP Photo/The Arizona Republic, Rob Schumacher, Pool)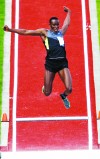 William Claye competes in the Men's long jump finals at the U.S. Olympic Track and Field Trials Sunday, June 24, 2012, in Eugene, Ore. (AP Photo/Marcio Jose Sanchez)

Jordyn Wieber pushes off the vault during the final round of the women's Olympic gymnastics trials, Sunday, July 1, 2012, in San Jose, Calif. Wieber was named to the U.S. Olympic gymnastics team. (AP Photo/Gregory Bull)

William Claye reacts after competing in the long jump competition at the U.S. Olympic Track and Field Trials Saturday, June 30, 2012, in Eugene, Ore. (AP Photo/Charlie Riedel)
Monday, October 31, 2011 2:00 pm
The first-degree murder trial of Jeffrey Martinson is coming close to the end.

Defendant Mark Goudeau talks with one of his attorneys, Rodrick Carter before the start of opening arguments during the trial for the "Baseline Killer" crimes at the Superior Court Central Court Building in downtown Phoenix on Monday, June 6, 2011. (AP Photo/Michael Schennum, Pool)
Wednesday, May 25, 2011 12:38 pm

Sheree Red Bornand, right, hugs Aidan Dunn after hearing the decision in the United States District Court proceedings challenging Proposition 8 outside of the Phillip Burton Federal Building in San Francisco, Wednesday, Aug. 4, 2010. A person close to the case says a federal judge has overturned California's same-sex marriage ban in a landmark case that could eventually land before the U.S. Supreme Court. Chief U.S. District Judge Vaughn Walker made his ruling Wednesday in a lawsuit filed by two gay couples who claimed the voter-approved ban violated their civil rights. (AP Photo/Jeff Chiu)
Tuesday, February 17, 2009 4:32 pm
A manhunt is on for an escaped inmate who was on trial on charges of sexually assaulting a minor. According to Lt. Brian Lee, Maricopa County Sheriff's spokesman, Adrian Cruz, 28, was dressed in civilian clothes and walked out the front door of Maricopa County Superior Court, 101 W. Jefferson St. in downtown Phoenix.

Adrian Cruz
Thursday, February 5, 2009 9:56 pm
A former Mesa priest charged in sexually related offenses against minors will be allowed to have separate trials on the alleged incidents, a Maricopa County Superior Court judge has ruled.
Wednesday, April 9, 2008 2:53 pm
LOS ANGELES - A journalist who had written articles that a Hollywood client of private eye Anthony Pellicano didn't like was in tears Wednesday as she testified about what she believes was a threat on her life.
Tuesday, March 11, 2008 3:44 pm
Opening statements and testimony begins Wednesday in the manslaughter trial of a Tucson man who was at the wheel in a fatal collision with a Maricopa County Superior Court judge.
Wednesday, April 11, 2007 11:30 pm
LOS ANGELES - Despite hearing whispers around Hollywood there were troubles making the film adaptation of "Sahara," Breck Eisner said Wednesday he decided to direct the movie because he thought it could lead to a lucrative franchise.

Breck Eisner, right, director of the 2005 movie \"Sahara,\" made from a novel of the same name by best-selling author Clive Cussler, left, chat after a day of Eisner\'s testimony about his meetings with the author and others, in Lo
Tuesday, June 20, 2006 6:28 am
The long-running Baptist Foundation of Arizona trial entered its last phase Monday as attorneys delivered their closing arguments in the case that has been described as Arizona's Enron.
Monday, February 13, 2006 5:40 am
BAGHDAD, Iraq - Saddam Hussein was forced to attend his trial Monday, looking haggard and wearing a robe rather than his usual crisp suit as he shouted "Down with Bush." His top co-defendant struggled with guards bringing him in and sat on the floor, his back to the judge, for much of the session.
Monday, November 28, 2005 5:28 am
BAGHDAD, Iraq - The trial of Saddam Hussein for alleged crimes against humanity resumed in a heavily guarded courtroom Monday with the former Iraqi president angrily complaining about having to walk up four flights of stairs under foreign guard. A former U.S. attorney general sat with the defense team.

Left to right, Awad Hamed al-Bandar, Saddam Hussein and Taha Yassin Ramadan, appear at their trial held under tight security in Baghdad\'s heavily fortified Green Zone in Iraq Monday.
Friday, October 21, 2005 6:54 am
If Saddam Hussein's trial is to be a show trial, as its critics claim, it is a long way from prime time, based on the opening day.