Tuesday, February 15, 2005 8:11 pm

To no one's surprise, the U.S. trade deficit — the excess of imports over exports — set a new record last year of $617.7 billion, almost a fourth again higher than 2003's record imbalance.

Say it ain't so, Steve! Anywhere but the Lakers. For Suns fans, Nash's decision is a disappointing one.

Kyrene de la Estrella second grader Katie Holm shows off her artist trading card for the centennial to fourth grader Allison Harris-Rubio during Ms. Cassidy Parker art class. Feb 14, 2012 Darryl Webb/AFN

Kyrene de la Estrella fouth grader Jaida Williams trades artist trading cards for the centennial with second grader Annabella Bucci during Ms. Cassidy Parker art class. Feb 14, 2012 Darryl Webb/AFN
Monday, December 20, 2010 10:17 am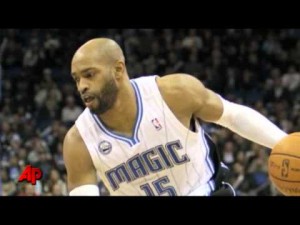 The Orlando Magic acquired troubled guard Gilbert Arenas from the Washington Wizards and Hedo Turkoglu and Jason Richardson from the Phoenix Suns in a major roster shakeup Saturday. (Dec. 18)
Friday, March 5, 2010 5:05 pm
The Arizona Cardinals ended their long and contentious relationship with Anquan Boldin, trading the wide receiver and a fifth-round pick in this year's draft to Baltimore in exchange for the Ravens' third- and fourth-round selections.

Anquan Boldin
Friday, July 17, 2009 5:04 pm
LOS ANGELES — The Clippers have traded leading scorer Zach Randolph to Memphis in exchange for Quentin Richardson.
Tuesday, June 30, 2009 12:35 pm
Scott Bordow: To know Amaré Stoudemire is to understand that what comes out of his mouth shouldn't be taken seriously. The man is a walking, talking contradiction.
Friday, June 19, 2009 10:13 am
The Phoenix Coyotes have acquired left wing Stefan Meyer from the Florida Panthers in exchange for the rights to pending unrestricted free agent center Steven Reinprecht.
Thursday, April 16, 2009 2:25 pm
Valley Sports: The Cardinals have acknowledged that they're fielding offers for disgruntled wide receiver Anquan Boldin, and now is the perfect time to trade him.               
Friday, April 17, 2009 3:26 pm
Valley Sports blog: At first blush, the idea of trading Anquan Boldin seems incredibly stupid. That said, if I'm the Cardinals I'm not only listening to offers, I'm making a deal.
Tuesday, April 21, 2009 3:11 pm
Valley Sports blog: With teams like the Jaguars, Ravens and Giants apparently losing interest, the market is dwindling for Cardinals receiver Anquan Boldin.

Anquan Boldin
Thursday, February 5, 2009 3:03 pm
With the way the Suns have been playing all season, it was only a matter of time before rumblings about dealing Amare Stoudemire began.
Friday, February 13, 2009 9:25 pm
Amaré Stoudemire isn't oblivious. Each day, he hears about his supposed new landing place. First, it's Chicago. Then Portland. Or Cleveland, Memphis, Detroit.

COVERING UP: Suns forward Amaré Stoudemire, shown during Wednesday's game at Cleveland, would probably like to hide out for a while after being the subject of trade rumors for the past few weeks.
Wednesday, April 16, 2008 1:37 am
NEW YORK - Wall Street closed an erratic session moderately higher Tuesday after investors sorted through a mixed batch of data that included a rebound in New York manufacturing, signs of rising inflation and uneven first-quarter earnings. The market also had its eye on the rising price of crude oil.
Monday, April 14, 2008 11:22 pm
Unless common sense prevails, the House Democratic leadership may have killed the Colombia free trade agreement and torpedoed pending trade deals with Panama and South Korea as well.