Wednesday, May 2, 2012 5:07 pm

A golf tournament to benefit the St. Peregrine Cancer Shrine at Christ the King Catholic Church in Mesa will be held Saturday. Registration begins at 11:30 a.m. at the Arizona Golf Resort, 425 S. Power Road, Mesa. Play starts at noon, with dinner and entertainment scheduled for 6 p.m. Father Christopher J. Corbally, S.J., vice director of the Vatican Observatory and an adjunct associate astronomer at the University of Arizona, will speak.

A smile is visible on the face of Desert Vista's Hunter Rodriquez as he mobbed by teammates after hitting a seventh inning home run against Brophy.

A smile is visible on the face of Desert Vista's Hunter Rodriquez as he mobbed by teammates after hitting a seventh inning home run against Brophy.

Michael McAnerney, 9, and his younger sister participate in the Tempe-based Swing Kids program.
Tuesday, May 10, 2011 11:15 am
Dixon Golf, a Tempe-based company that manufactures high performance, eco-friendly family of golf balls, is sponsoring a tournament May 28 at Gilbert's Western Skies Golf Club. The event will raise money to help Jenny Willman, a wife, mother of two and teacher in Chandler who is battling breast cancer.
Friday, May 9, 2008 12:33 am
Hillary Clinton, 60, Illinois native and Arkansas lawyer, became, retroactively, a lifelong Yankee fan at age 52 when, shopping for a U.S. Senate seat, she adopted New York state as home sweet home.
Saturday, July 14, 2007 1:43 pm
Dancing helps keep you young — as proof, take a look at these men and women from across the East Valley who cut the rug at the weekly Tuesday afternoon dance at Mesa Senior Center. Tribune photographer Lisa Olson tried to keep up at this week's session.
Monday, June 26, 2006 11:01 am
For Betty Kulas of Mesa, volunteering is her way of appreciating life more. The 77-year-old is a volunteer at Banner Baywood Medical Center's Outpatient Center in Mesa.
Saturday, March 19, 2005 7:11 am

Mi Hyun Kim kicked up the color quotient on the driving range: She kept her long-sleeves-and-capris outfit from looking like the other uniforms by wearing acid green and brown. Grade: A.
Sunday, October 17, 2004 6:50 am
Hispanics have the potential to tip the results of the presidential election in Arizona and several other states, said former U.S. Secretary of Housing and Urban Development Henry Cisneros.
Wednesday, February 12, 2003 11:13 pm
Luis Gonzalez, one of four Diamondbacks position players allowed to begin workouts today, said he is 100 percent recovered from last year's separated left shoulder.
Wednesday, February 13, 2013 5:59 am
On Valentine's Day, the Arizona Lindy Hop Society is asking East Valley residents to grab their partners and enjoy a night of dancing and fun in the grand opening of the Swing Lounge in Tempe.
Saturday, March 24, 2012 4:07 pm
The Tempe Chamber of Commerce and its Ambassadors Committee invite area residents and guests to attend its inaugural "Swing into Spring" celebration, featuring dinner, drinks, desserts, silent auction, and the 14-piece Upper East Side Big Band.
Thursday, July 7, 2011 4:52 pm
Collin Braithwaite knew the frustration was inevitable, so he wanted to get it over with early.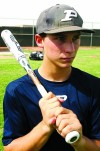 Perry catcher Collin Braithwaite shows a BBCOR bat which will be used in high school baseball next season. The new bats replace the old composite bats and must meet new performance criteria.
Saturday, April 9, 2011 7:17 pm
Let's begin with full disclosure: I never played high school baseball, and I haven't coached a game in my life. If given the reins of a team for a season, I would undoubtedly make dozens of mistakes.

If even the average baseball team in 5A Division I averages approximately one run per inning for the season, why are they still sacrifice bunting?
Wednesday, December 29, 2010 2:00 pm
Symphony of the Southwest has performed symphonic and chamber concerts around the Valley since 1956. Now under the baton of maestro Cal Stewart Kellogg, the East Valley classical music group will swing into 2011 with a New Year's Day concert that features the sounds of a Benny Goodman-style swing band and guest ensemble the Arizona Jazz Masterworks Orchestra.
Wednesday, December 2, 2009 3:12 pm
Merge spellbinding skill with breathtaking beauty and you get the can't-take-your-eyes-off-them shows of The Golden Dragon Acrobats. The group of 25 male and female performers are internationally recognized as the premier touring Chinese acrobatic troupe. They combine astonishing feats of acrobatics and dance with colorful costumes, ancient and contemporary music and theater to show off the best of a time-honored Chinese tradition that began more than 25 centuries ago.