Tuesday, December 8, 2009 9:51 am

The Salt River Project has begun draining canals south of the Salt River for annual maintenance.
Thursday, November 19, 2009 8:55 pm
Salt River Project will begin draining canals on the south side of the Salt River Friday to perform annual maintenance work.

Ray Covarrubias, a foreman in groundwater management with Salt River Project, holds a jar containing gambusia, or
Tuesday, November 22, 2011 4:04 pm
No doubt plenty of Valley residents are anticipating a certain day in December when they'll be surprised by a bicycle, a computer or perhaps even a car.
Thursday, November 18, 2010 8:00 am
Salt River Project canals south of the Salt River will empty starting Friday.
Thursday, November 20, 2008 11:46 am
Salt River Project's network of irrigation canals in the East Valley is going dry.
Friday, August 13, 2004 5:49 am
A Southwest Airlines flight from Little Rock, Ark., landed at Phoenix Sky Harbor International Airport around 10 p.m. Wednesday — with more than 30,000 passengers on board.
Saturday, November 24, 2012 11:30 am
It's been a long time since the silt and vegetation along the walls of 131 miles of SRP canals throughout the Valley have been cleared away.
Tuesday, January 4, 2011 2:01 pm
The body of a man described to be in his 30s was pulled from the slow-moving water of the SRP Canal on Monday, but only after it tookauthorities approximately three hours to determine whose jurisdiction he was in.
Friday, November 28, 2003 3:53 am
White Amur fish in the East Valley have begun a monthlong trip away from home.
Friday, November 23, 2012 1:30 pm

Salt River Project workers clear fish from the Eastern Canal to allow for the canal to be cleaned through Gilbert.

SRP workers clear fish from the Eastern Canal, Friday, Nov. 23, 2012 in Gilbert. [Tim Hacker/ Tribune]

SRP workers clear fish from the Eastern Canal, Friday, Nov. 23, 2012 in Gilbert. [Tim Hacker/ Tribune]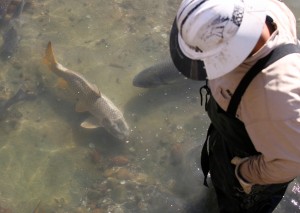 SRP workers herd white amur fish along the Tempe canal, Tuesday, Nov. 22, 2011 down stream from Alma School Road in Mesa. SRP is preparing to work on the canals during the slow time of the year, transporting the fish into other areas of the canals not being worked on. [Tim Hacker/ Tribune]
SRP workers herd white amur fish along the Tempe canal, Tuesday, Nov. 22, 2011 down stream from Alma School Road in Mesa. SRP is preparing to work on the canals during the slow time of the year, transporting the fish into other areas of the canals not being worked on. [Tim Hacker/ Tribune]

SRP workers herd white amur fish along the Tempe canal, Tuesday, Nov. 22, 2011 down stream from Alma School Road in Mesa. SRP is preparing to work on the canals during the slow time of the year, transporting the fish into other areas of the canals not being worked on. [Tim Hacker/ Tribune]
SRP workers herd white amur fish along the Tempe canal, Tuesday, Nov. 22, 2011 down stream from Alma School Road in Mesa. SRP is preparing to work on the canals during the slow time of the year, transporting the fish into other areas of the canals not being worked on. [Tim Hacker/ Tribune]
SRP workers herd white amur fish along the Tempe canal, Tuesday, Nov. 22, 2011 down stream from Alma School Road in Mesa. SRP is preparing to work on the canals during the slow time of the year, transporting the fish into other areas of the canals not being worked on. [Tim Hacker/ Tribune]
SRP workers herd white amur fish along the Tempe canal, Tuesday, Nov. 22, 2011 down stream from Alma School Road in Mesa. SRP is preparing to work on the canals during the slow time of the year, transporting the fish into other areas of the canals not being worked on. [Tim Hacker/ Tribune]
SRP workers herd white amur fish along the Tempe canal, Tuesday, Nov. 22, 2011 down stream from Alma School Road in Mesa. SRP is preparing to work on the canals during the slow time of the year, transporting the fish into other areas of the canals not being worked on. [Tim Hacker/ Tribune]
SRP workers herd white amur fish along the Tempe canal, Tuesday, Nov. 22, 2011 down stream from Alma School Road in Mesa. SRP is preparing to work on the canals during the slow time of the year, transporting the fish into other areas of the canals not being worked on. [Tim Hacker/ Tribune]

SRP workers herd white amur fish along the Tempe canal, Tuesday, Nov. 22, 2011 down stream from Alma School Road in Mesa. SRP is preparing to work on the canals during the slow time of the year, transporting the fish into other areas of the canals not being worked on. [Tim Hacker/ Tribune]

SRP workers herd white amur fish along the Tempe canal, Tuesday, Nov. 22, 2011 down stream from Alma School Road in Mesa. SRP is preparing to work on the canals during the slow time of the year, transporting the fish into other areas of the canals not being worked on. [Tim Hacker/ Tribune]
SRP workers herd white amur fish along the Tempe canal, Tuesday, Nov. 22, 2011 down stream from Alma School Road in Mesa. SRP is preparing to work on the canals during the slow time of the year, transporting the fish into other areas of the canals not being worked on. [Tim Hacker/ Tribune]