Wednesday, April 18, 2012 8:00 am

The Mesa businessman who founded SkyMall created a brand that's known to countless millions, even as Bob Worsley remained an obscure figure in his community.

Sen. Bob Worsley, R-Mesa, was elected in 2012 to represent legislative district 25 in the Arizona Senate. Worsley's entrepreneureal accomplishments include being the founder of SkyMall.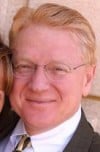 East Valley businessman Bob Worsley is the founder of SkyMall in-flight catalog; he is planning to run for the District 25 Arizona state Senate seat, which serves East Mesa and vicinity.

Sen. Rich Crandall, R-Mesa, pictured here talking about the Fiesta Bowl scandal in March 2011, is moving to Legislative District 16 to run for the state Senate. After legislative boundaries were redrawn this year, Crandall found himself in District 25, where recalled Sen. Russell Pearce and SkyMall founder Bob Worsley have already announced plans to run for that district's Senate seat. (AP file photo)
Friday, June 8, 2012 5:45 pm
The Greater Phoenix Chamber of Commerce (GPCC) recently welcomed a new chair-elect and 11 new members to its Board of Directors. David Bruno of DHR International becomes the 2012-2013 board chair, succeeding Pam Conboy, while Peter Hayes of Salt River Project has been named chair-elect. The 2012-2013 board will focus on critical issues for the chamber membership and the community, including providing valuable resources for the business community, strengthening the quality of life in our community and keeping members informed, connected and prosperous.
Tuesday, March 20, 2012 3:55 pm
Recalled Arizona Senate President Russell Pearce found himself facing a Republican primary battle even before he announced his re-election bid.
Saturday, August 9, 2008 1:21 pm
The Oil Extractor eliminates the messy process of rolling around on the ground to change your own oil by allowing you to remove the old stuff through the dipstick tube.
Wednesday, October 25, 2006 6:16 am
Frequent flyers can pick up a free trip while they do their holiday shopping this year. Tempe-based US Airways said Tuesday it will hand out dividend miles to those who shop on such popular Web sites as target.com, macys.com, homedepot.com, eToys.com, disneyshopping.com or oldnavy.com.
Monday, March 19, 2012 9:36 pm
Former state Senate President Russell Pearce wants to be a lawmaker again.
Thursday, February 5, 2009 4:21 pm
TEMPE - If you want a pillow and blanket in coach on US Airways, it's going to cost you $7.
Friday, March 15, 2013 9:12 am
State lawmakers are poised to make it more difficult for some people to collect unemployment benefits.
Tuesday, August 28, 2012 8:12 pm
Unofficial results show Russell Pearce is facing his second election defeat in a row — once again to a political newcomer who vowed not to pursue divisive illegal immigration legislation.
Tuesday, April 17, 2012 1:24 pm
With two companies to run and an acceptance letter from Vanderbilt to pursue a degree in educational leadership, state Sen. Rich Crandall had decided it was time to leave the Legislature.
Tuesday, February 12, 2013 6:15 pm
The future of voting is online, and moving Arizona's elections to the Internet would save money, deter voter fraud and increase efficiency, a state lawmaker says.
Sunday, August 19, 2012 2:20 pm
While voters have until Nov. 6 to decide who they'll support for president and other high-profile elections, many of the East Valley's biggest races will be settled in a little over a week.
Thursday, April 18, 2013 3:38 pm
A plan to revamp the state's recall laws for all future elections fell apart Thursday as some Republican senators broke party ranks.
Tuesday, May 1, 2012 2:39 pm
Taxpayers from throughout the state could end up underwriting a bid by ousted state Sen. Russell Pearce to get his seat back this year.
Thursday, November 2, 2006 5:24 am
Tired of schlepping around that heavy purse? How about that overstuffed wallet that's giving you back pain? A Tucson businessman thinks he's found a better way to carry personal belongings and is using Scottsdale Fashion Square mall to test the product's popularity.
Wednesday, March 21, 2012 6:47 am
Two longtime Arizona pollsters say the odds are stacked against former Arizona Senate President Russell Pearce in his campaign to return to the legislature.