Wednesday, May 22, 2013 5:09 pm

Raise your caps and don your gowns: It's graduation month!
Tuesday, May 21, 2013 6:37 am
The Arizona Educational Foundation is accepting nominations for the 2014 Arizona Teacher of the Year program. This program recognizes 10 exceptionally skilled and dedicated Arizona public school teachers. One winning teacher will be sent to Washington D.C., to meet the president and will receive prize package including a $15,000 cash award, professional speech training, a full scholarship toward an advanced degree at Argosy University Phoenix and the chance to attend international Space Camp.
Monday, May 13, 2013 12:02 pm

Monday, May 13, 2013 11:58 am

Thursday, May 9, 2013 8:58 am
"Thank you. Thank you. Thank you."
Wednesday, May 1, 2013 7:37 am
His acceptance speech was easily the most brief, but the thoughts shared Friday night by United Food Bank President and CEO Bob Evans were certainly among the most poignant.
Wednesday, May 1, 2013 12:00 am
About 400 graduates will receive diplomas this year from Mesa's Skyline High School.

Ken Sorenson, an AP English teacher at Skyline High School, was honored April 26 with the Mesa Chamber of Commerce's "teacher of the year" award for 2013. [Ivan Martinez/Ivan Martinez Photography]
Wednesday, April 24, 2013 10:04 pm
Playing a role as possible spoiler, Westwood's softball team pulled it off perfectly.
Saturday, April 20, 2013 2:48 pm
A mob of runners and many well wishers flocked to Tempe on Saturday for the ninth annual Pat's Run to honor one of Arizona's finest and pay respect to the victims of Monday's attack on the Boston Marathon.
Thursday, April 18, 2013 6:42 pm
Mattie Merrell pitched a complete game, two-hitter, while also hitting a sacrifice fly in the fifth inning to lead host Queen Creek to a 2-1 victory over Higley on Thursday.
Saturday, April 13, 2013 7:59 am
The crowd cheered loudly for all the recognizable names — from Missy Franklin, to Ryan Lochte, Nathan Adrian to Matt Grevers and many more among the lot — from last year's London Olympic Games.
Friday, April 12, 2013 6:46 pm
Just in case you thought softball had become all about offense, Bre Macha pitched as if she was offended.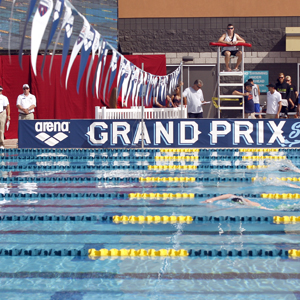 The Arena Grand Prix Series prelims Friday April 12, 2013 at the Skyline Aquatic Center in Mesa. [Tim Hacker/Tribune]

Spectators look on from the stands during the Arena Grand Prix Series prelims Friday April 12, 2013 at the Skyline Aquatic Center in Mesa. [Tim Hacker/Tribune]

Spectators look on from pool deck as Olympian Ryan Lochte looks to take the starters block during the Arena Grand Prix Series prelims Friday April 12, 2013 at the Skyline Aquatic Center in Mesa. [Tim Hacker/Tribune]

The Arena Grand Prix Series prelims Friday April 12, 2013 at the Skyline Aquatic Center in Mesa. [Tim Hacker/Tribune]

Olympian Melissa Franklin signs autographs for fans after competing in the Arena Grand Prix Series prelims Friday April 12, 2013 at the Skyline Aquatic Center in Mesa. [Tim Hacker/Tribune]

Mesa Aquatics Club swimmers Hope Lacy,13, from left, Amanda Zajdzinski,10, Kylie McLaughlin,13, and Emily Thomas,13, look at their cameras and cell phone after snapping photos of Olympian Ryan Lochte as he competed in the Arena Grand Prix Series prelims Friday April 12, 2013 at the Skyline Aquatic Center in Mesa. [Tim Hacker/Tribune]

Olympian Ryan Lochte looks up at his coach while warming up before the Arena Grand Prix Series prelims Friday April 12, 2013 at the Skyline Aquatic Center in Mesa. [Tim Hacker/Tribune]

Olympian Ryan Lochte warms up before competition begins during the Arena Grand Prix Series prelims Friday April 12, 2013 at the Skyline Aquatic Center in Mesa. [Tim Hacker/Tribune]

Skyline Aquatic Center lifeguard Laney Parkinson looks over swimmers in the pool from her stand during the Arena Grand Prix Series prelims Friday April 12, 2013 at the Skyline Aquatic Center in Mesa. [Tim Hacker/Tribune]

Mesa Aquatics Club volunteer Greg Arnett,center, helps with timing during the Arena Grand Prix Series prelims Friday April 12, 2013 at the Skyline Aquatic Center in Mesa. [Tim Hacker/Tribune]

Olympian Melissa Franklin,left, congratulates her fellow competitors after finishing the 200 meter freestyle during the Arena Grand Prix Series prelims Friday April 12, 2013 at the Skyline Aquatic Center in Mesa. [Tim Hacker/Tribune]

Skyline Aquatic Center lifeguard Laney Parkinson looks over swimmers in the pool from her stand during the Arena Grand Prix Series prelims Friday April 12, 2013 at the Skyline Aquatic Center in Mesa. [Tim Hacker/Tribune]