Monday, May 19, 2008 11:30 pm

NEW ORLEANS - As Manu Ginobili dribbled out the final few seconds of the second-round series clincher, Tony Parker walked over and gave him a congratulatory pat on the head.

SLIPPING AWAY: The Hornets' Chris Paul, left, and Jannero Pargo sit on the bench during a timeout in the fourth quarter of Monday's Game 7 vs. the Spurs.

SAN ANTONIO SANDWICH: San Antonio forward Manu Ginobili, center, tries to hang onto the ball as New Orleans' Chris Paul, left, and David West reach for the ball during the Spurs' 91-82 victory in Game 7. Ginobili scored 26 points for San Antonio.Ann Heisenfelt, Associated press
Tuesday, April 28, 2009 1:39 pm
Arizona State won out for the affections and talents of San Antonio-area shooting guard Brandon Thompson, who announced a commitment to the Sun Devils on Monday afternoon.
Wednesday, August 6, 2008 10:49 am
Suns fans who have seen quite enough of the San Antonio Spurs might not like the highlights of Phoenix's 2008-09 schedule.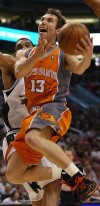 Steve Nash flies to the basket during NBA action between the Phoenix Suns and San Antonio Spurs at US Airways Center in Phoenix on March 9, 2008.
Wednesday, April 9, 2008 5:42 pm
SAN ANTONIO - Shaquille O'Neal will be back in the Suns lineup when Phoenix takes on the San Antonio Spurs tonight.
Wednesday, October 24, 2007 11:43 am
Coyotes goaltender David Aebischer cleared waivers Wednesday and was assigned to the San Antonio Rampage, the Coyotes' American Hockey League (AHL) affiliate.
Saturday, April 19, 2003 1:10 am
SAN ANTONIO - The playoff series that starts today in the Alamo city will have a distinctly different flavor than the five previous ones featuring these two clubs.
Sunday, May 2, 2010 11:25 am
Demons lurk for the Phoenix Suns in their upcoming playoff series against the San Antonio Spurs.
Wednesday, October 29, 2008 10:25 pm
SAN ANTONIO - Amare Stoudemire patiently waited until the fourth quarter before taking over and giving Terry Porter a win in his coaching debut.

Phoenix Suns center Shaquille O'Neal (32) blocks San Antonio Spurs forward Tim Duncan (21) during the first half of an NBA basketball game in San AntonioOct. 29, 2008.
Monday, May 19, 2008 3:59 pm
On three hours of sleep, playing in a time zone 10 hours removed from where she had spent a majority of the offseason and minus a single practice with her teammates, all Cappie Pondexter did Saturday was come up with the third-highest-scoring game of her career.
Sunday, March 30, 2008 1:05 am
Business as usual for the Blue and Gold this weekend, where a trip to the Final Four (let alone the West Regional championship) is but a layover.

MOVING ON: UCLA's Kevin Love celebrates the Bruins' win over Xavier in the West Regional final.
Tuesday, November 20, 2007 11:26 am
Coyotes goalie Alex Auld cleared waivers Tuesday morning and was assigned to San Antonio of the American Hockey League.
Friday, May 4, 2007 2:43 pm

 Local EDT Broadcast
Game 1 - Sun May 6 San Antonio at Phoenix 12:30PM 3:30PM ABC/R
Game 2 - Tue May 8 San Antonio at Phoenix 7:30PM 10:30PM TNT
Game 3 - Sat May 12 Phoenix at San Antonio 7:00PM 8:00PM ABC
Game 4 - Mon May 14 Phoenix at San Antonio 8:30PM 9:30PM TNT
Game 5 * Wed May 16 San Antonio at Phoenix TBD TBD TNT
Game 6 * Fri May 18 Phoenix at San Antonio TBD TBD ESPN
Game 7 * Sun May 20 San Antonio at Phoenix TBD TBD TBD

Saturday, November 19, 2005 1:55 am
Days after the Phoenix Suns were eliminated by San Antonio in the Western Conference semifinals, the brain trust went back to work with the idea of ascending to the next level — the level currently inhabited by the very team that sent them home on the way to a third NBA title in seven years.
Tuesday, November 15, 2005 5:51 am
The Coyotes made three roster moves Monday and will likely make another before Wednesday's home game against Colorado.
Tuesday, November 15, 2005 5:51 am
The Coyotes made three roster moves Monday and will likely make another before Wednesday's home game against Colorado.
Monday, June 16, 2003 9:47 am
SAN ANTONIO - The second NBA championship in five years has San Antonio Spurs fans gearing up for a victory parade and city officials rushing Monday to organize the celebration.

The San Antonio spurs defeated the New Jersey Nets 88-77 Sunday to claim their second NBA championship.