Friday, April 11, 2008 1:43 am

Concerned Mesa residents gathered at the Washington Activity Center Thursday night to voice their displeasure over the city's plan to close the longtime community landmark.
Tuesday, October 16, 2007 10:17 pm
Chandler plans to celebrate a new pregnancy center with a "Hands of Mercy" banquet at the Crowne Plaza San Marcos Resort. The banquet will take place on October 30.

CIRCLE OF LIFE: Avery Graber, 2, of Phoenix, watches a spinning wheel lit up with a flashing light that creates the illusion of a fly's life from larva to adult as part of the "CSI: Crime Scene Insects" exhibit Wednesday at the Arizona Sci
Wednesday, June 27, 2007 6:38 am
Acommunity's oldest residents are among its most precious assets. And yet outside of the perennial debate over Social Security and Medicare, many other issues affecting the elderly don't get the public attention that other causes do. But the priorities are about to shift by necessity.
Sunday, April 1, 2007 8:21 am
Becky Kuhn won't be carrying cardboard boxes filled with her office supplies when she moves from her current work station at the Banner Mesa Medical Center to her new office at the Banner Gateway facility in Gilbert.

IN CHARGE: Becky Kuhn, is the CEO of Banner Mesa Medical Center and will be the CEO of the Banner Gateway Medical Center when it opens in the fall of this year.

Nine-year-old Tasha Denick takes karate exercises at Southwest Center for the Martial Arts.
Thursday, December 1, 2005 9:50 am
Developers of the planned ASU Scottsdale Innovation Center are scaling back the project's signature element — "SkySong."
Thursday, December 1, 2005 5:25 am
Developers of the planned ASU Scottsdale Innovation Center are scaling back the project's signature element — "SkySong."

LPGA tour player Juli Hilton, center, drops off her kids, MacKenzie, 4, right, and Trevor, 3, not shown, with caretaker Bardine May, left, inside a Mesa hotel.
Friday, October 27, 2006 6:18 am
A handful of experts took the podium Thursday during the grand opening of the Banner Alzheimer's Institute in downtown Phoenix.

Disabled riders can measure themselves against mockups of a fare vending machine and a light rail train at Valley Metro's new Mobility Center.

Valley Metro's Mobility Center simulates outdoor and indoor transit challenges for disabled riders, including streetscapes, bus and light rail accessibility ramps and station seating.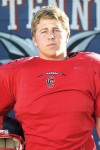 Centennial senior Jake Abbott, a 6-3, 275-pound center is one of the Coyotes' four captains and is the school's student body president.
Sunday, July 13, 2008 10:48 pm
When you touch a life, you touch eternity. Life's greatest wealth is not money, it is the lives you touch. Let me tell you a story about touching lives — not just any lives, but really the least, the last and the lost.
Friday, January 11, 2008 4:59 am
Plans to designate historic status to the Kerr Cultural Center in Scottsdale were temporarily stalled Thursday night over a legal technicality.

A statue of Louise Lincoln Kerr sits outside the Kerr Cultural Center in Scottsdale. The center is one of the locations on the Arizona Preservation Foundation's list of most endangered historical properties in the East Valley.
Friday, September 7, 2007 1:34 am
Plenty of us have asked ourselves, as we swatted away flies that kept landing on our picnic sandwiches, "Just what are flies good for, anyway?"

Town Councilwoman Lisa Coletto-Cohen, chairwoman of Queen Creek's Parks, Trails and Open Space Committee, takes comments concerning the logo design for the planned Horseshoe Park and Equestrian Centre during a meeting Tuesday.
Tuesday, June 19, 2007 6:37 am
Voter approval of the state's first minimum wage filled us with trepidation even before the revelation that Proposition 202's language did not exempt "sheltered workshops," where developmentally disabled workers are paid subminimum wages for work they can't perform at the same pace as a nondisabled counterpart.
Friday, June 22, 2007 6:17 am
Have you ever gotten a utility bill that was far higher than you expected to pay? Imagine if the charges were $45,000 higher than usual —and taxpayers had to foot the bill.

Seniors gather Thursday for a few rounds of pinochle at the Mesa Senior Center.