Sunday, May 19, 2013 7:58 am

Graduation is just days away. Then, they'll be moving on to the next phases of their life.
Saturday, May 18, 2013 7:37 am
Spring sprang, and now summer has set in.
Here is the 2013 Mesa all-city softball team as determined by Mesa city schools' coaches:
Tuesday, May 14, 2013 4:45 pm
With a deep inhale and wide smile, Jordan Beck let out the worst-kept secret in Arizona high school softball, and came as close as anyone wearing black and red to acknowledging the history that's been made on the east end of Brown Road.

Kimran Sidhu,16, will be graduating at Red Mountain High school this spring, shown Tuesday, May 14, 2013 at the school. [Tim Hacker/Tribune]

Kimran Sidhu,16, will be graduating at Red Mountain High school this spring, shown Tuesday, May 14, 2013 at the school. [Tim Hacker/Tribune]

Kimran Sidhu,16, will be graduating at Red Mountain High school this spring, shown Tuesday, May 14, 2013 at the school. [Tim Hacker/Tribune]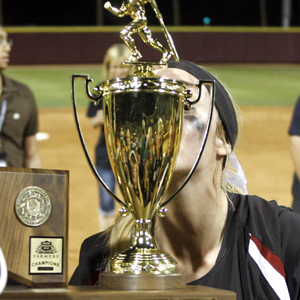 Red Mountain takes on Chaparral in the Div. I State Championship softball game Monday, May 13, 2013 on the campus of ASU in Tempe. [Tim Hacker/Tribune]

Red Mountain's Marian Ruf is thrown out at second base after being tagged by Chaparral's Lauren LaTerra in the Div. I State Championship game, Monday, May 13, 2013 on the campus of ASU in Tempe. [Tim Hacker/Tribune]

Red Mountain's Marian Ruf is thrown out at second base after being tagged by Chaparral's Lauren LaTerra in the Div. I State Championship game, Monday, May 13, 2013 on the campus of ASU in Tempe. [Tim Hacker/Tribune]

Red Mountain's MacKenzie Froehle, center, and Taylor Beeson return to the dug out after both scoring runs while taking on Chaparral in the Div. I State Championship game, Monday, May 13, 2013 on the campus of ASU in Tempe. [Tim Hacker/Tribune]

Red Mountain's Jordan Beck runs the bases after hitting a home run against Chaparral in the Div. I State Championship game, Monday, May 13, 2013 on the campus of ASU in Tempe. [Tim Hacker/Tribune]

The Red Mountain girls softball team holds up four fingers for the four consecutive State Championships the schools team has won after defeating Chaparral in the Div. I State Championship game, Monday, May 13, 2013 on the campus of ASU in Tempe. [Tim Hacker/Tribune]

Chaparral's Ashtyn Coleman holds back from swinging at a ball while taking on Red Mountain in the Div. I State Championship game, Monday, May 13, 2013 on the campus of ASU in Tempe. [Tim Hacker/Tribune]

Chaparral's pitcher Dallas Mcbride delivers a pitch in the first inning of play against Red Mountain in the Div. I State Championship game, Monday, May 13, 2013 on the campus of ASU in Tempe. [Tim Hacker/Tribune]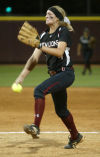 Red Mountain's Breana Macha delivers a pitch in the fifth inning while taking on Chaparral in the Div. I State Championship game, Monday, May 13, 2013 on the campus of ASU in Tempe. [Tim Hacker/Tribune]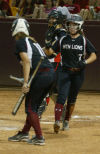 Red Mountain's Kayla Bellaire,right, returns to the dug out after scoring against Chaparral in the Div. I State Championship game, Monday, May 13, 2013 on the campus of ASU in Tempe. [Tim Hacker/Tribune]

Chaparral's Alexa Thorell,left, celebrates with Morgan Kemp after Kemp crossed the plate to score a run against Red Mountain in the Div. I State Championship game, Monday, May 13, 2013 on the campus of ASU in Tempe. [Tim Hacker/Tribune]

Chaparral's Morgan Kemp,center, celebrates crossing the plate with her teammates Alexa Thorell,left, and Maggie Roche,right, while taking on Red Mountain in the Div. I State Championship game, Monday, May 13, 2013 on the campus of ASU in Tempe. [Tim Hacker/Tribune]

Chaparral's pitcher Dallas Mcbride delivers a pitch in the fifth inning of play against Red Mountain in the Div. I State Championship game, Monday, May 13, 2013 on the campus of ASU in Tempe. [Tim Hacker/Tribune]

Chaparral's Maggie Roche,left, crosses the plate while taking on Red Mountain in the Div. I State Championship game, Monday, May 13, 2013 on the campus of ASU in Tempe. [Tim Hacker/Tribune]

Chaparral's Hanna Mehok,right, is called out sliding into home plate after being tagged by Red Mountain catcher Jordan Beck during the Div. I State Championship game, Monday, May 13, 2013 on the campus of ASU in Tempe. [Tim Hacker/Tribune]

Red Mountain's third base McKenzy Gutierrez,left, meets at the pitchers mound with Breana Macha,center, and catcher Jordan Beck while taking on Chaparral in the Div. I State Championship game, Monday, May 13, 2013 on the campus of ASU in Tempe. [Tim Hacker/Tribune]
The Red Mountain softball team celebrates their Div. I championship win over Chaparral by a score of 9 to 5, Monday, May 13, 2013 on the campus of ASU in Tempe. [Tim Hacker/Tribune]