Thursday, September 22, 2011 8:30 pm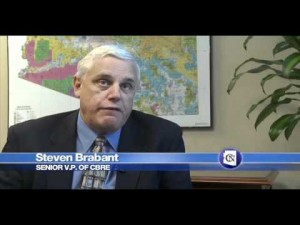 Many are familiar with the statistics for Arizona's housing market, which remain less than impressive. But the figures are looking better for the Valley's commercial real estate market. Cronkite News Reporter Rachel Naegeli found that in the city of Tempe, markets may actually be on the upswing.
Saturday, September 8, 2007 11:55 am
The Tribune takes a weekly snapshot of the East Valley housing market - comparing what you can get for your money in different neighborhoods.
Sunday, November 19, 2006 6:32 am
Michael Pollack stood before his third-grade class in San Jose, California and gave a report about how to read construction blueprints. Four years later, Pollack spent his weekends working as a construction laborer with carpenters, electricians and landscapers.
Friday, September 1, 2006 6:34 am
As the real estate market declines, so does the number of jobs related to the industry. Thus far layoffs among homebuilders have been minimal, and real estate agents say their numbers are still strong.

Kevin Houston, realtor
Kevin Houston, realtor
Thursday, October 1, 2009 5:02 pm
Store closings will continue to outpace openings and rents will persist in a downward spiral, driving some shopping centers into foreclosure as the Valley's job market continues to shrink.

Signs advertise available retail spaces in the Chandler Mercado shopping center at the northwest corner of Arizona Avenue and Warner Road in Chandler. Feb. 10, 2009.
Tuesday, July 7, 2009 12:31 pm
The Valley's commercial real estate market continued its downward spiral last quarter with higher vacancy rates in the office, retail and industrial sectors, according to commercial brokerage CB Richard Ellis.
Friday, November 14, 2008 6:56 pm
 ForSaleByOwner.com has announced it has become the nation's first "by owner" real estate Web site to enable home sellers to advertise their home on Realtor.com without appearing on a local Multiple Listing Service.
Friday, November 14, 2008 6:53 pm
National Real Estate Auction Corp. expects to have more 150 properties at the Great Arizona Real Estate Auction on Nov. 23.
Thursday, November 6, 2008 11:06 pm
Even though Arizona's real estate recession feels painful today, it's no worse than previous downturns. And the state will probably pull out of this one in the same ways it has done in the past, said Bill Gosnell, a Phoenix-based real estate investor, at a presentation Thursday night at the East Valley Partnership's annual Economic Forum.
Saturday, January 19, 2008 11:39 pm
Juggling the mounds of paperwork tied to the home buying process could get easier this year for Arizona real estate agents, lenders, escrow officers, title companies and others in the industry.
Saturday, December 1, 2007 11:48 am
Hundreds of Valley real estate agents rallied in Scottsdale on Friday in hopes of kick-starting the sluggish real estate market by thinking positive and being proactive.

Real estate agent Ross Cobb answers questions on stage during a gathering of Arizona real estate agents to discuss turning around the market at the Scottsdale Center for the Arts in Scottsdale, Ariz., Friday.

Nicholas Tutora, a "Certified LifeSuccess Consultant" leads a motivational presentation during a gathering of Arizona real estate agents to discuss turning around the market at the Scottsdale Center for the Arts in Scottsdale Friday.

A panel discusses the real estate market during a gathering of Arizona real estate agents to discuss turning around the market at the Scottsdale Center for the Arts in Scottsdale Friday.
Friday, May 18, 2007 6:41 am
The housing market is in a state of flux, but East Valley commercial developer Michael Pollack still sees opportunities for investors — if they're smart and do their homework.
Wednesday, October 11, 2006 6:25 am
Craig and Shannon Bohall bought an existing home in Mesa three years ago, and now they have an opportunity to move up to their first brand new home. Their house, near Baseline Road and Val Vista Drive, has five bedrooms, 3 1 /2 bathrooms and lots of amenities. They put their house on the market more than a month ago in hopes of a quick sale so they can close on their new home by mid-November.

Mesa resident Craig Bohall, left, is having a tough time finding buyers for his family's house. He is offering a free Hawaiian vacation and a free big-screen TV to buyers.
Friday, March 25, 2005 5:26 am
The East Valley office market, which started to recover from its turn-of-the-century slump in 2003, continues to catch fire.