Wednesday, March 12, 2003 10:10 am

BELGRADE, Serbia-Montenegro - Serbia's prime minister - who spearheaded the revolt that toppled former President Slobodan Milosevic in October 2000 - was assassinated Wednesday by gunmen who ambushed him outside government headquarters.

Yugoslav President Vojislav Kostunica, left, and Serbian Prime Minister Zoran Djindjic are seen in this May 18, 2001 file photo. Djindjic--who spearheaded the revolt that toppled former President Slobodan Milosevic in October 2000--was assassinated
Wednesday, September 3, 2008 9:17 pm
BANGKOK, Thailand - Embattled Prime Minister Samak Sundaravej called the political crisis in Thailand a shameful embarrassment for the country but vowed not to resign or dissolve Parliament, saying Thursday it was his job to protect democracy.
Thursday, May 29, 2008 8:52 pm
JERUSALEM - Prime Minister Ehud Olmert suffered another blow Thursday when a key rival for power in his political party suggested the embattled leader should be replaced because of a widening corruption investigation.
Saturday, June 7, 2008 5:14 pm
PRISTINA, Kosovo - Armed assailants trying to break into the home of Kosovo Prime Minister Hashim Thaci exchanged fire with guards, but the leader was away and his family was not hurt, police said Saturday.

Israel's Foreign Minister Tzipi Livni speaks at the First International Security Forum of Ministers of Interior and Homeland Security, in Jerusalem, Thursday, May 29, 2008.

A Kosovan police officer stands guard in front of the sealed road leading to the residence of Kosovo's Prime Minister Hashim Thaci in Pristina Saturday, June 7, 2008 after armed assailants tried to break in. Thaci's security guards exchanged fire with the intruders, injuring at least one assailant.
Thursday, March 27, 2008 8:17 am
BAGHDAD - Iraq's prime minister vowed Thursday to fight "until the end" against Shiite militias in Basra despite protests by tens of thousands of followers of a radical cleric in Baghdad and deadly clashes across the capital and the oil-rich south.
Tuesday, September 25, 2007 6:35 am
TOKYO - Parliament elected Yasuo Fukuda to be Japan's prime minister Tuesday, thrusting the moderate political insider into the job of taking on a resurgent opposition and rebuilding the scandal-scarred ruling party.
Monday, September 25, 2006 9:40 pm
TOKYO - Nationalist Shinzo Abe, a proponent of a tight alliance with the United States and a more assertive military, won election as Japan's new prime minister Tuesday, scoring comfortable majorities in both houses.
Friday, September 29, 2006 12:28 am
BANGKOK, Thailand - The leaders of Thailand's military coup have chosen a former army commander and close adviser to the powerful king as interim prime minister, the auditor general said Thursday night.

Thai military Supreme Commander Gen. Surayud Chulanont speaks during an interview with The Associated Press in Bangkok, in this Dec. 4, 2002 file photo.

Japan\'s Chief Cabinet Secretary Shinzo Abe walks through the Hiroshima Peace Memorial Park after offering a prayer to the victims of the 1945 atomic bombing in Hiroshima, western Japan, in this September 1, 2006, file photo.
Tuesday, July 25, 2006 6:35 am
WASHINGTON - President Bush retains confidence in Iraqi Prime Minister Nouri al-Maliki despite the failure of the Shiite politician's signature effort to improve security in Iraq's bloody capital, the White House said as Bush prepared to host the new leader.
Sunday, August 31, 2008 12:29 am
BANGKOK, Thailand - Thailand's prime minister acknowledged that his administration cannot control spiraling anti-government protests and urged Parliament to find a political solution during an emergency session Sunday.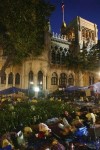 Anti-government protesters sleep at the Government House in Bangkok, Thailand, Sunday, Aug. 31, 2008. The protesters vowed to stay in the compound until the government resigns.
Wednesday, July 30, 2008 12:27 pm
JERUSALEM - Israeli Prime Minister Ehud Olmert announced Wednesday he will resign in September, throwing his country into political turmoil and raising doubts about progress for U.S.-backed Mideast peace efforts.
Thursday, May 8, 2008 10:31 am
MOSCOW - Vladimir Putin was named prime minister of Russia Thursday after a fervent speech full of ambitious plans that overshadowed his low-key successor and suggested that he will keep a strong hand in ruling the country.
Monday, December 17, 2007 6:12 am
MOSCOW - President Vladimir Putin told a congress of Russia's dominant party Monday that he would agree to become prime minister if Dmitry Medvedev is elected as his successor - and said he would not seek to make the premiership more powerful.
Wednesday, June 27, 2007 8:45 am
LONDON - Former Treasury chief Gordon Brown became British prime minister Wednesday, promising "a new government with new priorities," after Tony Blair resigned to end a decade in power.
Tuesday, November 29, 2005 5:48 pm
TORONTO - Prime Minister Paul Martin kicked off Canada's election campaign Tuesday with a slim lead in opinion polls after his minority government was toppled in a no-confidence vote in Parliament.