A University of Colorado Police officer gets into her patrol car on Thursday, Aug. 2, 2012, at the University of Colorado Medical Campus in Aurora, Colo. Suspected movie theater shooter James Holmes was studying neuroscience at the medical school and a psychiatrist there raised an alarm about his behavior. In the wake of a student's deadly attack at Virginia Tech five years ago, schools across the country put into place teams meant to bring together faculty and staff to notice and take action, when a student appears to be a threat. The school won't say if campus police ever were alerted to Holmes, or whether faculty or staff ivestigated his behavior.(AP Photo/Ed Andrieski)
An officer in attendance of a press conference hangs his head after the announcement of the shooting of Chandler undercover police officer Carlos Ledesma, Thursday, July 29, 2010 in Chandler.
Chandler Police Chief Sherry Kiyler speaks during a press conference annoucing the the shooting of Chandler undercover police officer Carlos Ledesma, Thursday, July 29, 2010 in Chandler.
Monday, March 10, 2008 12:32 pm
Tempe police arrested a 27-year-old man Sunday on suspicion of assaulting a police officer.
Saturday, February 24, 2007 5:43 am
Anthony "Tony" Holly died as a hero to his family, friends and the many who knew him. The Glendale police officer, shot during a traffic stop on Monday, was laid to rest Friday in a casket draped with the American flag in front of thousands, including police officers from across the state.

FALLEN OFFICER: Police officers, friends and family pay their respects to former Glendale police officer Anthony Holly, who was shot and killed Monday in Glendale following a traffic stop. Hundreds attended the funeral Friday afternoon. GARY KELTZ%
Tuesday, November 11, 2003 8:45 pm
A botched narcotics case has raised troubling questions about a blacklist compiled by the Maricopa County Attorney's Office that brands local police officers as possibly unreliable to testify in court.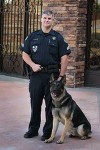 COP AND K-9: Scottsdale Police Sgt. Chris Coffee and his dog, Striker.

Apache Junction Unified School District Superintendent Chad Wilson, Bill Virtue, district public relations director Brian Killgore
Wednesday, February 29, 2012 7:06 am
Police officers have become accustomed to having the public record their interactions with video cameras or smart phones, revealing sometimes embarrassing or even abusive behavior.
Friday, October 1, 2010 1:00 pm
Police have identified a 35-year-old man they shot in the chest Thursday while responding to a call from his mother saying he was suicidal inside his west Mesa apartment.
Friday, June 4, 2010 5:59 pm
A 20-year-old man accused of impersonating a police officer while ordering a car with four people inside to pull over, is being held in a Maricopa County jail.
Wednesday, May 26, 2010 7:34 am
A Phoenix police officer shot and killed early Wednesday while investigating a suspicious vehicle was a 29-year-old married father of two young children, authorities said.
Thursday, February 18, 2010 4:28 pm
The Arizona Legislature adopted a resolution Thursday honoring Gilbert Police Lt. Eric Shuhandler, who died Jan. 28 after he was shot during a traffic stop at Val Vista and Baseline roads.

Gilbert police Lt. Eric Shuhandler
Thursday, February 11, 2010 3:35 pm
Funeral services will be Friday for a 45-year-old Arizona State University police officer who lost his battle with cancer.
Monday, February 8, 2010 9:58 am
Careless police investigations led Chandler police to discipline four officers resulting in two resignations and two suspensions.
Thursday, January 14, 2010 8:45 pm
A blogger critical of Phoenix police and an officer accused of feeding him material have been indicted on felony charges, the state Attorney General's Office said Thursday.
Sunday, October 4, 2009 4:54 pm
A Phoenix police officer who was serving with the Army National Guard in Afghanistan has been killed in action, according to Phoenix police.

Staff Sgt. Thomas Rabjohn
Saturday, October 25, 2008 5:02 pm
A Phoenix police officer was killed in a car collision early Saturday while he was en route to an emergency call, according to authorities.
Monday, April 21, 2008 1:40 pm
SURPRISE - A Surprise police officer has been airlifted to a hospital after a traffic accident.
Sunday, March 2, 2008 10:17 am
A Scottsdale police officer riding his motorcycle to work early Sunday morning was struck from behind by a suspected drunken driver.
Monday, February 18, 2008 5:04 pm
GOODYEAR - A Goodyear police officer has been shot following an armed burglary at a car wash.