Puppies labeled as pit bull mixes up for adoption at Maricopa County Animal Care and Control.
Wednesday, September 13, 2006 6:23 am
A Mesa dog breeder has been reunited with two pit bull puppies stolen from her last week in a PetSmart parking lot.
Saturday, January 15, 2005 6:41 am
Scottsdale police found the owner of two pit bulls that an officer shot and killed Thursday after they attacked a man and chased a woman into her house.
Saturday, January 15, 2005 6:42 am
Saturday, October 13, 2012 2:52 pm
MESA, AZ - A pit bull puppy that has been recovering from serious injuries since March is now ready to be taken home by a loving family.
Thursday, October 23, 2008 9:40 pm
Pit Bull Awareness Day and vaccination clinic is Saturday at Maricopa County Animal Care and Control, 2630 W. Eighth St.
Friday, May 2, 2008 12:11 pm
TUCSON - Pima County animal welfare officials have euthanized nearly 100 pit bulls seized from a breeding operation suspected of supplying fighting dogs to rings across the nation.
Thursday, July 26, 2007 9:14 am
Maricopa County Sheriff Joe Arpaio backed off an earlier statement Thursday naming Atlanta Falcons quarterback Michael Vick in a pit bull fighting investigation that originated in 2004 in Gilbert.
Monday, April 2, 2007 9:30 am
A commotion erupted at a Tempe trailer park Monday morning when a pair of roaming pit bulls attacked a 12-yearold boy and residents fought off the dogs with everything from a broom to their feet.
Sunday, January 28, 2007 5:59 am
Valley police shot and killed three pit bulls last week in separate incidents after the animals attacked people and other dogs.
Sunday, February 18, 2007 5:51 am
Pit bulls have taken a beating in the media lately. One attacked a woman and her springer spaniel Dec. 21 at Gilbert's Cosmo Park. Then Tempe and Phoenix police shot and killed four aggressive pit bulls in separate dog attacks during a three-week span starting Jan. 22.
Thursday, February 8, 2007 10:46 am
The count of pit bulls shot and killed by Valley police in the last three weeks has risen to four. Phoenix police officers shot and killed another pit bull Wednesday evening at an apartment after the dog charged an officer trying to arrest a suspected felon.
Friday, September 8, 2006 10:49 am
Mesa dog breeder Beth Kaufman took precautions Wednesday when she showed her pedigreed pit bull puppies to a potential buyer.
Tuesday, May 10, 2005 6:17 am
Eleanor H. Porter's 1913 book "Pollyanna'' told the story of a girl whose infectious optimism changed the hearts of people in her small village.
Friday, January 14, 2005 5:15 am
A police officer shot and killed a pair of pit bulls that chased two people and attacked another Thursday in a Scottsdale neighborhood.
Friday, January 14, 2005 9:30 am
Sunday, July 10, 2011 12:00 pm
For the last two and a half years, Oscar Martin, a 4-year-old beagle, has not only been Robert Baker's best friend, he's been the Gilbert man's hearing service dog.
Tuesday, March 4, 2008 5:06 pm
A Tempe police officer shot and killed a pit bull Monday near the Tempe public library.
Friday, August 24, 2007 2:28 pm
Everybody who lives near DMX in the Cave Creek area knew when the rap musician and actor was visiting from the East Coast.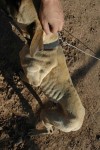 Twelve pit bulls were found underfed and lacking water at the Cave Creek home of rap musician DMX. (Courtesy of Maricopa County Sheriff\'s Office)
Friday, February 25, 2005 5:06 am
Police wounded two pit bulls and captured two others in a south Scottsdale neighborhood Wednesday afternoon.
Friday, February 25, 2005 9:45 am

Items from \"The Ultimate Cats' Catalog\" include a Cold Fur Vault, above, and a Turbocharged Petting Machine, left.