Eddie Castillo, left, and Mike Caliendo stand with racks of their wares at AZ Food Crafters in Chandler. [Courtesy of AZ Food Crafters]

AZ Food Crafters in Chandler have introduced hand pies to the Valley. A hand pie is a half-circle-shaped pastry is stuffed with fresh ingredients and baked to a crispy golden brown. [Courtesy of AZ Food Crafters]

The versatile hand pie can be made with a variety of ingredients and can serve as breakfast, lunch, dinner or dessert. [Courtesy of AZ Food Crafters]

AZ Food Crafters in Chandler have introduced hand pies to the Valley. A hand pie is a half-circle-shaped pastry is stuffed with fresh ingredients and baked to a crispy golden brown. [Courtesy of AZ Food Crafters]

In this Feb. 13, 2012 photo taken in Concord, N.H., Sheperd's Pie, made with sweet potatoes, corn and Italian sausage is shown. (AP Photo/Matthew Mead)

In this image taken on Oct. 8, 2012, a slice of maple pumpkin pie with cinnamon-maple whipped cream is shown served on a plate in Concord, N.H. (AP Photo/Matthew Mead)

Cheryl Standage opened her new Piefection pie shop in Mesa Aug. 29.

We combined the best elements of strawberry-rhubarb pie and lemonade into one luscious and easy-to-bake treat perfect for eating outdoors

For Elizabeth Karmel coconut cream pie is magical, with its homemade flaky crust and rich silky custard. She wanted to keep her grandmothers pie recipe but wanted it to be less work. This image taken in Concord NH, on February 27, 2012 shows the version she came up with. (AP Photo/Matthew Mead)

In this Jan. 30, 2012 photo taken in Concord, N.H., a plate of stroganoff muffin pies are shown. (AP Photo/Matthew Mead)
Saturday, May 24, 2008 1:48 am
Friday, December 28, 2007 12:37 am
After spending his first year doling out punishment to wayward players and cheating teams, NFL Commissioner Roger Goodell took his turn swallowing the medicine this week.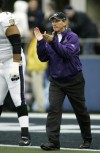 UCLA BOUND? Baltimore Ravens offensive coordinator Rick Neuheisel applauds his team prior to an NFL game this season. UCLA would be wise to grab him because it is running out of candidates.
Friday, February 16, 2007 5:45 am
Some people travel for adventure. I travel for pie — or at least I plan my road trips around it. There's something about stopping at a roadside cafe for a gooey piece of pie (preferably apple) with crumbs on top and ice cream on the side. It's a reward for miles traveled or trails hiked.

Donna Ray, who has been a waitress at Rock Springs Cafe since 1989, writes up a bill for Ruth and Dewayne Garrett of Sierra Vista. ASHLEY LOWERY FOR THE TRIBUNE
Wednesday, July 21, 2004 12:20 am
The East Valley often loves to follow the latest antics of Scottsdale residents and leaders, and who can blame them? For sheer selfishness, it beats reality TV.
Wednesday, November 21, 2012 4:35 pm
Pie in general, but particularly pumpkin pie, has become a virtual necessity when it comes to Thanksgiving dinner, almost as common as the turkey itself.

In this image taken on Oct. 2, 2012, a caramel apple pie is shown in Concord, N.H. (AP Photo/Matthew Mead)

For generations, enthusiastic Jewish cooks have turned these dietary restrictions into a rewarding culinary challenge. The idea shown in this image taken on March 5, 2012 in Concord, NH is to make a Shepherd's pie with leftover brisket, veal or chicken. The topping is made with matzo brei rather than the traditional mashed potatoes. (AP Photo/Matthew Mead)