Former Mesa Chamber of Commerce CEO Peter Sterling, pictured in the Chamber offices prior to the bout with a brain tumor and cancer he began fighting last march.
Then-Mesa Chamber of Commerce president and CEO Peter Sterling spoke to the hundreds in attendance at the 100th-annual Chamber leadership awards in April 2012. At the time, Sterling had been on leave the month prior after undergoing brain surgery and other rigorous treatment in his battle with a brain tumor. [Tim Hacker/ Tribune]

Bruce Springsteen Painting

Cathy Rigby and The Lost Boys in Peter Pan

This Aug. 16, 2012 photo shows Peter Bird, from the Miraval Resort and Spa, in Tucson, Ariz., demonstrating Naga Thai Massage at the International Spa Association event, in New York. Parties at the spa, treatments for stressed and time-pressed consumers, cross-cultural traditions, and a whole lot of purple _ from lavender-scented treatments to mauve nail polish _ are some of the trends and services that were shown off at the annual International Spa Association meeting held recently in New York. (AP Photo/Richard Drew)

Trader Peter Tuchman works on the floor of the New York Stock Exchange during the IPO of Northern Tier Energy, Thursday, July 26, 2012. U.S. stocks are soaring at the opening bell after the president of the European Central Bank vowed to do what it takes to preserve the continent's monetary union. (AP Photo/Richard Drew)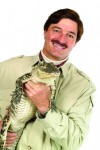 Wild Kingdom's Peter Gros with an alligator

FILE - In this May 5, 2002 file photo, actor Peter Falk, from "Columbo," arrives at NBC's 75th anniversary celebration at New York's Rockefeller Center. Falk, the stage and movie actor who became identified as the squinty, rumpled detective in "Columbo," died Thursday, June 23, 2011 at his Beverly Hills, Calif., home. He was 83. (AP Photo/Ron Frehm, file)

Peter Funt is a writer, public speaker and long-time host of "Candid Camera"; he may be reached at www.CandidCamera.com
Thursday, April 28, 2011 10:25 am
I was born in Arizona on June 8, 1997. Over the past 13 years, I have been all over the state with the Boy Scouts and on family trips. I have lived in Arizona my whole life. I have traveled everywhere from the Grand Canyon to the Mexican border. Because I have seen and experienced this great state, I'm qualified to write about Arizona pride.

Peter Jackson

Peter Sterling

Bernadette Peters
Jayson Peters writes the pop culture blog Nerdvana at http://blogs.evtrib.com/nerdvana. Follow him on twitter at http;//twitter.com/nerdvana.
Sunday, September 2, 2007 12:00 am
He could have taken the easy road in life. He could have stayed in his native New York, remained committed to a family fortune and perhaps even appeared in one of those luscious ads. Could you imagine it? Peter Revson, world-class race car driver, Formula-One legend, pushing red-hot lipstick for Revlon? Not a chance.
Saturday, April 14, 2007 12:00 am
In many ways it made complete sense. Of course the boy born in the house next to the factory would grow up running the place. Of course the boy would take over where the father left off, refusing to bow to conventional wisdom and preferring to stay the course.

Jeff Breese, Club President; Sister Martha, School Principal and the six scholarship recipients.