This undated image provided by Gregg Irby Fine Art shows the floor that Atlanta artists, Nancy B. Westfall painted in her daughter's room. (AP Photo/Gregg Irby Fine Art)

This undated image provided by Gregg Irby Fine Art shows the floor that Atlanta artists, Nancy B. Westfall painted in her daughter's room. (AP Photo/Gregg Irby Fine Art)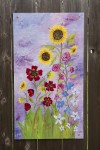 Carolyn Groth's paintings are meant to stand up to sun and rain.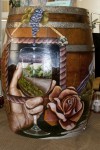 Painted Barrel by Jody Florman is on display at Page Springs Cellars.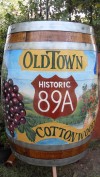 Painted Barrel by Annabel Sclippa & Joan Bourque on display at Annabel Inn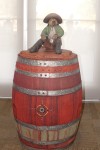 Painted Barrel by Robert Brubaker is displayed at Steve Coury Automotive.

Artist Baje Whitethorne's barrel is on display at Verde Valley Olive Oil Traders.
Saturday, July 9, 2005 6:57 am
Prolific American artist Thomas Kinkade was painting his first landscape of Michigan's Mackinac Island, his hands freed up for the telephone interview by a headset. "I find that I think more creatively when I am painting," he explained from his studio in Saratoga, Calif.

FAITH IN ART: \"Painter of Light\" Thomas Kinkade prays before he begins any project and says that in more than 30 years as a professional artist, God has never failed to guide his hand.

Mountain View High School art students custom painted four pairs of Vans sneakers as part of the 2013 Vans Custom Culture contest.

In this undated publicity photo provided by The Valspar Corporation, the door and trim is painted with Valspar Signature's Celestial Blue, available at Lowe's, to create contrast while adding drama and architectural detail to further personalize the space. (AP Photo/The Valspar Corporation)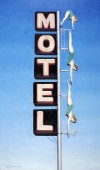 New York-based artist Mary Anne Erickson who is known for her renderings of Americana and vanishing roadside culture, is helping to raise funds for the restoration of Mesa's iconic Diving Lady neon sign at the Starlite Motel. Erickson is selling 50 limited edition prints of the diving lady she painted in 2007 and donating $100 from the sales to the Mesa Preservation foundation which needs $25,000 to place the restored sign back in place. (Photo courtesy Mary Anne Erickson)
Friday, July 20, 2007 1:20 pm
Learn about different color schemes for your home using paint and the basics of painting techniques, including ragging, dragging and sponging during a workshop.
Friday, January 5, 2007 9:39 pm
RALEIGH, N.C. - A North Carolina artist intrigued by the public obsession with celebrity has found herself feeding that obsession with a painting of actress Angelina Jolie as the Virgin Mary hovering over a Wal-Mart check-out line.

This photo provided by Chelsea Galleria shows a painting \"Blessed Art Thou,\" by North Carolina artist Kate Kretz that features actress Angelina Jolie and her three children hovering in the heavens above a Wal-Mart.
Friday, June 9, 2006 6:49 am
Artist Xavier Garza was 8 years old and flipping through the channels on a Saturday afternoon when he discove red the masked heroes of Mexican wrestling, or "lucha libre."
Thursday, October 27, 2005 11:35 am
Historically, Painted Mountain Golf Club is Mesa's oldest public course. It dates back to 1964, when architect Frank Boxberger built the first nine holes of what then was called Camelot Golf Course.
Monday, May 2, 2005 11:12 am
Monday, August 9, 2004 2:25 pm
Saturday, September 25, 2004 3:38 am
A Gilbert start-up company has come up with a copier-sized machine that industry observers say will revolutionize the retail paint industry.