Prices are advertised at a gas station Tuesday, Feb. 21, 2012 in San Francisco. U.S. retail gasoline prices rose less than a penny Monday to a national average of 3.57 per gallon, according to AAA, Wright Express and Oil Price Information Service. A gallon of regular is 19 cents higher than it was a month ago and 40 cents more than a year ago. AP Photo/Marcio Jose Sanchez)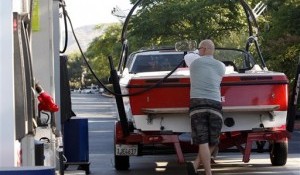 A motorist buys gas for his boat, getting an early start on the Holiday weekend traffic Friday July 1, 2011 in Burbank, Calif. The national average now stands at $3.55 per gallon. That's the cheapest gasoline has been since late March. It's still higher for this time of year than any other year except 2008, however. (AP Photo/Nick Ut)

Vu To finishes filling his gas tank at a Shell gas station where, at $4.199 a gallon, the price is among the highest in the area, Tuesday, April 26, 2011, in the Seattle suburb of Bellevue, Wash. In the U.S., gas pump prices have climbed for 35 straight days even though industry surveys show Americans have started to drive less. To said that, because of escalating gas prices, he no longer puts premium gas in his SUV and has not seen any difference with the regular gas he's been using for months. (AP Photo/Elaine Thompson)

A woman returns to her car after filling up at a gas station advertising regular gasoline on sale for $4.32 Wednesday, March 9, 2011, in San Diego. Gas pump prices continued to climb, reaching a national average of $3.524 for a gallon of regular on Wednesday, according to AAA, Wright Express and the Oil Price Information Service. (AP Photo/Gregory Bull)
Monday, September 1, 2008 6:30 pm
HOUSTON - The punch of Hurricane Gustav appeared to fall softly Monday on the vast energy complex along the U.S. Gulf Coast, alleviating fears of a fuel shortage and potentially delivering a break to businesses and consumers.
Monday, March 17, 2008 11:37 pm
NEW YORK - Oil prices plunged Monday, pulling back at least temporarily from record levels as investors feared that the financial crisis that forced the sale of Bear Stearns Cos. is a sign of deep economic trouble.
Saturday, February 25, 2006 6:26 am
WASHINGTON -Crude oil futures jumped 4 percent Friday after a thwarted attack on a massive oil facility in Saudi Arabia rattled a market already jittery about supply disruptions in Nigeria and Iran's nuclear ambitions.
Tuesday, May 17, 2005 6:36 am
Oil prices fell slightly on Monday following a commitment from OPEC's president that the group was prepared to keep the market well supplied.
Saturday, August 7, 2004 7:52 am
LONDON - Oil prices retreated from record-highs on Friday as concerns about Russian supplies dissipated somewhat and OPEC said it was prepared to raise daily output by more than one million barrels.
Friday, September 17, 2004 9:52 am
WASHINGTON - Oil prices rose Thursday despite reports that refineries along the Gulf Coast, as well as production platforms in the Gulf of Mexico, that had been shut down were slowly being restaffed, as Hurricane Ivan proved to be less disruptive than feared.
Friday, September 24, 2004 7:12 am
WASHINGTON - Oil prices inched closer to $50 a barrel Thursday even as the Bush administration offered to tap the nation's emergency stockpile of crude on behalf of refiners whose supply was disrupted by Hurricane Ivan.
Tuesday, May 25, 2004 7:36 am
WASHINGTON - The price of oil reached a new high Monday, settling at $41.72 per barrel as traders shrugged off Saudi Arabia's pledge to immediately pump more crude because other OPEC members refuse to formally increase the cartel's daily production quota.
Thursday, March 20, 2003 10:37 pm
Crude oil prices have fallen sharply recently, but gasoline prices have yet to show any signs of coming down because of a strong demand and short supplies, analysts said.
Monday, May 17, 2004 11:06 pm
LONDON - Oil prices surged near $42 a barrel Monday as markets shrugged off a Saudi proposal that OPEC raise its official output target by 6 percent. Separately, the Energy Department said the average U.S. retail price of a gallon of gasoline passed $2 for the first time.
Tuesday, September 2, 2008 7:32 pm
NEW YORK - Oil prices plunged to the lowest level in five months Tuesday, falling to within sight of $100 a barrel on signs that Hurricane Gustav only grazed U.S. energy infrastructure in the Gulf of Mexico.
Sunday, May 18, 2008 10:10 pm
NEW YORK - The rising price of oil isn't just swelling Americans' energy bills — it's also holding back their stock portfolios.
Monday, May 19, 2008 11:09 pm
NEW YORK - More gas and oil records fell Monday as retail fuel prices struck highs and crude settled above $127 for the first time, tightening the squeeze on drivers planning holiday road trips next weekend.
Wednesday, November 28, 2007 10:39 pm
NEW YORK - Oil's rise to $100 a barrel, which seemed a done deal as recently as two days ago, was dealt a severe blow Wednesday when the government reported an increase in supplies at the Nymex delivery terminal in Cushing, Okla., which is closely watched by traders as a benchmark of oil inventory tightness.
Monday, April 23, 2007 2:05 pm
NEW YORK - Stocks retreated from historically lofty levels Monday as rising oil prices chilled investor enthusiasm for strong earnings reports and new takeover activity. The Dow Jones industrials came within 17 points of 13,000 before pulling back.
Thursday, January 4, 2007 2:43 pm
NEW YORK - Wall Street struggled but ultimately closed higher Thursday as a bounce in technology stocks and sharply lower oil prices helped investors brush off concerns about sluggish consumer spending.
Monday, August 7, 2006 6:47 am
LONDON - Oil prices jumped by more than $1 a barrel Monday following a production shutdown at an Alaskan oil field that accounts for about 8 percent of U.S. production.
Monday, July 17, 2006 5:58 am
LONDON - Crude oil prices see-sawed Monday, plunging more than $1 a barrel on a report that Iran had accepted incentives to resolve a dispute over its nuclear program, then quickly retraced some lost ground as Israel's operations against Hezbollah seemed unlikely to end soon.
Saturday, October 22, 2005 6:41 am
Crude-oil futures rose Friday as traders kept a wary eye on the path of Hurricane Wilma heading into the weekend.
Saturday, May 21, 2005 7:27 am
VIENNA, Austria - Crude oil futures prices slipped Friday amid conflicting signals from the Organization of Petroleum Exporting Countries and a relatively upbeat assessment of energy prices from Federal Reserve Chairman Alan Greenspan.
Wednesday, September 29, 2004 6:20 am
Crude oil surpassed $50 a barrel for the first time and analysts said Tuesday that prices could keep rising because of a sharp rise in global demand, tight supplies and threats to output in petroleum-producing nations such as Iraq and Nigeria.