In this film image released by Warner Bros. Pictures, Lea Michele is shown in a scene from "New Year's Eve."
Friday, December 9, 2011 12:00 am
"New Year's Eve" is the second in a remarkably shallow series of holiday-themed, celebrity-stuffed confections from director Garry Marshall and screenwriter Katherine Fugate, following their 2010 "Valentine's Day" collaboration. Of course, the really good stuff will come once they get to "Columbus Day," or maybe, just maybe, "Ash Wednesday."
Thursday, December 2, 2004 5:05 am
Alternative rock band Lit and '80s new wave artists The Fixx will serve as half of the headlining acts at Scottsdale's Ultimate Block Party on New Year's Eve.
Thursday, December 2, 2004 9:39 am
Wednesday, December 31, 2003 7:09 am
From family fun to massive block parties, East Valley partygoers have a wide variety of places they can go and celebrate the new year.
Saturday, December 29, 2012 3:33 pm
How do you make a New Year's party that the whole family can enjoy?
Thursday, December 29, 2011 6:00 am
From 21-and-older bashes to family friendly celebrations, here are some options for ringing in 2012
Saturday, December 24, 2011 2:00 pm
If you need proof that Dick Clark still rules New Year's Eve, here it is.
Sunday, December 26, 2010 1:30 pm
The Tuscan Oven, Westgate City Center's newest restaurant and nightclub, will have a New Year's Eve party.
Tuesday, December 28, 2010 3:18 pm
Tuesday, December 29, 2009 2:24 pm
Ring in 2010 with the Valley's own Roger Clyne and the Peacemakers, a foursome known for making new fans all over the map based on their incendiary live performances alone.  See more events  |  VIDEO
Thursday, December 18, 2008 6:42 pm
The Gilbert Mayor's New Year's Eve party will be 8 p.m. to midnight Dec.31 at the McQueen Park Activity Center, 510 N. Horne St. The family-friendly event includes a band playing music from the 1960s and '70s, a center for "tweens" ages 5-12 sponsored by Brunswick XL Bowling, and day care for younger kids. Admission is $5 per family or $2 per person, and food will be available for purchase. The event is alcohol- and tobacco-free.
Wednesday, October 22, 2008 2:32 pm
Light-rail officials are doing their part to get New Year's Eve revelers off the roads and into the trains.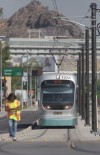 Valley Metro tests a light-rail vehicle along a portion of the track near the ASU campus in Tempe June 17, 2008.
Saturday, December 1, 2007 4:42 am
Gilbert's annual Mayor's New Year's Eve Party will be quite the show, organizers say.
Monday, January 1, 2007 2:41 am
BANGKOK, Thailand - Thailand's prime minister said Monday that ousted politicians rather than Muslim insurgents were likely behind the bombings that killed three people and canceled New Year's Eve festivities for thousands of revelers.

Thai police investigators examine the site where a bomb exploded at Kong Toey market in Bangkok, Thailand Sunday evening, Dec. 31, 2006. Small bombs planted by unknown parties exploded on Sunday in at least four places in Thailand\'s capital,
Wednesday, December 14, 2005 5:24 am
NEW YORK - Mariah Carey will perform live from Times Square on ABC's "Dick Clark's New Year's Rockin' Eve." It will mark the first time in the 34-year history of the year-end special that a singer has performed from Times Square, the network said.
Saturday, December 31, 2005 4:57 am
Time is ticking down with the year 2006 just hours away, yet some would-be partygoers still don't know where they'll be when the ball drops.