Friday, April 13, 2012 4:16 pm
Arizona has broken Nevada's 62-month streak as the foreclosure capital of the nation. The state's foreclosure rate in March actually dropped, but Nevada's dropped more. California kept its third-place ranking.
Thursday, April 8, 2010 11:33 am
RENO, Nev. - The Nevada men's basketball team has scheduled a home-and-home series with Arizona State beginning next season and is close to sealing a deal with Washington.
Wednesday, July 30, 2008 12:14 am
Defending 5A Division I football champ Phoenix Brophy Prep will face Nevada's reigning 4A champ, Las Vegas Bishop Gorman High School, in the third annual Sollenberger Classic at 7 p.m. Aug. 23 at University of Phoenix Stadium.
Sunday, April 20, 2008 1:23 pm
 A Mesa 14-year-old that was reported missing since Wednesday was found Sunday by Nevada State troopers, police say.
Saturday, January 19, 2008 1:29 pm
Sen. Hillary Rodham Clinton won the Nevada caucuses Saturday, powering past Barack Obama in a hard-fought race marred by last-minute charges of dirty politics. Former Massachusetts Gov. Mitt Romney easily won the Republican contest.
Wednesday, September 19, 2007 1:20 am
Prison overcrowding in Washington and Nevada sent Roy Townsend and Kollin Fol som to a medium-security pri vate prison in Florence.
Wednesday, August 8, 2007 2:21 am
SAN BERNARDINO, Calif. - Until Tuesday night, no one had laid a glove on the Nevada champ. Chandler National landed haymaker after haymaker.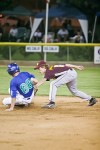 Luke Parrish of Chandler National Little League puts the tag down for the out during Chandler\'s win over Green Valley of Henderson, Nev. Tuesday night in San Bernardino, Calif. JeffreyEdward Photography
Friday, January 19, 2007 1:15 pm
NEW YORK - Dethroned Miss Nevada USA Katie Rees says she was devastated when provocative photos of her partying and posing in various stages of undress emerged on the Internet.
Saturday, January 13, 2007 1:38 am
LAS VEGAS - Dethroned Miss Nevada USA Katie Rees has quickly rebounded from her public firing by pageant owner Donald Trump.
Monday, September 4, 2006 7:00 am
RENO, Nev. - Thousands of celebrants danced, hugged and cheered as the annual Burning Man counterculture festival climaxed with the traditional torching of its namesake object on the northern Nevada desert.
Wednesday, November 12, 2003 8:58 am
LAS VEGAS - Actor Christian Slater received stitches for a cut on his head and his wife, Ryan Haddon, was arrested after she was accused of hitting him with a drinking glass during a fight in their Las Vegas hotel room, authorities said Tuesday.
Saturday, March 1, 2003 11:36 pm
A Las Vegas showgirl entertained passengers on Southwest Airlines flights in and out of Phoenix Sky Harbor International Airport on Thursday, giving away free cocktails and more than a dozen trips to Las Vegas and Reno.
Wednesday, March 6, 2013 10:01 am
LAS VEGAS — Nevada officials say they're no longer recognizing concealed weapons permits from Arizona after the state relaxed some of its training requirements.
Sunday, July 12, 2009 1:15 pm
RENO, Nev. -- Authorities have canceled an Amber Alert in Nevada for a mother suspected of abducting her four young children after she failed to show up for a custody meeting with social service officials.
Saturday, September 6, 2008 11:34 pm
WASHINGTON - Nevada regulators have shut down Silver State Bank. It was the 11th failure this year of a federally insured bank. The Federal Deposit Insurance Corp. was appointed receiver of the bank, located in Henderson, Nev. It had $2 billion in assets and $1.7 billion in deposits as of June 30.
Sunday, June 29, 2008 10:32 pm
RENO, Nev. - Rising fuel prices are putting a pinch on the world's oldest profession. Nevada brothels that cater to long-haul truckers are offering gas cards and other promotions after seeing business decline as much as 25 percent from a year ago, industry officials said.
Sunday, June 8, 2008 11:56 pm
RENO, Nev. - A months-long swarm of earthquakes picked up again Sunday as a string of minor temblors rattled Reno, causing downtown high-rises to sway and knocking items off walls and shelves.

This February file photo provided by the Las Vegas Metropolitan Police Department shows the booking photo of Katherine Rees.
Thursday, February 7, 2008 9:30 pm
PAHRUMP, Nev. - Former Hollywood madam Heidi Fleiss was arrested Thursday on charges of illegal possession of prescription drugs and driving under the influence, authorities said.

In this image released by the Nye County Sheriff's Office, former Hollywood madam Heidi Fleiss is shown in a booking mug released, Thursday, Feb. 7, 2008, in Pahrump, Nev.