House Speaker Nancy Pelosi, D-Calif.

House Speaker Nancy Pelosi, D-Calif., answers questions during a Netroots Nation convention in Las Vegas on Saturday, July 24, 2010. (AP Photo/Louie Traub)
Thursday, November 9, 2006 5:16 am
WASHINGTON - He mocked her as "a secret admirer" of tax cuts and an opponent of measures crucial to keeping Americans safe, warning that "terrorists win and America loses" if her Democrats prevailed on Election Day.

Senate candidate Jim Webb, D-Va., gestures during remarks at an election night event in this Tuesday.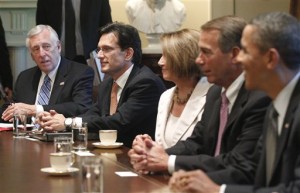 President Barack Obama, right, sits with from left, House Minority Whip Steny Hoyer of Md., House Majority Leader Eric Cantor of Va., House Minority Leader Nancy Pelosi of Calif., and House Speaker John Boehner of Ohio, as he met with Republican and Democratic leaders regarding the debt ceiling, Thursday, July 14, 2011 in the Cabinet Room of the White House in Washington. (AP Photo/Charles Dharapak)

Speaker of the House Nancy Pelosi, D-Calif., spends time Tuesday with her grandchildren — fourth-grader Alex Prowda, left, and second-grader Madeleine Prowda — during lunch at Cochise Elementary School in Scottsdale.
Wednesday, February 21, 2007 5:01 am
U.S. House Speaker Nancy Pelosi was offi cially in the East Valley this week to talk to Arizona State University students about federal financial aid.
Wednesday, April 4, 2007 6:59 am
DAMASCUS, Syria - House Speaker Nancy Pelosi held talks with Syria's leader Wednesday despite White House objections, saying she pressed President Bashar Assad over his country's support for militant groups and passed him a peace message from Israel.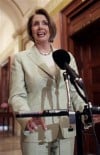 House Speaker Nancy Pelosi accused the CIA and Bush Administration of misleading her about waterboarding detainees in the war on terror and sharply rebutted claims she was complicit in the method's use. Thursday, May 14, 2009
Thursday, May 14, 2009 7:55 pm
WASHINGTON - House Speaker Nancy Pelosi bluntly accused the CIA on Thursday of misleading her and other lawmakers about its use of waterboarding during the Bush administration, escalating a controversy grown to include both political parties, the spy agency and the White House.
Thursday, January 4, 2007 5:20 am
WASHINGTON - Jubilant Democrats on Thursday elected Rep. Nancy Pelosi as the first woman speaker of the House, the crowning celebration of newfound power the party won in the November electoral sweep.
Thursday, November 16, 2006 7:57 am
WASHINGTON - Nancy Pelosi was unanimously named speaker-elect by House Democrats Thursday, the first woman to be ensured the post that constitutionally is second in line of succession to the presidency.

House Speaker Nancy Pelosi, delivers her remarks at a gathering celebrating her election as the first female speaker of the House of Representatives, Jan. 4, 2007, in Washington. The spotlight belonged to Nancy Pelosi on Thursday as she became the
Sunday, March 23, 2008 1:14 pm
CHENGDU, China - China accused the Dalai Lama on Sunday of stoking Tibetan unrest to sabotage the Beijing Olympics and also berated House Speaker Nancy Pelosi, saying she is ignoring the truth about Tibet.

U.S. House speaker Nancy Pelosi, D-California, and representative Harry Mitchell, D-Ariz. (not pictured) visited the Carl T. Hayden VA Medical Center on Wednesday.
Wednesday, July 22, 2009 5:45 pm
WASHINGTON - Democrats command the votes needed to pass a sweeping health care bill through the House, Speaker Nancy Pelosi said Wednesday, an unexpected statement that quickly drew a biting response from conservative members of the party's rank-and-file demanding changes in President Barack Obama's trademark legislation. 
Tuesday, November 21, 2006 5:29 am
Nancy Pelosi's first act as speaker-elect of the U.S. House was to stumble badly. A child of Baltimore's machine politics broke an old rule of those politics by picking a fight that she should have known she would lose — and lose big.
Wednesday, August 15, 2007 4:16 pm
U.S. House Speaker Nancy Pelosi toured the Veterans Administration hospital in Phoenix Wednesday and promised former military personnel that Congress is taking a "new direction" regarding veterans.
Sunday, January 7, 2007 7:47 am
WASHINGTON - House Speaker Nancy Pelosi said newly empowered Democrats will not give President Bush a blank check to wage war in Iraq, hinting they could deny funding if he seeks additional troops.
Saturday, February 10, 2007 3:23 am
New House Speaker Nancy Pelosi is nothing if not combative. Even as she was being elected speaker, she unsuccessfully tried to oust her No. 2, the current House Democratic floor leader, Steny Hoyer, in favor of her own candidate.

U.S. Speaker of the House, Nancy Pelosi, D-Calif., discusses congressional plans to lessen the financial burden on college students while speaking at ASU on Monday.
Monday, February 19, 2007 9:04 pm
Illegal immigrant students brought to this country as children deserve a path to citizenship and affordable higher education, U.S. House Speaker Nancy Pelosi said during a visit to Arizona State University on Monday.

Nancy Pelosi, speaker of the U.S. House of Representatives, gestures during a briefing at the Climate Summit in Copenhagen, Denmark. Dec. 17, 2009.

Vice President Dick Cheney applauds and House Speaker Nancy Pelosi listens as President Bush delivers his State of the Union address on Capitol Hill in Washington, Tuesday.