Friday, January 18, 2013 4:12 pm

PROVO, Utah — Mikaela Merrill was in the middle of her fall semester at Brigham Young University when she abruptly altered her college plans and signed up for a Mormon mission.

Mesa Mountain View senior Payton Dastrup, middle, is one of the state's top ranked recruits, but his Mormom mission will either postpone or disrupt his college career.

At 7-feet, 2-inches, Arizona State center Jordan Bachynski, middle, was a giant among his fellow Mormon missionaries during their mission in the Miami, Fla. area after attending high school in Canada.

In this Jan. 8, 2013, photo, Mormon missionaries Mikaela Merrill, 19, center, and Harrison Surdu, right, practice their Mandarin Chinese during class at the Missionary Training Center in Provo, Utah. The Mormon churchís recent decision to lower the minimum age for missionaries has been greeted with† enthusiasm from many young members of the LDS church -- but especially young women. About half of all new applications to go on missions since the announcement have been from women, the church says. Prior to that, only 15 percent of missionaries were women. (AP Photo/Rick Bowmer)

Sister Fabiola Chavarria of Bolivia, Fla. and her teaching companion Sister Hyuna Yoon of South Korea, talk with friends at Temple Square during the afternoon session of the182nd Semiannual General Conference for The Church of Jesus Christ of Latter-day Saints in the Conference Center in Salt Lake City on Saturday, Oct. 6, 2012. LDS Church President Thomas S. Monson announced Saturday that young women, who have not been eligible for full-time missionary service until age 21, may now begin their service at age 19. Sisters Chavarria and Yoon both were excited about the announcement and said what a privilege it was to serve the Lord. The two have been on their mission in Salt Lake City for less than a year. (AP Photo/The Salt Lake Tribune, Laura Seitz)
Thursday, April 11, 2013 10:05 am
Leave it to mom to deliver the best news.
Friday, February 22, 2013 5:12 pm
SALT LAKE CITY — The Mormon church is creating 58 new missions around the world to accommodate an influx of missionaries triggered by the lowering of the minimum age.
Saturday, June 30, 2007 3:29 pm
The Church of Jesus Christ of Latter-day Saints announced Monday that it reached a historic milestone in its ministry outreach — sending out its millionth missionary.
Sunday, May 20, 2007 6:01 am
Luis Cruz grew up in the Catholic tradition that his parents taught him in Chiapas, Mexico. But when he came to Phoenix more than three years ago, he developed a spiritual void that the Catholic Church was unable to fill.
Sunday, September 26, 2004 3:40 am
SALT LAKE CITY - The quip illustrated the subtext of Gov. Janet Napolitano's trip to meet with top leaders of the Mormon Church.
Monday, September 27, 2004 11:42 am
Sunday, September 23, 2007 4:46 am
Being excommunicated for apostasy by the Mormon church is one thing, but Lyndon Lamborn is livid that his stake president has ordered bishops in eight Mesa wards to take the rare step of announcing disciplinary action against him to church members today.

FISHERS OF MEN: Mormon missionaries Javier Misiego, left, and Adam Anderson, both 20, speak with Brandon Castro, 21, outside a Scottsdale apartment.
Saturday, May 28, 2005 8:06 am
Finding the two missionaries' apartment was easy. A portrait of a redhaired Christ in a red robe, a depiction by artist Del Parson that is widely displayed in entrances to Mormon buildings, was taped to their window facing 82nd Street just north of McDonald Drive in Scottsdale.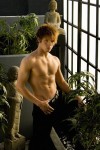 Matthew Webster, a 22-year-old former Mountain View High School student, poses for the 'Men on a Mission' calendar. SUBMITTED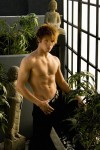 Matthew Webster, a 22-year-old former Mountain View High School student, poses for the \'Men on a Mission\' calendar. SUBMITTED
Saturday, August 21, 2004 8:37 am
Wednesday, September 12, 2007 3:10 pm
Chad Hardy wants the public to know that underneath their short-sleeved white dress shirts and muted ties, Mormon missionaries are the same as everyone else.
Friday, April 4, 2008 10:32 pm
Cut and a little bit battered, a young missionary said he was doing OK on Saturday, a day after he was attacked in what Mesa police called a possible anti-Mormon hate crime.
Friday, October 5, 2012 7:16 pm
SALT LAKE CITY — Tens of thousands of the Mormon faithful are descending on Utah's largest city for their church's semi-annual general conference to hear gospel-centered talks about faith, family and mission work from senior church leaders.
Monday, February 4, 2008 2:32 pm
Thomas S. Monson will serve the rest of his life as the president and prophet of the Church of Jesus Christ of Latter-Saints.
Sunday, September 2, 2012 1:19 pm
WOLFEBORO, N.H. — Republican Mitt Romney, the first Mormon presidential nominee of a major political party, sat in the Wolfeboro Church of Jesus Christ of Latter-day Saints on Sunday as, one by one, members of his congregation credited him for bringing the faith more into the public eye.
Monday, July 14, 2008 12:05 pm
SALT LAKE CITY - The creator of a 2008 calendar that featured shirtless Mormon missionaries was excommunicated Sunday after a disciplinary meeting with local church leaders in Las Vegas.
Friday, July 11, 2008 1:39 pm
SALT LAKE CITY - A Las Vegas man who was the creative brains behind a calendar that features shirtless Mormon missionaries is facing a disciplinary hearing and possible excommunication for the project.