In this Oct. 14, 2012 photo, British author David Mitchell, from the upcoming film "Cloud Atlas", poses for a portrait in Beverly Hills, Calif. The stars of "Cloud Atlas," along with Mitchell, who wrote the novel that inspired the genre-bending epic about souls returning and intertwining over the centuries, shared their beliefs and disbeliefs about reincarnation as the film heads to U.S. theaters Oct. 26, 2012. Hanks himself doesn't buy into reincarnation, while Berry, Whishaw, Mitchell, Sarandon and co-stars Hugo Weaving and Jim Sturgess either believe or at least think it's possible that souls come back for an encore. (Photo by Matt Sayles/Invision/AP)

Mitchell Hammer

Harry Mitchell, a candidate for Arizona's 5th Congressional District, speaks with the East Valley Tribune's editorial board, Tuesday, October 5, 2010 in Mesa.
Sunday, June 24, 2007 12:00 am
A glorious day while on a deepsea fishing holiday in the early 1960s under a sweltering Bimini (in the Bahamas) sun, William Mitchell hooked a classic. A shark, actually, but a whole new concept, in reality. It seems General Motors, and Mitchell, its Renoir stylist, needed a new theme for the debut of the Corvette at the 1962 New York auto show.
Thursday, March 30, 2006 11:06 am
A 28-year-old school counselor was the surprise pick Wednesday to finish out the term of Sen. Harry Mitchell, D-Tempe.

Gage Howard, 17, helps load a tree purchased by Bud Junger of Washington for his daughter, who lives in Tempe. [Michelle Reese/Tribune]

Gage Howard, 17, helps load a tree purchased at the Mesa Tim Mitchell Christmas tree lot on Extension Road and Southern Avenue in Mesa earlier this month. [Michelle Reese/Tribune]
Saturday, October 16, 2010 3:30 pm
Saturday, October 16, 2010 3:30 pm

Republican David Schweikert, right, thanks his supports for their help at his campaign headquarters in Scottsdale.

Harry Mitchell is congratulated by supporters Tuesday evening at the victory party for Harry Mitchell at the Fiesta Inn Resort in Tempe.
Monday, December 10, 2007 11:23 pm
U.S. Rep. Harry Mitchell intended to speak to a group of local veterans Monday to discuss three veteran-related issues: homelessness, suicide and outpatient wait times at U.S. Department of Veterans Affairs facilities.
Thursday, December 13, 2007 2:02 pm
Read a copy of the Mitchell Report assessing steroid and illegal supplement use in Major League Baseball.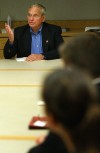 LEADING THE DISCUSSION: U.S. Rep. Harry Mitchell attended a roundtable to talk about veterans' issues on Monday at the Carl T. Hayden Veterans Affairs Medical Center in Phoenix.
Tuesday, October 9, 2007 12:19 am
U.S. Rep. Harry Mitchell turned to a panel of local financial advisers Monday for examples of how middle-class residents are forced to make life-changing decisions because of their tax obligations.