Highland basketball coach Minor Webster sweeps the gym floor, Monday, Jan. 14, 2013 in Gilbert, something he's likely done around 1,900 teams in his 35-year coaching career. Webster is nearing his 700th career win.

Highland girls basketball coach Miner Webster has won a remarkable 698 games (through Tuesday) during his coaching career and could get No. 700 this week. Behind Webster, this year's seven Highland senior players form "700" on the court.
Monday, March 7, 2011 1:30 pm
The Ahwatukee Republican Women's Club Marjorie Miner Scholarship shall be awarded each year to a graduating senior from an Ahwatukee certified high school, whose application has been approved by the ARW Executive Committee. The Ahwatukee Republican Women's Club Marjorie Miner Scholarship shall be awarded each year to a graduating senior from an Ahwatukee certified high school, whose application has been approved by the ARW Executive Committee. Applications must be received no later than April 1st of each year. The ARW Marjorie Miner Scholarship will be presented to the winner at an appropriate time in May of the same year. Ahwatukee Republican Women will fund no less than $250.00 of the scholarship to be awarded. Marjorie and Gordon Miner have offered to match this amount to make the scholarship amount $500.00. Donations to the scholarship fund are acceptable. Visit www.azfrw.org/clubs/arw.htm for information and the application.
Wednesday, October 13, 2010 6:38 pm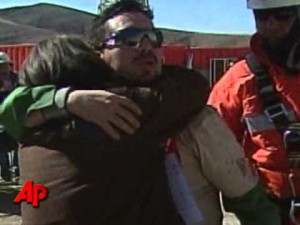 The miners who spent 69 agonizing days deep under the Chilean earth were hoisted one by one to freedom Wednesday, their rescue moving with remarkable speed while their countrymen erupted in cheers and the world watched transfixed. (Oct. 13)
Friday, August 27, 2010 1:27 pm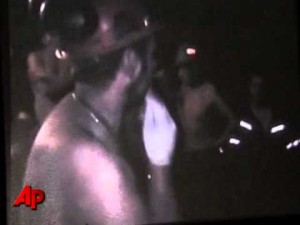 A new video showing the trapped Chilean miners and the space where they're sheltering has been released. It gives the fullest picture yet of conditions for the 33 men confined underground since a landslide hit their copper mine three weeks ago. (Aug. 27)
Wednesday, August 25, 2010 1:38 pm
The 33 trapped miners in Chile are getting cherished words from their loved ones above who are sending notes down to them. However, officials say it may be Christmas before they're rescued. (Aug. 25)
Friday, August 17, 2007 1:25 pm
HUNTINGTON, Utah - The desperate underground drive to reach six trapped miners was suspended indefinitely Friday after a cave-in killed three rescuers inside a mountainside mine.
Friday, June 3, 2011 9:34 am
Peoria police are dealing with a trend they have dubbed "urban mining."
Police said Thursday thieves are resorting to extreme measures to obtain metal throughout the city and that involves crooks stealing air-conditioning units and copper wiring and plumbing from vacant homes or strip malls.
Thursday, August 9, 2007 9:18 am
HUNTINGTON, Utah - Drill rigs perched on a steep mountain cut through sandstone Thursday to within a few hundred feet of where six coal miners caught in a collapse 1,500 feet underground are believed to be, one of the mine's co-owners said.
Friday, April 20, 2007 11:34 pm
BARTON, Md. - Workers found the bodies of two miners in the cabs of heavy machinery Friday, three days after they were buried when a wall section collapsed in an open-pit coal mine.
Friday, April 28, 2006 6:30 am
BUCKHANNON, W.Va. - Federal regulators are scrambling to reassure the nation's 42,000 coal miners that the air packs they rely on in an emergency will work, even though the sole survivor of the Sago Mine disaster says four of his crew's devices malfunctioned.
Monday, January 30, 2006 5:51 am
ESTERHAZY, Saskatchewan - Rescuers retrieved 67 western Canadian potash miners who had been trapped underground by a fire, but several more miners were still in subterranean emergency chambers Monday waiting for help.
Friday, January 6, 2006 3:22 am
TALLMANSVILLE, W.Va. - Tom Toler identified the body of his youngest brother. And then he was handed a message from the dead man. In wobbly printing, written in ink on the back of an insurance application, 51-year-old miner Martin Toler Jr. said goodbye. For now.

Aaron Cohen, son-in-law of deceased miner Fred Ware, holds a brass helmet ID tag that was once worn by Fred Cohen on his mining helmet Thursday, Jan. 5, 2006 in Tallmansville, W. Va. Fred Ware, 58, and 11 other miners died after a mine explo
Sunday, May 29, 2005 7:58 am
The Mesa Miners lost their first game of the season, falling to the Yuma Scorpions 9-5 Saturday at Hohokam Park.
Friday, September 3, 2004 12:09 am
Friday, September 3, 2004 10:42 am
On opening night of the 2004 Arizona State football season, two unsung players emerged as stars.

Arizona State defensive back Chris McKenzie breaks up a pass Thursday intended for UTEP receiver Jayson Boyd.
Tuesday, November 11, 2003 9:43 pm
The 27 stone tubs at the Buckhorn Mineral Wells and Wildlife Museum haven't provided relief to those weary of life's aches and pains since 1999, but there's much more to the northwest corner of Main Street and Recker Road.

Mike Jiminez, who has done maintenance for more than 25 years at Buckhorn Baths, rakes trash and weeds Tuesday at the east Mesa business.