Wednesday, March 23, 2011 3:00 pm
Wednesday, September 14, 2011 5:15 pm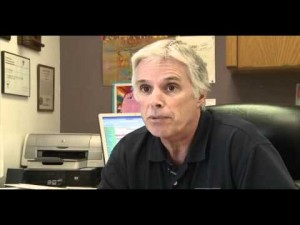 The rich green trees on Mill Avenue in Downtown Tempe are not only aesthetically pleasing, they also offer summer shade as you walk under their canopy of leaves. But as we hear from Cronkite News Reporter Johnny Ortiz some of the aging ficus trees may be running out of time, so city officials are looking for ways to save the green cityscape.
Saturday, February 26, 2011 8:00 am
An eclectic pizzeria in northwest Phoenix is expanding to a second location in Tempe, with a grand opening planned for March 14.
Tuesday, August 24, 2010 9:00 am
Valley residents can learn about the history of Tempe's most important downtown drag in a new video about the evolution of Mill Avenue. The presentation includes land use experts, community leaders and business owners discussing how Mill has changed over 135 years and why it will keep morphing.
Wednesday, October 31, 2007 10:21 pm
Many different costumes showed up on Mill Avenue Halloween night in Tempe.
Saturday, October 30, 2010 3:00 pm
The public's image of downtown Tempe for years was bolstered by television news programs using Town Lake or the leafy Mill Avenue as a backdrop.
Sunday, July 25, 2010 1:00 pm
Three Tempe firefighters were injured Saturday night when part of a burning house exploded while they were inside.
Monday, November 10, 2008 8:44 pm
A man's tantrum – with his driver's license, fists and spit flying – at a Mill Avenue fast-food restaurant ended in his arrest, police said.
Wednesday, October 8, 2008 7:42 am
Downtown Tempe's Mill Avenue was honored Wednesday as one of the nation's Top 10 Great Streets for 2008.
Wednesday, July 30, 2008 12:00 pm
The Mill Avenue bridges over the Salt River will be closed on Sunday morning.
Monday, March 10, 2008 12:20 am
A couple in their 40s stroll down Mill Avenue in the early evening and pause in front of La Bocca Urban Pizzeria & Wine Bar.

HE'S BACK: Julian Wright, who launched and sold Mill Avenue's Jax Thai Bar and The Library Bar & Grill, is returning to downtown Tempe with La Bocca.

DIFFERENT CLIENTELE: La Bocca's stylish decor is designed to appeal to a more sophisticated crowd than that served by most Mill Avenue restaurants.
Friday, January 11, 2008 4:12 pm
Those Were the Days!, a 35-year-old antique store and fixture in downtown Tempe, closed its doors today.

People walk past Those Were The Days!, a 35-year-old antique store that will be closing soon on Mill Avenue in downtown Tempe.

L to R: Matt Randolph, Melissa Fischer talk with Vic Linoff the owner of Those Were The Days!, a 35-year-old antique store on Mill Avenue in downtown Tempe.
Wednesday, November 21, 2007 6:58 am
Sparky and other Sun Devil fans across the Valley can forget about a lazy Thanksgiving. A football showdown tonight on national television between No. 7 Arizona State University and No. 11 USC will turn downtown Tempe into a party scene.

SHAPE OF THINGS TO COME: Mill Avenue hustles and bustles the day before Thanksgiving and the nationally televised ASU-USC game in Tempe tonight.
Tuesday, March 4, 2003 1:20 pm
The man accused of killing a Tempe bar patron with a single punch was indicted Thursday on a charge of negligent homicide.
Tuesday, December 25, 2012 10:12 am
Rivers & Moorhead, a boutique CPA consulting firm, moved to a new office on Mill Avenue in Tempe.