FILE - This Feb. 24, 2011 file photo shows former Arkansas Gov. Mike Huckabee in Washington. Huckabee's decision on whether to move toward another run for president -- which he'll announce on his television show Saturday night, May 14, 2011 -- may come down to whether he's willing to cut back those revenue streams to put his political career first again. His top advisers say he hasn't told them what he'll do, which makes them think he's probably going to stick with the money, rather than go for the White House. (AP Photo/Alex Brandon, File)
Sunday, January 28, 2007 7:09 am
WASHINGTON - Conservative Republican Mike Huckabee, seeking to repeat the success of another former governor from Hope, Ark., said Sunday he is taking the first step in what he acknowledged is an underdog bid for the White House in 2008.

In this Dec. 27, 2006, file photo, former Arkansas Gov. Mike Huckabee is interviewed at the Arkansas Governor\'s Mansion in Little Rock, Ark. Mike Huckabee, 51, a favorite of conservatives, will take the first step in a 2008 presidential

Republican presidential candidate, Arkansas Governor Mike Huckabee, right, appeares on the "Saturday Night Live" signature "Weekend Update" segment with Seth Meyers.
Thursday, January 3, 2008 12:31 am
DES MOINES, Iowa - Sen. Barack Obama, bidding to become the nation's first black president, captured the Iowa caucuses Thursday night, opening test in the race for the 2008 Democratic nomination. Mike Huckabee rode a wave of support from evangelical Christians to victory in the Republican caucuses.
Sunday, February 24, 2008 1:54 am
NEW YORK - Even though Mike Huckabee is still battling for the Republican presidential nomination despite long odds, he said Saturday he won't "overstay his welcome." Then he did precisely that, lingering on the "Weekend Update" set of "Saturday Night Live" despite repeated cues to leave the stage.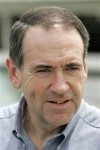 In this July 8, 2006 file photo, then-Arkansas Gov. Mike Huckabee speaks with a supporter during a visit to Central City, Iowa.
Tuesday, August 18, 2009 8:58 am
JERUSALEM -- Former U.S. presidential candidate Mike Huckabee said Tuesday there should be no Palestinian state in the West Bank and endorsed Israeli settlements there, sharply disagreeing with Washington and much of the world.
Sunday, June 8, 2008 4:31 am
GREENSBORO, N.C. - Former Republican presidential candidate Mike Huckabee put the squeeze on a politician at the North Carolina Republican Party convention, but in a good way.
Monday, March 9, 2009 12:17 pm
Bill Steigerwald: Since Mike Huckabee finished third in the 2008 Republican presidential primaries, the former governor of Arkansas, author and ordained Southern Baptist minister seems to have found a new career in television and radio. "Huckabee," his hour-long show on Fox News Channel is a mix of politics, entertainment and interviews with newsmakers, politicos and celebrities that exploits its namesake's famous humor and his skill as a rock 'n' roll bassist.
Friday, January 4, 2008 6:48 am
CONCORD, N.H. - Iowa caucus victories behind them, Republican Mike Huckabee and Democrat Barack Obama vowed to stick with their winning principles Friday in an abbreviated dash to the finish in New Hampshire's presidential primary campaign, despite facing a different political alignment and, as Huckabee put it, "only a few days to close the sale."

Pickets march outside a scheduled appearance by Republican presidential hopeful Mike Huckabee on the "Tonight Show With Jay Leno," which was to tape its first show without making a deal with striking Writers Guild of America writers.
Friday, March 11, 2011 5:00 am
Michael Weinstein, guest commentary
Wednesday, July 19, 2006 4:12 pm
LITTLE ROCK, Ark. - The state of Arkansas is prepared to pardon Keith Richards for being a reckless driver, 31 years later. The state Parole Board on July 3 approved an application for clemency submitted on behalf of Richards, the 62-year-old guitarist for the Rolling Stones, by Gov. Mike Huckabee.
Tuesday, February 5, 2008 4:58 pm
NEW YORK - With teleprompters emptied by the writers strike, Conan O'Brien, Jon Stewart and Stephen Colbert have been transformed into a bloodthirsty, if well-dressed mob.
Wednesday, February 13, 2008 6:19 pm
Have you wondered lately about this question: If John McCain is so bad for the Republican Party, then who are all these Republicans around the country who keep voting for him?
Tuesday, February 12, 2008 10:38 pm
A critical drumbeat that Arizona Sen. John McCain isn't "conservative" enough persists into a second week after Super Tuesday gave him a dominating lead for the Republican nomination for president.
Friday, September 25, 2009 12:16 pm
Star Parker: In an interview with Newsmax, former president Bill Clinton offered good advice to Republicans.He said Republicans need to shake off the "party of no" image and get positive.
Thursday, February 7, 2008 5:04 pm
WASHINGTON - John McCain sought to mend his tattered relationship with conservatives and unify a splintered GOP as he all but clinched the party's presidential nomination Thursday. Mitt Romney, his former chief rival, dropped out, and a parade of prominent Republicans swung behind the Arizona senator.
Thursday, August 16, 2007 2:47 am
And the Iowa Republican straw poll proves exactly what? That in politics money talks? But we knew that already.
Wednesday, December 19, 2007 11:37 pm
I've said this before, but I must say it again: We've got something good going on here in the East Valley. And I wish the rest of the country had it.
Tuesday, April 15, 2008 3:50 am
PHILADELPHA - Hillary Clinton is hoping the "Colbert bump" will help propel her to victory in Pennsylvania. The Democratic presidential candidate will make her first appearance on Comedy Central's "The Colbert Report" on Thursday.
Wednesday, January 16, 2008 9:01 pm
We encourage readers to submit letters to the editor on issues of interest to East Valley residents. Submissions should be no longer than 300 words, factually accurate and original thoughts of the writer. Please be brief and include name, address, city and phone number for verification. Letters and call-in comments may be edited for clarity and length.
Sunday, February 3, 2008 12:09 am
Arizona and the other 23 states that circled Feb. 5 on the presidential primary calendar have gotten their wish, as the races for both Democrats and Republicans are still highly competitive and voter interest has swept the country.