Television personality and singer Marie Osmond arrives at the 38th Annual Daytime Emmy Awards in Las Vegas on Sunday, June 19th, 2011. (AP Photo/Dan Steinberg)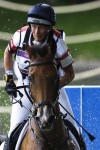 Mary King from Germany rides Imperial Cavalier as she competes in the equestrian eventing cross country phase at the 2012 Summer Olympics, Monday, July 30, 2012, in London. (AP Photo/Markus Schreiber)

Mary Myles

State Health Director Will Humble, right, explains to attorney Ryan Hurley on Wednesday why he is refusing to accept an application by a group of doctors to operate a medical marijuana dispensary in Scottsdale. Dr. Joel Colley, medical director of the proposed dispensary, listens in. (Capitol Media Services photo by Howard Fischer)
Tim Hacker, Tribune 7/10/09 News-- St. Mary's summer school Geometry teacher Rob Shannon (CQ) looks over his class as they review for their final exam on the last day of class.

Donny and Marie Osmond sign copies of their latest CD, "Donny & Marie," 11 a.m. to 1 p.m. Wednesday. Walmart, 857 N. Dobson Road, Mesa.

In this April 24, 2007 file photo Mary Tillman, mother of NFL star-turned-Army Ranger Pat Tillman, testifies before the Committee on House Oversight and Government Reform on Capitol Hill.

LET\'S GO: Phoenix St. Mary's girls basketball coach Frank Denogean led the Knights to four state championships.
Friday, November 10, 2006 2:29 am
Outlook: Chandler should be able to recover from its only loss of the season with the hobbled Knights limping into Austin Field.
Thursday, September 21, 2006 12:15 am
Outlook: Westwood already has dropped more games this season than it did all of last year.
Friday, October 27, 2006 2:09 am
Outlook: A lot is on the line for Horizon in this one.
Friday, September 8, 2006 4:46 am
Outlook: Mesquite showed coach Rich Iversen some character last week coming from behind twice in the opener to beat Phoenix North.
Friday, September 1, 2006 3:02 am
Outlook: As Week 1 matchups go, this one looks interesting.
Friday, October 28, 2005 12:07 am
Address: 5601 E. Greenway Road, Scottsdale; Records: St. Mary's 6-2, 2-1 Desert Valley; Horizon 7-1, 2-1; Gametime: 7:00 p.m.

TAKES STAND: Robert Clement, pastor at St. Mary's Catholic Church in Chandler where four former priests accused of sexual abuse served at various times, calls their assignments there an
Friday, October 23, 2009 4:49 pm
Scottsdale Chaparral has its sights set on a trip to the the 5A-II state championship game this season. But first, the Firebirds are focused on claiming the Desert Valley Region title.
Saturday, March 7, 2009 7:42 pm
Scott Bordow: Demetrius Walker was 14 years old when he went national. Sports Illustrated traveled to Southern California to write a long profile on Walker, then considered the best schoolboy basketball player in the country.