Friendship Village residents Mark and Peg Mowry have been married for 58 years, shown, Tuesday, May 25, 2010 in Tempe.

Demonstrators stand outside the Supreme Court in Washington, Tuesday, March 26, 2013, where the court will hear arguments on California's voter approved ban on same-sex marriage, Proposition 8. (AP Photo/Pablo Martinez Monsivais)

Demonstrators march outside the Supreme Court in Washington, Tuesday, March 26, 2013, as the court heard arguments on California's voter approved ban on same-sex marriage. The Supreme Court waded into the fight over same-sex marriage Tuesday, at a time when public opinion is shifting rapidly in favor of permitting gay and lesbian couples to wed, but 40 states don't allow it. (AP Photo/Pablo Martinez Monsivais)
Thursday, September 13, 2012 12:49 pm
Never have I read a column about marriage written by a single man.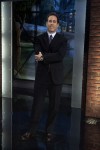 THE MARRIAGE REF -- Season:1 -- Pictured: Jerry Seinfeld -- Photo by: Patrick Habron/NBC

Sheree Red Bornand, right, hugs Aidan Dunn after hearing the decision in the United States District Court proceedings challenging Proposition 8 outside of the Phillip Burton Federal Building in San Francisco, Wednesday, Aug. 4, 2010. A person close to the case says a federal judge has overturned California's same-sex marriage ban in a landmark case that could eventually land before the U.S. Supreme Court. Chief U.S. District Judge Vaughn Walker made his ruling Wednesday in a lawsuit filed by two gay couples who claimed the voter-approved ban violated their civil rights. (AP Photo/Jeff Chiu)
Saturday, October 18, 2008 6:33 pm
After a "Jesus for President" campaign was launched by a Mesa pastor as a sermon series complete with yard signs, a wag quickly pointed out that Jesus Christ was not eligible for the White House because he wasn't born in the U.S.

CONTROVERSY: The Arizona Biltmore Resort hosted a gathering of pastors on Sept. 18 to rally in support of Proposition 102, the ballot initiative to change the state constitution to say that marriage is between a man and a woman only.
Thursday, September 11, 2008 2:52 pm
This proposition would put a provision in the constitution defining marriage in Arizona as solely between one man and one woman. It largely duplicates a 1996 state law.
Friday, August 29, 2008 5:29 pm
The Bureau of Jewish Education will offer a new two-day and one-evening marriage preparation program, "Jewish Marriage University — The Jewish Way to Say 'I Do.' "
Thursday, April 3, 2008 2:44 pm
Foes of a constitutional ban on gay marriage derailed a plan today to put the measure on the November ballot.
Tuesday, February 6, 2007 8:35 pm
NEW YORK - Jim Carrey says he and his lady love, Jenny McCarthy, aren't planning to get married. "No, we're never getting married, but we're never getting divorced, which is fantastic," the 45-year-old actor says on Tuesday's edition of "Access Hollywood."

Actor Jim Carrey and his girlfriend Jenny McCarthy attend the US Open tennis tournament in New York, in this Saturday, Sept. 9, 2006 file photo.
Thursday, February 2, 2006 5:10 am
By some standards, my parents' marriage would not be viewed as inspiring.
Wednesday, September 28, 2005 10:34 am
Arizona voters would likely reject a proposed constitutional amendment to ban same-sex marriages because it also would deny government employee benefits to unmarried couples, according to a political poll from Arizona State University released Tuesday.
Saturday, October 16, 2004 8:28 am
Friday, October 8, 2004 2:51 pm
Sunday, November 23, 2003 1:49 am
Allowing gay couples to marry would "gut marriage of its core meaning," speaker Maggie Gallagher said Saturday at a Mesa conference for a nonprofit group seeking to preserve the traditional concept of a family.

Chick-Fil-A employee Harry Love directs drive-thru traffic in the restaurant lot, as the crowd for dining room service snakes out the door in High Point, N.C., Wednesday Aug. 1, 2012. Chick-fil-A supporters are eating at the chain's restaurants as the company continues to be criticized for an executive taking a public position against same-sex mariage. (AP Photo/The Enterprise, DON DAVIS, JR.)
Friday, August 19, 2011 12:22 pm
How would you like to take your sweetheart out for dinner - free?
Friday, August 13, 2010 4:30 am
Thursday, August 5, 2010 12:15 pm
Now that Proposition 8 has been struck down, will gay marriage become the law of the land?