Monday, February 18, 2013 6:59 am

This past Wednesday (Feb. 13) marked the beginning of Lent, the 40-day period before Easter, when Christians would abstain from meat and dairy products in remembrance of Jesus' 40 days of fasting before launching his ministry.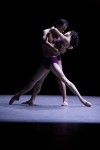 Part-Festina Lente
Wednesday, February 17, 2010 10:20 am
With Lent starting today, East Valley restaurants are bracing for their annual surge in seafood sales. And when it comes to seafood, few dishes are as popular — and inexpensive — as fish and chips.
Guitarist Steve Larson has lent his soulful rock and country licks to some of the Valley's best bands in the last two decades, and has recorded a solo disc, "Road Trip Songs," with his own Steve Larson Band.
Thursday, March 2, 2006 10:41 am
"Dust and ashes touch our face, mark our failure and our falling" were the doleful words sung as about 500 filed forward at St. Bridget Catholic Church in Mesa for the Ash Wednesday morning Mass.
Wednesday, May 16, 2012 5:07 am
President George H.W. Bush, in a letter recently sent to Vernon Parker, lent his name and support to Vernon Parker's campaign for Congress in Arizona's newly created Congressional District 9 (CD-9).
Friday, March 25, 2005 5:57 am
Tuesday, January 12, 2010 12:20 pm
Perhaps best known for his offbeat delivery of the "Weekend Update" news on "Saturday Night Live" for five seasons, Norm MacDonald also does spot-on impersonations of Bob Dole and Burt Reynolds and has appeared in - or lent his voice to - films and TV shows. The comedian brings his acerbic wit to the Valley this weekend for six shows in Tempe.
Monday, June 30, 2008 6:35 am
The intersection of Pecos and Higley roads in Gilbert was closed during Monday morning rush hour after a collision between a motorcycle and pickup truck that resulted in one fatality.
Thursday, February 10, 2005 9:52 am
Wednesday, March 19, 2008 5:26 pm
Next week's LPGA event near Gold Canyon is the destination to head to for East Valley golf fans. But for one nearby Apache Junction mobile home community, a swath of dirt tamed with some used vegetable oil mixed with sand is good enough to hit the tees and make that winning putt.
Thursday, August 21, 2008 8:45 pm
Scottsdale mayoral candidate Jim Lane has spent more than $50,000 on his campaign, the most of any city candidate, according to campaign finance reports due Thursday.
Friday, November 18, 2005 5:12 pm
WASHINGTON - Bruce Springsteen famously was "born in the USA," but he's getting scorned in the U.S. Senate.
Wednesday, November 9, 2005 12:05 pm
LOS ANGELES - Sharon Stone has taken a musical turn, co-writing a song to benefit victims of Hurricane Katrina. Stone worked with songwriters Denise Rich, Mark Feist and Damon Sharpe on "Come Together Now," which will be released as a CD single on Nov. 29.
Wednesday, May 21, 2003 6:09 pm
Poor neighborhoods grew less poor in the 1990s, according to two newly released reports, and important lessons reside in the fact. One is that it was a politically dangerous fiction that the booming economy was a boon to some but not to the really poor.
Sunday, December 5, 2010 9:30 am
There have been nights dedicated to the planets and stars at Kyrene Akimel A-al Middle School previously, but the one on Nov. 29 was by far the biggest, said one organizer of the event.
Thursday, October 28, 2004 10:53 am
Wednesday, March 14, 2012 8:21 am
Ah, the St. Patrick's season is upon us. Good thing, for we're in dire need of some Irish levity about now.
Friday, October 7, 2011 4:30 am
The 'Buffett Rule' has, as expected, riled up many of the wealthiest American millionaires and billionaires who apparently believe oligarchy, a political system run by those with the most money who can buy influence and power, is preferable to democracy.
Saturday, April 9, 2011 10:00 am
Kenny Rogers is one of the most recognizable voices in music and now he's become the first artist to release a second album through the Cracker Barrel Old Country Store with "The Love of God," a truly inspired blend of memorable classics and new recordings.
Monday, February 8, 2010 10:00 am
Thursday, September 17, 2009 3:30 pm
The developer of the Centerpoint high rise condominium towers in downtown Tempe is seeking to convert its Chapter 11 reorganization case into a Chapter 7 liquidation.
Thursday, January 22, 2009 4:37 pm
SCOTTSDALE - A German bank that financed construction of the trendy new W Scottsdale Hotel and Residences has begun foreclosure proceedings.
Tuesday, January 13, 2009 2:36 pm
Plants at Desert Mountain Park in Queen Creek are looking a bit perkier than they did yesterday.
Thursday, November 13, 2008 12:54 pm
LOS ANGELES - "Grand Theft Auto IV" is likely to mow down a few Video Game Awards.