Seton's Connor Kathe,left, sets his sights on Tempe's Jordan Wiatr, Friday, Oct. 19, 2012. [Jerry Burch/Special to Tribune]

Tempe's Jordan Wiatr reaches out for a gain of five yards before being brought down, Friday, Oct. 19, 2012 in Tempe. [Jerry Burch/Special to Tribune]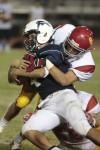 A Seton defender wraps up Tempe's Jordan Wiatr, Friday, Oct. 19, 2012 in Tempe. [Jerry Burch/Special to Tribune]

Tempe quarterback Emanuel Gant hands the ball off to Jordan Wiatr while taking on Seton, Friday, Oct. 19, 2012. [Jerry Burch/Special to Tribune]

Tempe runningback Jordan Wiatr, left, rushes for the end zone as Campo Verde defensive back Brock Sanderson, right, defends in the first half Friday, Oct. 5, 2012, Campo Verde High School in Gilbert.[Paul Connors/Special to Tribune]
Saturday, October 27, 2012 12:37 am
Any hope of a playoff berth for Tempe appear to have fallen apart after the Buffaloes' 34-17 loss to Maricopa on Friday night.
Friday, September 21, 2012 11:34 pm
Tempe quarterback Emanuel Gant has a good weekly game of pitch-and-catch going on.
Saturday, September 8, 2012 12:37 am
Only 22 minutes of football was played between Tempe and Saguaro Friday, but that was more than enough for the Buffaloes on this night.
Friday, September 14, 2012 11:48 pm
One week after an injury-filled forfeit loss to Saguaro, Tempe rebounded with a dominating win over visiting Coronado.
Saturday, September 24, 2011 12:18 am
Mesa High, facing the state's leading rusher, showed off a potent ground game of its own on Friday night.
Friday, August 24, 2012 12:38 am
Many Tempe players took their lumps as young players, but they also gained experience and grew hungry for a win.