Gilbert's Jarrett Neal digs for the ball in the Division I State Championship game against Highland, Saturday, May 11, 2013. [Jerry Burch/Special to Tribune]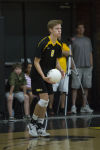 Gilbert's Jarrett Neal prepares to serve in their game against Highland for the Divison I State Championship, Saturday, May 11, 2013. [Jerry Burch/Special to Tribune]
Saturday, May 11, 2013 7:22 am
Boys volleyball state championship
Saturday, May 11, 2013 10:03 pm
Whether it was emotion, momentum or just plain talent, no one would have been surprised if either Highland or Gilbert won the state boys volleyball championship on Saturday night.
Tuesday, March 18, 2008 10:06 pm
PORTLAND, ORE. - When the Suns came here exactly two weeks ago, Shaquille O'Neal was still out of shape, dealing with physical problems and feeling his way with his new team.
Friday, April 18, 2008 1:00 am
They have become fast friends in the Suns' locker room — the 7-foot-1, 325-pound veteran center and the 25-year-old Brazilian Blur.
Friday, March 1, 2013 5:08 pm
For the first 10 years of this century, the boys volleyball landscape was startlingly consistent.
Tuesday, June 5, 2012 5:31 pm
Monday, January 21, 2008 10:53 pm
The Gilbert Highland girls jumped out to an early lead and coasted Monday to a 62-45 victory over Tempe Marcos de Niza in the fifth annual Martin Luther King Jr. Classic at ASU's Wells Fargo Arena.
Thursday, August 18, 2011 5:30 pm
An early look at what to watch in Division II this season:
Thursday, May 9, 2013 11:23 pm
It took more than four hours, nine sets, and an upset of the No. 1 seed, to create an all-Gilbert final in the boys volleyball state tournament.
Thursday, August 11, 2011 11:23 am
Thursday, April 17, 2008 12:41 am
After losing in Houston on Friday night, the Suns knew their final chance to control their playoff destiny went with it. All they could do Wednesday was watch the scoreboard and live with the result.
Tuesday, March 4, 2008 11:12 pm
PORTLAND - Can blowing a 23-point third-quarter lead be considered a step in the right direction? For the Phoenix Suns, it is when you win.
Saturday, April 19, 2008 12:02 am
SAN ANTONIO - The Suns thought their small lineup, featuring Boris Diaw at center, would have good success against the Spurs, and they were right. They just didn't plan on having to use Diaw against the Spurs' big lineup quite as much.
Wednesday, February 6, 2008 1:00 am
At his news conference detailing Arizona State's football recruiting class on Wednesday, coach Dennis Erickson smiled at the media gathering that was thinner due to the goings-on at US Airways Center.
Saturday, June 21, 2008 10:38 pm
After four years of great winters (Mike D'Antoni and 57-win seasons) and lousy springs and summers (postseason and draft-day frustrations), Suns fans are ready to turn the page.
Monday, February 4, 2013 4:10 pm
Here are the local athletes expected to sign Letters of Intent with colleges beginning Wednesday. For additions, email varsity@evtrib.com and include the athlete's name, high school, sport and college of choice.
Wednesday, June 13, 2012 6:45 am
Cody Martin's spring went so well that it really messed with his plans.
Wednesday, June 13, 2012 6:45 am
Cody Martin's spring went so well that it really messed with his plans.
Monday, May 13, 2013 11:59 am

Monday, December 14, 2009 2:18 pm
Thursday, June 11, 2009 3:34 pm
A capsule look at the eight teams competing in the College World Series, which starts Saturday at Rosenblatt Stadium in Omaha, Neb. (coaches' records at current schools through super regionals):