Thursday, December 9, 2010 12:07 am

Actress and author Jane Fonda is 72-years-old and still looking as great as ever. Now she's also resurrecting her exercise guru title by releasing exercise DVD's for baby boomers. (Dec. 8)
Monday, October 3, 2005 12:43 pm
PARIS - Jane Fonda canceled plans to attend a premiere of a documentary about her former husband Roger Vadim on Monday because of hip and back problems that prompted her to seek treatment at a Paris hospital.

Jane Fonda poses for a portrait April 10, 2005, in Los Angeles.

In this Sept. 22, 2008 file photo, actress Jane Fonda attends the Metropolitan Opera season opening night gala performance at Lincoln Center in New York.
Thursday, February 14, 2008 8:33 pm
NEW YORK - NBC News is apologizing again - this time for Jane Fonda. The 70-year-old actress used a vulgar slang term on the "Today" show Thursday while talking about the play "The Vagina Monologues."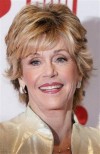 Jane Fonda attends a charity telethon in Berlin in this Dec. 15, 2007, file photo.
Monday, July 25, 2005 6:42 am
SANTA FE, N.M. - Actress and activist Jane Fonda says she intends to take a cross-country bus tour to call for an end to U.S. military operations in Iraq.
Wednesday, April 20, 2005 12:10 pm
Saturday, November 8, 2008 11:34 pm
NEW YORK - It wasn't religion that broke up his marriage to Jane Fonda, Ted Turner declares in a new memoir.
Monday, November 3, 2008 7:56 pm
NEW YORK - Jane Fonda, activist, author and exercise guru, will be back on Broadway in 2009 after an absence of more than four decades.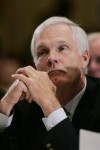 In this June 15, 2006 file photo, Ted Turner, chairman of Turner Enterprises, listens as President Bush speaks at the Initiative for Global Development 2006 National Summit in Washington.
Friday, September 9, 2005 7:49 am
If Peter Fonda hadn't become an actor, he probably would have been a professional cage shaker.
Monday, May 16, 2005 6:27 am

This image released by IFC Films shows Elizabeth Olsen, left, Jane Fonda and Catherine Keener in a scene from "Peace Love and Misunderstanding."
Thursday, July 26, 2007 3:22 pm
Glam rapper Mickey Avalon – known for his catchy single "Jane Fonda" and for being the first recording artist signed to MySpace Records – will headline College Models Monthly Back to School Bikini Bash Sunday, Aug. 26, at Dos Gringos Trailer Park, 1001 E. Eighth St., Tempe.
Thursday, May 10, 2007 1:47 pm
NEW YORK - Lindsay Lohan made David Letterman's heart beat faster when she told him she plays a stripper in her next film, "I Know Who Killed Me." "You're just gonna kill me, you know I have a heart condition. You're just gonna kill me," the CBS' "Late Show" host said Wednesday night.
Thursday, May 12, 2005 7:12 am
Thursday, April 8, 2004 10:36 am
LOS ANGELES - Cable News Network founder, yacht racer, restaurant owner and philanthropist Ted Turner now has a star on the Hollywood Walk of Fame. The cable television pioneer was feted most Wednesday for his devotion to classic films by a group of veteran but still glamorous actresses who thanked Turner for keeping them in the public eye.
Friday, July 28, 2006 3:15 am
LOS ANGELES - Actress Lindsay Lohan was overcome by the heat on a movie set and required hospital treatment, her publicist told "The Insider" Wednesday.
Friday, June 15, 2012 12:15 am
In theory, the idea of Jane Fonda, Catherine Keener and Elizabeth Olsen playing three generations of women in the same family should be delightful, or at least well-acted.
Friday, December 7, 2012 8:55 am
"Trickle-up poverty, aka socialism, means everyone will be getting crumbs."