Instagram is demonstrated on an iPhone Monday, April 9, 2012, in New York. Since Verizon Wireless broke AT&T's exclusive grip on the iPhone last year, several other phone carriers now offer Apple's popular smartphone. On Monday, T-Mobile said it will make a stronger bid for used iPhones from AT&T as Apple prepares to launch a new version. (AP Photo/Karly Domb Sadof)

FILE - In this Jan. 5, 2011 file photo, a person operates their iPhone in New York.  (AP Photo/Frank Franklin II, File)

Brock Westphal holds up his iPhone 5 after his purchase Friday, Sept. 21, 2012, at the Apple Store in Salt Lake City. People waited in line through the early morning to be among the first to get their hands on the highly anticipated phone. (AP Photo/Rick Bowmer)

The Apple EarPods are shown during a product review in San Francisco, Wednesday, Sept. 12, 2012. (AP Photo/Jeff Chiu)

SAN FRANCISCO, CA - SEPTEMBER 12: Apple Senior Vice President of Worldwide product marketing Phil Schiller announces the new iPhone 5

FILE-In this Thursday, June 24, 2010 file photo, Piotr Kubiak of Oakland, Ill., shows off his new iPhone 4, right, next to his old iPhone outside of an Apple store, in Chicago. Millions of people will likely buy new iPhones after Apple's expected announcement of a new model on Wednesday, Sept. 12, 2012. The new phones would join some 244 million iPhones already sold since the first one launched in 2007. Some have been lost, some stolen and some are still in use. But it's fair to say that millions of iPhones are languishing in desk drawers or gathering dust. (AP Photo/Kiichiro Sato, File)

This product image provided by Apple Inc., shows the new Apple iPhone 4. (AP Photo/Apple Inc.) ** NO SALES **
Monday, November 12, 2012 1:51 pm
Reports claiming Apple is already working on the iPhone 5s are circling the internet Monday.
Monday, July 19, 2010 7:00 am
Q: How much can I do with a 2 GB cellular data plan on my iPhone? — Candice

Apple CEO Steve Jobs introduces the new iPhone 4 at the Apple Worldwide Developers Conference, Monday, June 7, 2010, in San Francisco. (AP Photo/Paul Sakuma)
Thursday, May 3, 2012 3:45 pm
Fixing electronic devices is big business in the Valley, and around the country.
Tuesday, February 15, 2011 7:53 pm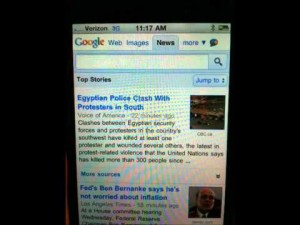 Monday, July 26, 2010 6:00 am
Can you explain the difference between the Droid X being a mobile hotspot and the ability to tether to the iPhone 4? - Michael
Saturday, June 26, 2010 2:16 pm
Which would you recommend between the iPhone 4 and the Droid X? - Pete

Apple's iPhones
Monday, October 5, 2009 2:30 pm
NEW YORK — Adobe Systems says developers for Apple's iPhone will be able to use its video-enabling software, Flash, to create applications for the device for the first time.
Friday, August 22, 2008 9:21 pm
WARSAW, Poland - A Polish mobile operator said Friday it had hired actors to stand in line to buy Apple's iPhone as the ubiquitous device went on sale for the first time in the eastern European country.
Friday, July 11, 2008 11:17 am
Fortune hailed him as the most powerful businessman in the world. Forbes ranked him among the world's richest people. New York magazine consecrated him with the headline iGod. But as rich, powerful and omnipotent as he may be, Steve Jobs can't doesn't control the weather.

Some iPhone enthusiast don umbrellas as storm clouds appear on the horizon as they camp out in front of the AT&T store at Crossroads Towne Center to be the first to get the new iPhone 3G Thursday.