Crowds fill the National Mall to watch the ceremonial swearing-in of President Barack Obama at the U.S. Capitol during the 57th Presidential Inauguration in Washington, Monday, Jan. 21, 2013. (AP Photo/J. Scott Applewhite)

Singer Kelly Clarkson performs at the ceremonial swearing-in for President Barack Obama at the U.S. Capitol during the 57th Presidential Inauguration in Washington, Monday, Jan. 21, 2013. (AP Photo/Pablo Martinez Monsivais)

President Barack Obama waves after his ceremonial swearing-in at the U.S. Capitol during the 57th Presidential Inauguration in Washington, Monday, Jan. 21, 2013. (AP Photo/Pablo Martinez Monsivais)

walk down Pennsylvania Avenue en route to the White House, Monday, Jan. 21, 2013, in Washington. Thousands marched during the 57th Presidential Inauguration parade after the ceremonial swearing-in of President Barack Obama. (AP Photo/Carolyn Kaster)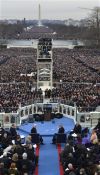 Vice President Joe Biden, left and President Barack Obama wait for their ceremonial swearing-in at the U.S. Capitol during the 57th Presidential Inauguration in Washington, Monday, Jan. 21, 2013. (AP Photo/Susan Walsh)

First lady Michelle Obama speaks with her daughter Malia at the ceremonial swearing-in for President Barack Obama at the U.S. Capitol during the 57th Presidential Inauguration in Washington, Monday, Jan. 21, 2013. (AP Photo/Pablo Martinez Monsivais)

Blue lights are seen in the East Room of the White House as the motorcade of President Barack Obama and first lady Michelle Obama arrives back from the Inaugural Ball during the 57th Presidential Inauguration in Washington, Monday, Jan. 21, 2013. (AP Photo/Charles Dharapak)

Beyonce sings the national anthem at the ceremonial swearing-in at the U.S. Capitol during the 57th Presidential Inauguration in Washington, Monday, Jan. 21, 2013. (AP Photo/Pablo Martinez Monsivais)

Sasha and Malia Obama arrive at the ceremonial swearing-in of their father President Barack Obama at the U.S. Capitol during the 57th Presidential Inauguration in Washington, Monday, Jan. 21, 2013. (AP Photo/Pablo Martinez Monsivais)

President Barack Obama waves after his Inaugural speech at the ceremonial swearing-in on the West Front of the U.S. Capitol during the 57th Presidential Inauguration in Washington, Monday, Jan. 21, 2013. (AP Photo/Scott Andrews, Pool)

President Barack Obama speaks to a former member of the Tuskegee airman in the presidential box during the inaugural parade, Monday, Jan. 21, 2013, in Washington. Thousands marched during the 57th Presidential Inauguration parade after the ceremonial swearing-in of President Barack Obama. (AP Photo/Gerald Herbert)

President Barack Obama speaks at the ceremonial swearing-in at the U.S. Capitol during the 57th Presidential Inauguration in Washington, Monday, Jan. 21, 2013. (AP Photo/Pablo Martinez Monsivais)
Monday, January 19, 2009 12:51 pm
Barack Obama's inaugural address tomorrow is awaited with great anticipation by his millions of fans in and out of the media. Will it be as short as President Abraham Lincoln's 1865 inaugural? As endless as William Henry Harrison's 1841 inaugural? As rousing as JFK's 1961 inaugural? As historic as FDR's 1933 inaugural? As forgettable as Jimmy Carter's 1977 inaugural? As memorable to conservatives as Ronald Reagan's 1981 inaugural? To get some answers about the importance of past inaugural addresses and some predictions about the next one, I telephoned Jerry Shuster, a political communications expert at the University of Pittsburgh, who specializes in presidential rhetoric.
Tuesday, January 20, 2009 9:49 am
 Tell the boss you need to take a break for a few minutes. History is being made.
Friday, January 16, 2009 5:52 pm
When Barack Obama takes the oath of office at Tuesday's presidential inauguration ceremony in Washington, retired Gilbert minister Jill Borden won't be struggling to stay warm in frigid East Coast weather. She won't be standing for hours in a crowd contained blocks away from the U.S. Capitol or taking a long, slow walk back to an overpriced hotel room.
Tuesday, January 13, 2009 5:46 pm
Secretary of State Jan Brewer is so confident that Gov. Janet Napolitano is going to be confirmed as the new head of the U.S. Department of Homeland Security that she has scheduled her inauguration as governor for next Wednesday.

Secretary of State Jan Brewer meets Dec. 1 with Governor Janet Napolitano and Arizona Attorney General Terry Goddard to officially sign off on the election results.
Tuesday, May 20, 2008 12:10 am
TAIPEI, Taiwan - A proponent of improved ties with China took office as Taiwan's president Tuesday, calling on the larger rival to open a new page in their long-strained relationship while rejecting any move to seek unification with the mainland.
Sunday, April 17, 2005 7:22 am
Thousands of sweatsoaked runners and walkers saw their drenched faces projected onto JumboTron screens Saturday as they streamed into Tempe's Sun Devil Stadium at Arizona State University.
Sunday, January 2, 2011 12:00 pm
Jan Brewer gives her second inaugural address on Monday.